The San Francisco 49ers throwback jerseys have that vintage look that brings back the glory days of Joe Montana, Jerry Rice, John Taylor, Ronnie Lott, and many more all time greats.  Who could forget the Montana to Rice connection? Or the great John Taylor pulling down those clutch catches?  Tom Rathman over the middle, or Roger Craig pounding out those tough yards?  Gear up with a SF 49ers throwback jerseys and bring back those memories to life.  S-2X, big and tall 3X (3XL), 4X (4XL), 5X (5XL), 6X (6XL).  XLT (XT), 2XLT (2XT), 3XLT (3XT), 4XLT (4XT), and 5XLT (5XT).
San Francisco 49ers Throwback Jerseys – Joe Montana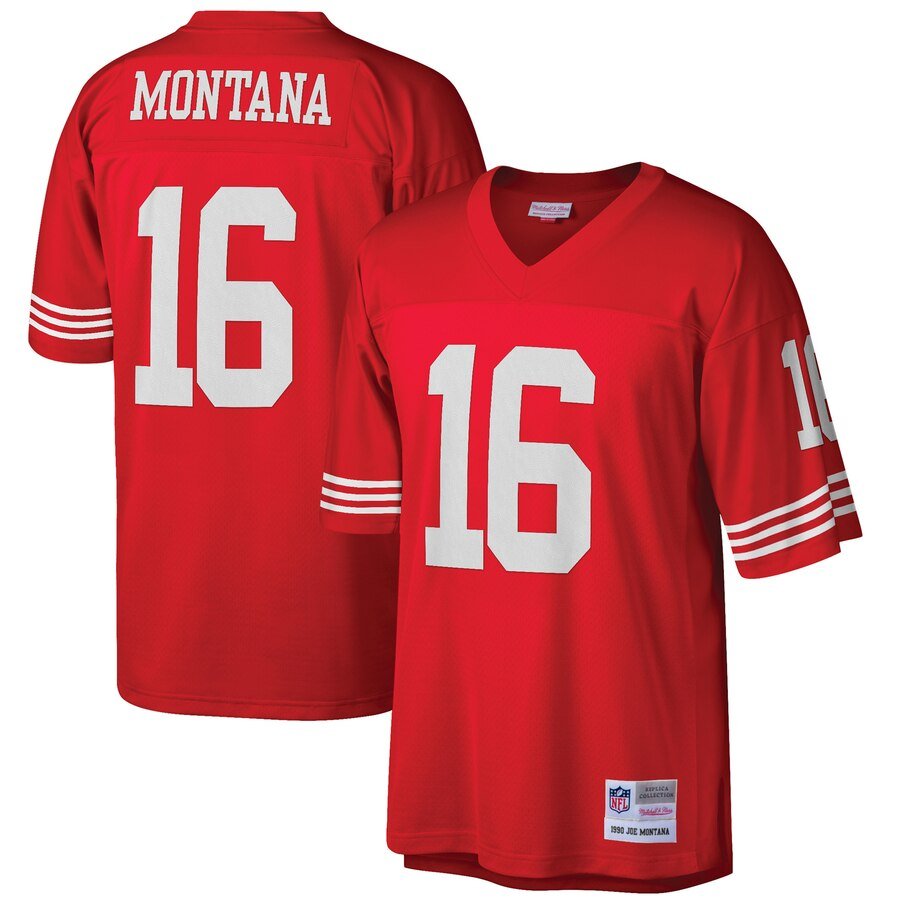 You may also enjoy :
Joe Montana is without a doubt one of the best quarterbacks of all time..  He was the guy who you wanted on the field when the game was on the line.  A field general in the huddle who you just knew would lead the 49ers down the field for a critical score.  The Mitchell & Ness throwback Montana jersey shown above is from the 1990 season and vintage in every way..  Furthermore, it is also available in big and tall sizes!
Sizes available : S, M, L, XL, 2X, 3X, 4X, 5X, 6X, XLT, 2XLT, 3XLT, 4XLT, 5XLT.
Made by – Mitchell & Ness
Made of 100 percent polyester
Heat sealed stripes on sleeves
49ers Throwback jersey from the 1990 NFL season
Machine wash, tumble dry low.
Officially licensed by the NFL.
49ers Throwback Jerry Rice Jersey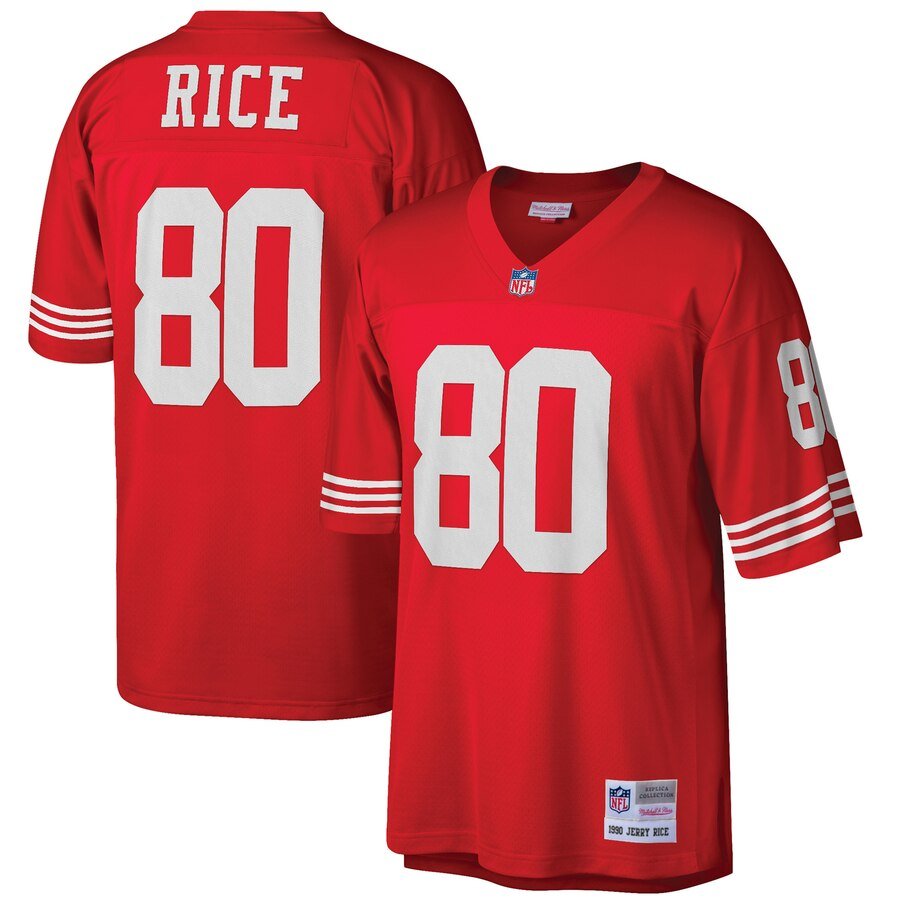 The 49ers Jerry Rice jersey shown above is made by Mitchell & Ness and is a design from 1990.  Jerry Rice owns nearly every significant receiving mark in NFL history.. Some of his most notable accomplishments include :
Receiving yards (22,895 yards)
Most 1,000 yard season (14)
Most touchdowns (208)
Most receptions (1,549)
Played in 8 Conference Championship games.
3 Super rings.
Named All-Pro in 11 consecutive seasons.
13 Pro Bowls
Additional 49er Throwback Jerseys include :
Joe Montana
Jerry Rice
Steve Young
Dwight Clark
Terrell Owens
Tom Rathman
Additional Retailers Who Carry Big & Tall Throwback 49er Jerseys
Disclosure :
We are affiliated with numerous retailers who carry Mitchell & Ness throwback jerseys, but only a few carry big and tall 49ers throwback uniforms.  We have recommended one of our favorites below.. They carry many 49er throwbacks including legendary players like Joe Montana, Jerry Rice, Deion Sanders, Tom Rathman, Ronnie Lott, Dwight Clark, Roger Craig, Steve Young and more.. If a sale is made, we do receive a small commission from the retailer (at no cost to the consumer.  Thanks for your support, and we hope that we have helped you find what you were looking for.
Sports Fanatics :
Return policy – 1 Year.
International shipping – Yes.
Men's sizes available – S, M, L, XL, 2X (XXL), 3X (3XL), 4X (4XL), 5X (5XL), 6X (6XL).  XT (XLT), 2XT (2XLT), 3XT (3XLT), 4XT (4XLT), and 5XT (5XLT).
Women's 49ers apparel available in – S, M, Plus M, L, Plus L, XL, Classic XXL, Plus 2X, Classic 3XL, Plus 3X, and Plus 4X.
Note : Women's 49er jerseys are only available in sizes up to 4X.. 49ers tee shirts, hoodies, etc.. are available in sizes up to 4XL.
Shop All 49ers Apparel at Sports Fanatics
Shop Big & Tall 49ers Gear at Sports Fanatics.
Shop Women's 49ers Apparel at Sports Fanatics.