Blank MLB Jerseys S-2X, 3X 3XL, 4X 4XL, 5X 5XL, 6X 6XL, XLT-5XLT
One of the wonderful traditions in baseball is wearing your favorite jersey or tee shirt to the game.  It really brings out the festive atmosphere at the ballpark when you see thousands of other fans who love the same team as you in their favorite jersey.  The only drawback is if you get a player jersey and they end up getting traded to another team.  This is why blank MLB jerseys are a great option.  They will last for many years, and you never have to worry about them being out of date.  Blank MLB Jerseys are available for every team in baseball.  Jerseys, tee shirts, and hoodies sizing options include S-2X, big and tall 3X (3XL), 4X (4XL), 5X (5XL), 6X (6XL).  XLT (XT), 2XLT (2XT), 3XLT (3XT), 4XLT (4XT), and 5XLT (5XT).
Blank MLB Jerseys
(No Players Name on Back of Uniform)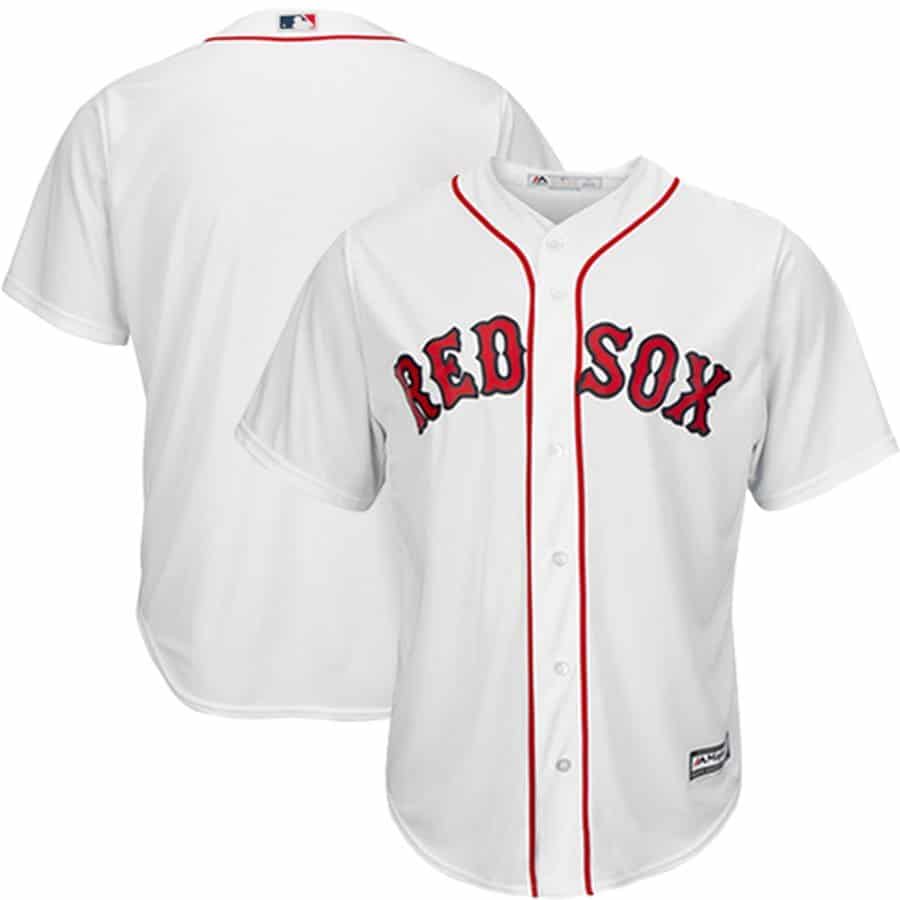 If you are wanting "Player MLB Jerseys" then click here.
The blank Red Sox MLB Jersey shown above is available for all teams in baseball.  So, whoever you root for, we got your gear.  The jerseys are made by Majestic, which is the official manufacturer for MLB jerseys.  You know your getting the real deal, and not a cheap imitation.
Shop MLB Blank Jerseys & Team Apparel by Size
You may also enjoy :
Diamondbacks World Series Jerseys & Tees
View More Retailers Who Carry Big & Tall Blank MLB Jerseys :
Fanatics – This company is as reputable as Majestic, and has a similar collection of team gear.  In addition to blank Majestic baseball jerseys, they also carry Fanatics Branded NBA, NFL, MLB, and NHL apparel.. Gear up for the big games that lie ahead.
Return policy – 365 day no hassle returns.
Baseball jerseys made by : Majestic
Men's sizes – S, M, L, XL, XXL (2X), 3XL (3X), 4XL (4X), 5XL (5X), 6XL (6X).  XLT (XT), 2XLT (2XT), 3XLT (3XT), 4XLT (4XT), 5XLT (5XT).
women's sizing options – S, M, L, Plus M, XL, Plus XL, Classic XXL, Plus 2X, Classic 3XL, Plus 3X, Plus 4X.
Tee shirts and hoodies are available in big and tall sizes if you want to round out your wardrobe with team gear.
MLB Jerseys available for :
Arizona Diamondbacks
Atlanta Braves
Baltimore Orioles
Boston Red Sox
Chicago Cubs
Chicago White Sox
Cincinnati Reds
Cleveland Indians
Colorado Rockies
Detroit Tigers
Florida Marlins
Houston Astros
Kansas City Royals
Los Angeles Angels of Anaheim
Los Angeles Dodgers
Milwaukee Brewers
Minnesota Twins
New York Mets
New York Yankees
Oakland Athletics
Philadelphia Phillies
Pittsburgh Pirates
San Diego Padres
San Francisco Giants
Seattle Mariners
St. Louis Cardinals
Tampa Bay Rays
Texas Rangers
Toronto Blue Jays
Washington Nationals
Shop Blank MLB Jerseys at MLB Fan Shops Here
Also Shop Big & Tall Blank MLB Jerseys at Fans Edge
Fans Edge
Return policy – 365 days.. Their 1 year return policy is one of the really great reasons why we  love to recommend this trusted retailer.  Baseball season is 162 games, so if you want to save a jersey for a birthday, or even Christmas you can buy your jersey now and save until later.
Blank MLB Jerseys are available for :
Angels
Astros
Athletics
Blue Jays
Braves
Brewers
Cardinals
Cubs
Diamondbacks
Dodgers
Giants
Indians
Mariners
Marlins
Mets
Nationals
Orioles
Padres
Phillies
Pirates
Rangers
Rays
Red Sox
Reds
Rockies
Royals
Tigers
Twins
White Sox
Yankees
Men's big & tall sizes – 2X XXL, 3X 3XL, 4X 4XL, 5X 5XL, 6X 6XL.  XLT XT, 2XLT 2XT, 3XLT 3XT, 4XLT 4XT, 5XLT 5XT.
Shop Big & Tall Blank MLB Jerseys at Fans Edge Here