Congratulations Celtic fans, the glory days are back and the beloved "Green" are back in the NBA Finals playing for another Championship.  Celebrate their return to greatness with a Boston Celtics NBA Finals jersey, tee shirt, hoodie, or hat.  Celtics NBA Championship apparel is available in S-XL, 2X (XXL), big and tall 3X (3XL), 4X (4XL), 5X (5XL), 6X (6XL).  XLT (XT), 2XLT (2XT), 3XLT (3XT), 4XLT (4XT), and 5XLT (5XT).
Boston Celtics NBA Finals Jersey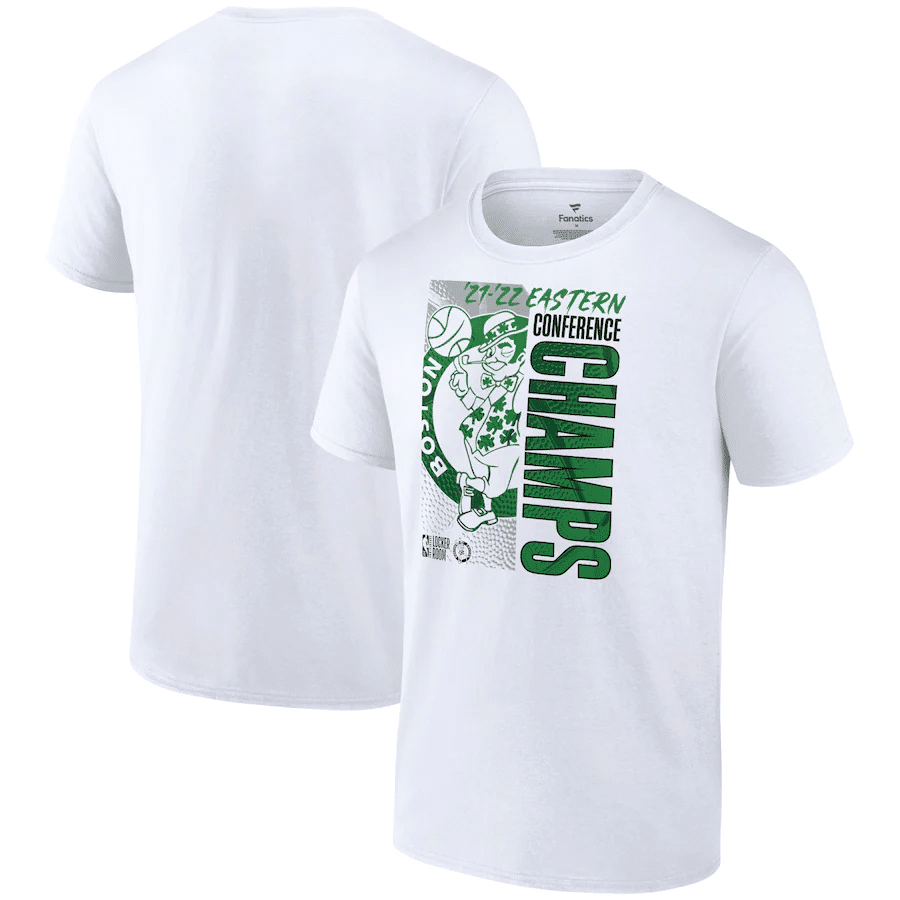 The Boston Celtics won a wild 7 game series against the Miami Heat to become Eastern Conference Champions, and advance to the NBA Championship to face off against the Golden State Warriors.  Commemorate the Celtics memorable season win some Championship gear, like the Celtics Eastern Conference Championship tee shown above.
NBA Finals apparel is available in regular S-XL, big and tall 3XL, 4XL, 5XL, 6XL, XT, 2XT, 3XT, 4XT, and 5XT.
Shop All Boston Celtics Apparel by Size
Boston Celtics NBA Finals Jersey
(Add Any Player from the Celtics Roster)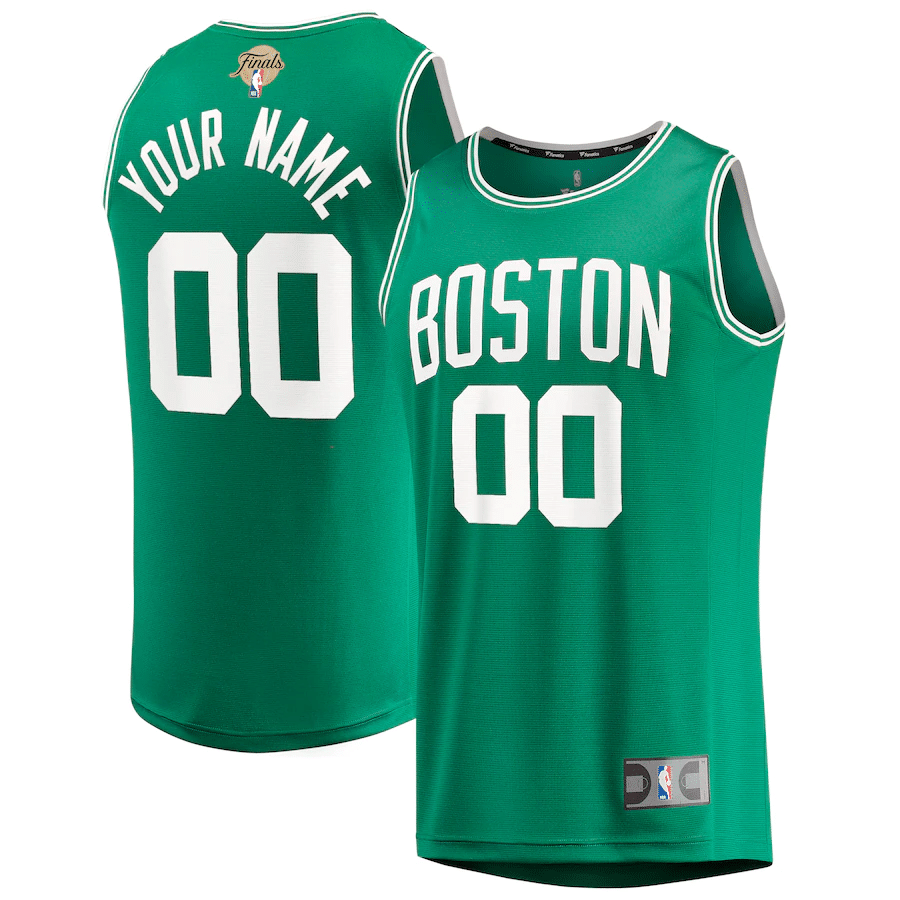 You can add any player to customized Boston Celtics NBA Championship jersey shown above with the "NBA Finals" logo on the upper back of the uniform.
Jersey Details :
Product ID: 4924475
Material: 100% Polyester
FanShield: Moisture management technology keeps you cool, dry and comfortable
FanFit: A more tailored fit providing improved comfort around the torso and arms
FanFlex: Revolutionary trims that are foldable, lightweight and machine washable
FanTex: Performance midweight fabric that has the optimal drape and range of motion
Droptail hem
Due to manufacturer restrictions, this product cannot be shipped outside of the U.S.
Screen print graphics
Sleeveless
Heat-sealed jock tag with NBA logo
Machine wash
Customized items are final sale and cannot be cancelled, changed, returned or refunded after order has been placed
Tagless Collar
Officially licensed
Sizes : S, M, L, XL, 2X (XXL), 3X (3XL), 4X (4XL), 5X (5XL)
Brand: Fanatics Branded
Players you can add to the the Celtics NFL Finals Jersey (2022)
Jaylen Brown
Sam Hauser
Al Horford
Luke Kornet
Juwan Morgan
Aaron Nesmith
Payton Pritchard
Marcus Smart
Nik Stauskas
Jayson Tatum
Daniel Theis
Derrick White
Robert Williams III
Grant Williams
You may also enjoy :
Additional Retailers Who Carry Boston Celtics NBA Finals / Championship Jerseys, Tee Shirts, Hoodies and Hats
FTC Disclosure :  The retailer that we have recommended to you below for regular, big and tall Celtics Finals gear is a company that we are affiliated with.  As one of their affiliates, we receive a small commission for orders placed on their website.  This helps to support our small business and is at no expense to the customer.  Thanks for your support and congratulations on a great season!
Fans Edge Sports :
Return policy – 365 days.
International shipping – Yes.
Men's Celtics Finals apparel available in – S, M, L, XL, XXL (2X), 3XL (3X), 4XL (4X), 5XL (5X), 6XL (6X).  XT (XLT), 2XT (2XLT), 3XT (3XLT), 4XT (4XLT), and 5XT (5XLT).
Women's Celtics apparel available in : S, M, Plus M, L, Plus L, XL, classic XXL, Plus 2X, Classic 3XL, Plus 3X, and Plus 4X.
Shop All Men's Boston Celtics apparel available.
Shop All Women's Boston Celtics apparel available.
Browse the Kids Boston Celtics apparel department.