Hockey and football season stretches through the coldest months of the year in Buffalo…  The temps can range from chilly in the fall to bitter cold in the winter.  Make sure that you have some warm outerwear for when those temperatures drop and the snowflakes fall.  Regular, Big & Tall Buffalo Bills & Sabres Jackets are available in S-2X, 3X (3XL), 4X (4XL), 5X (5XL), 6X (6XL).  XLT (XT), 2XLT (2XT), 3XLT (3XT), 4XLT (4XT), and 5XLT (5XT).
Buffalo Bills Jacket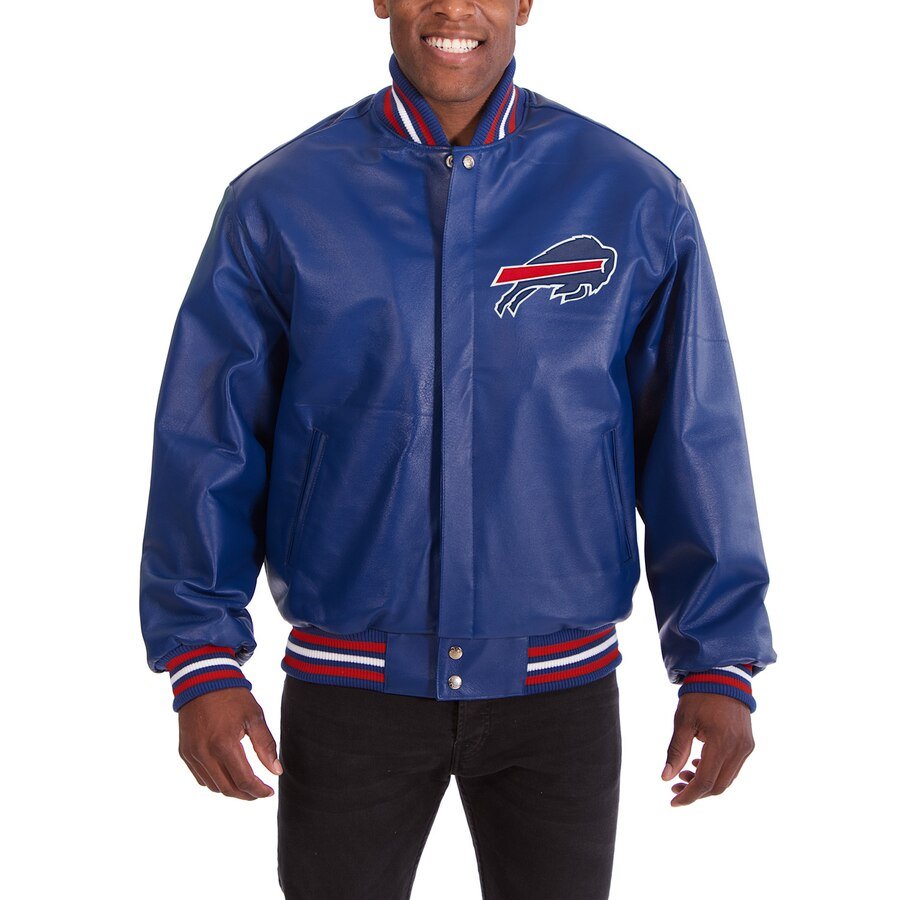 Material: 100% Leather
Two front pockets
Hand crafted leather logos
Midweight jacket suitable for moderate temperatures
Two inside pockets
Embroidered knit collar, cuffs and waistband
Satin lining
Pig Napa leather
Long sleeve
Full Snap
Officially licensed
Made in the USA
Brand: JH Design
In addition to the big and tall leather Buffalo Bills jacket, you can also choose between an all wool, and wool/leather combo jacket in this designs.  Be sure to check them all out.
Buffalo Bills Pullover Jacket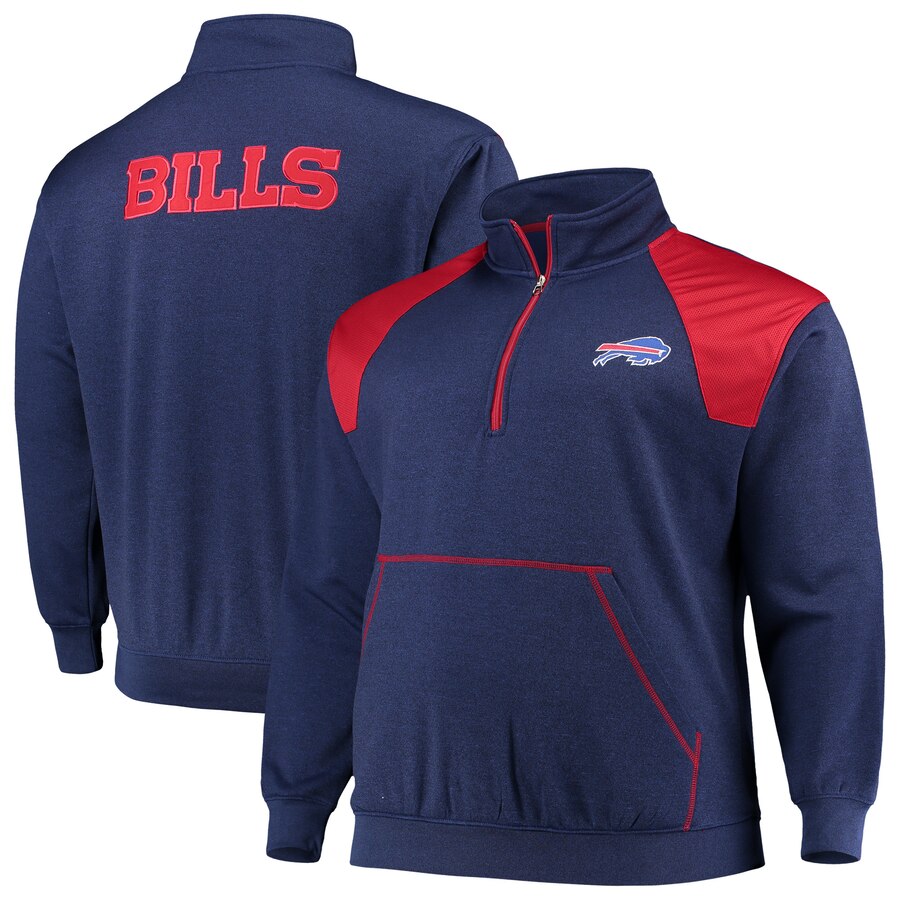 There are dozens of Buffalo Bills jackets to choose from.  Pullover, zip front, button front snap and more.  Lightweight, midweight, and heavyweight jackets that are perfect for fall, winter, and spring.  So, whatever climate you live in, there are definitely Buffalo Bills jackets for you.
Shop All Buffalo Bills Jackets & Apparel by Size
You may also enjoy :
Buffalo Sabres Winter Jackets
Here is a Buffalo Sabres wool and leather jacket to keep you warm and comfortable, while looking fashionable cheering on your favorite hockey team.  Many Buffalo Sabres jackets to choose from.. Midweight, lightweight, and heavyweight jackets.
Buffalo Sabres 1/4 Zip Pullover Jacket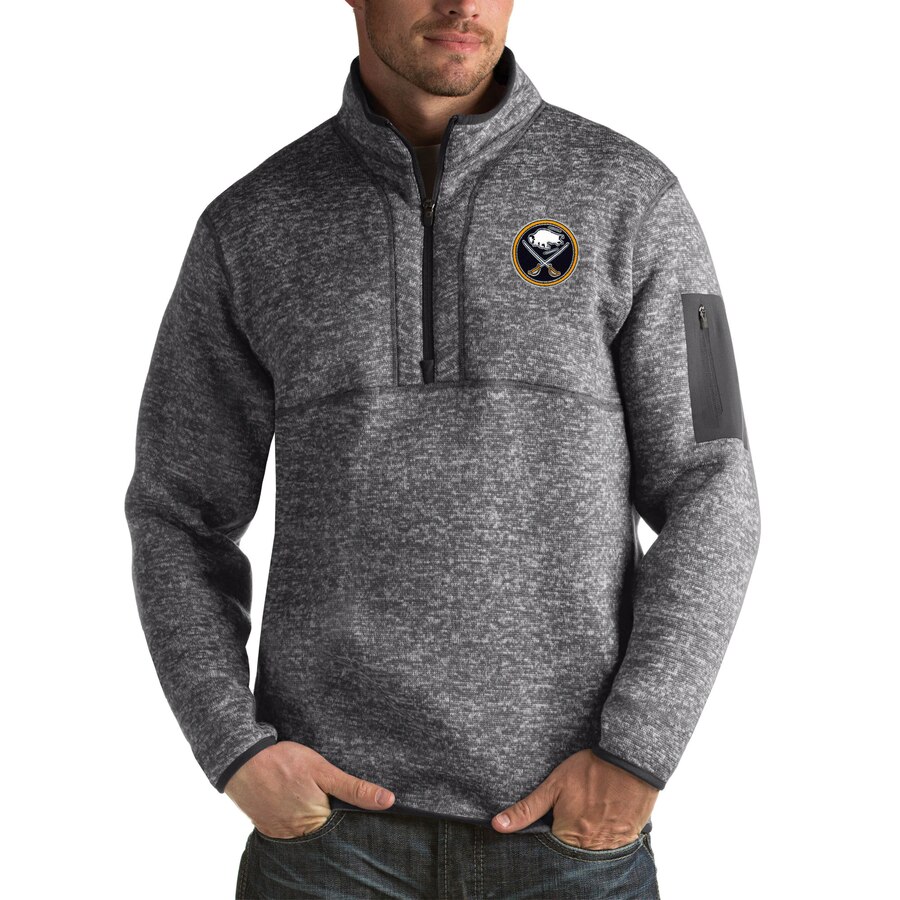 Shop ALL Buffalo Sabres Jackets & Team Apparel by Size
You may also enjoy :
Additional Retailers Who Carry Big & Tall Buffalo Bills & Sabres Jackets
FTC Disclosure :
Finding quality big and tall professional sports apparel isn't easy.  We have recommended our favorite for big and tall jackets for the Bills and Sabres.  Since, we are affiliates of the company we have recommended below, we will receive a small commission for any orders placed.  We hope that we may have helped you find some cool and unique team gear in the sizes that you need.
Fans Edge Sports :
Return policy – 1 Year hassle free returns.
Types of big and tall apparel available – Bills and Sabres tee shirts, pullover hoodies, zip front hoodie jackets.  Leather & wool jackets. 1/4 zip pullover jackets.  Polo shirts, tank tops, lightweight & midweight jackets, and more.
Men's sizes available – S, M, L, XL, XXL (2X), 3XL (3X), 4XL (4X), 5XL (5X), 6XL (6X).  XT (XLT), 2XT (2XLT), 3XT (3XLT), 4XT (4XLT), and 5XT (5XLT).
Women's sizes available – S, M, Plus M, L, Plus L, XL, 1X, Classic Fit XXL, Plus Fit 2X, Classic Fit 3XL, Plus Fit 3X, and Plus Fit 4X.
Shop All Buffalo Bills Merchandise & Apparel at Fans Edge Sports.
Browse Big & Tall Buffalo Bills Apparel.
Shop All Buffalo Sabres Merchandise & Apparel.