Cleveland Browns Jersey (New 1946 Throwbacks) S-2X 3X 4X
Have you seen the new Cleveland Browns throwback jerseys that they will be wearing for some of their games this year?  While they are "new", they represent the old throwback look of the 1946 Cleveland Browns.  You can order the 1946 Browns jerseys for many of the star players on the team.  Baker Mayfield, Odell Beckham Jr., Jarvis Landry, Nick Chubb, and more.  In addition to the throwbacks, traditional Cleveland Browns jerseys are also available in regular (S-2X), big and tall 3X (3XL), 4X (4XL), 5X (5XL), 6X (6XL).  Extended tall XLT (XT), 2XLT (2XT), 3XLT (3XT), 4XLT (4XT), and 5XLT (5XT).
1946 Vintage Cleveland Browns Backer Mayfield Jersey – Throwback Style by Nike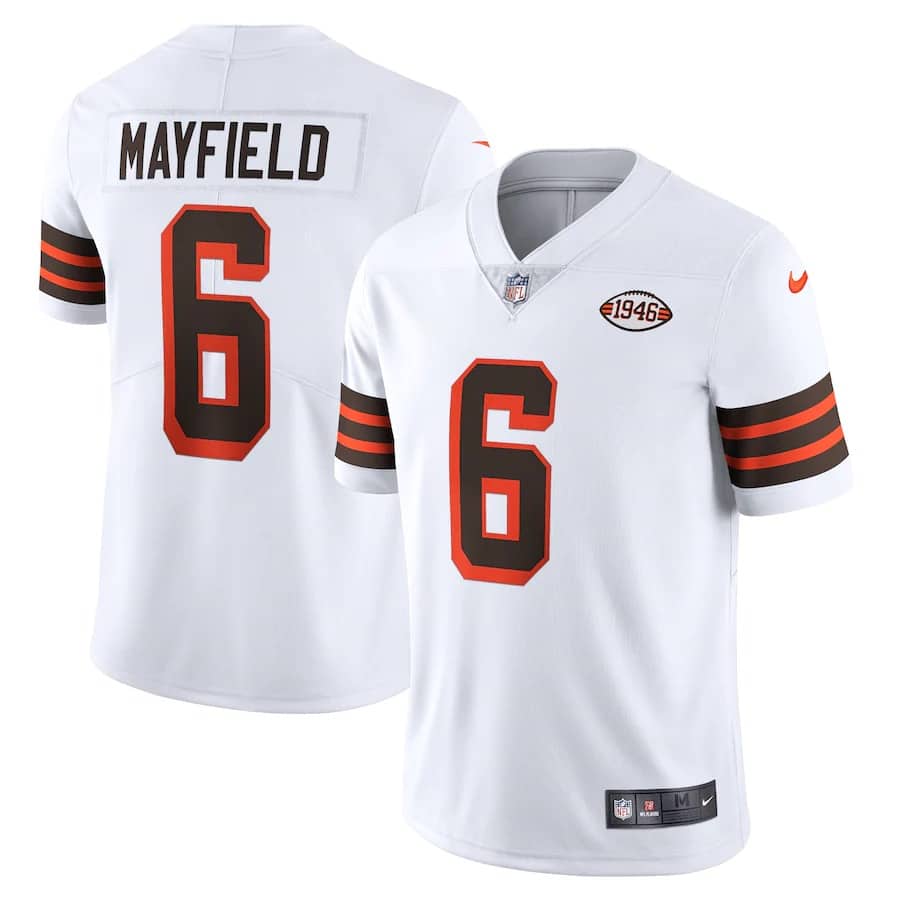 Baker Mayfield is the dynamic young quarterback that the team hopes can lead them to a super bowl.  He has all the talent in the world, and mental makeup to make this dream a reality.  Cheer on Baker Mayfield in this classic 1946 tribute uniform and stand out in the crowd as you express your loyal fandom.
Jersey details :
Fit: Men's Nike Game Jerseys fit true to size.
Material: 100% Recycled Polyester
Hand crafted inside and out for lasting, premium comfort
Mesh side panels for extra breathability
NFL shield at collar
No-tag neck label for clean comfort
Satin twill woven jock tag
Screen print name, numbers and logos
Tailored fit designed for movement
Machine wash
Officially licensed
Brand: Nike
Odell Beckham Cleveland Browns Jersey – 1946 Tribute Uniform by Nike
Odell Beckham is a one of Baker Mayfield's favorite "Go-To" receivers when the team needs to make a big play..  Beckham Jr.  has a knack of coming down with huge catches with the game on the line.  He has a flair for the dramatic, and is a favorite with the fans.  Gear up with a Cleveland Browns 1946 jersey by Nike and add some unique flair to your wardrobe.
Nick Chubb Cleveland Browns Jersey (1946 by Nike Edition)
Nick Chubb is a workhorse in the backfield and provides the much needed running attack to give the Browns a well rounded and potent offensive attack.
Shop All Cleveland Browns Jerseys & Apparel by Size
You may also enjoy :
Additional Retailers Who Carry the 1946 Cleveland Browns Jersey by Nike
FTC Disclosure : The retailer that we have recommended for you below carries the commemorative tribute Browns jerseys from 1946 that the players will be wearing on the field.  Cheer on the Browns in a unique and fashionable throwback uniform, made by Nike.  As affiliates of NFL Fan Shops, we receive a small commission if an order is placed on their site if you use one of our referral links below.  This helps to support our small business, but at no expense to the customer.  Thanks for your support, and we hope that we have helped you find what you were looking for.
NFL Fan Shops : This company carries a huge selection of Cleveland Browns fan gear including throwback jerseys, and nostalgic memorabilia.  Furthermore, they do carry the 1946 Browns throwback jersey that the players will be wearing this year.
Return policy – 365 days.
International shipping – Yes.
Men's sizes available – S, M, L, XL, XXL (2X), 3XL (3X), 4XL (4X), 5XL (5X), 6XL (6X).  XT (XLT), 2XT (2XLT), 3XT (3XLT), 4XT (4XLT), and 5XT (5XLT).
Women's sizes available – S, M, Plus M, L, Plus L, XL, Classic XXL, Plus 2X, Classic 3XL, Plus 3X, and Plus 4X.
Shop All Men's Cleveland Browns Apparel available.
Browse all Cleveland Browns Jerseys available.
Browse the Big & Tall Cleveland Browns department.
Shop Women's  Cleveland Browns Apparel.