Courtland Sutton Jersey S-3X 4X 5X 6X XLT 2XLT 3XLT 4XLT
The Broncos have found themselves a star receiver in Courtland Sutton.  The SMU wide receiver standout was drafted in the 2nd round by Denver in the 2018 draft and has since blossomed into a star.  He has came down with circus catches and has been a bright sport on a Denver Broncos team in transition.  Gear up for the Denver Broncos uprising with a Courtland Sutton Jersey in orange, white, or navy blue.  Men's sizes available are S-3X (Nike), 2X (XXL), 3X (3XL), 4X (4XL), 5X (5XL), 6X (6XL).  XLT (XT), 2XLT (2XT), 3XLT (3XT), 4XLT (4XT), and 5XLT (5XT) by Pro Line.  Women's Courtland Sutton jerseys are available in S – Plus 4XL.
Courtland Sutton Jersey
You may also enjoy :
Kids NFL Jerseys – Courtland Sutton is available (as well as many other Denver Bronco star players)
Browse All Denver Broncos Jerseys & Apparel by Size
Women's Courtland Sutton Jersey (S-4X)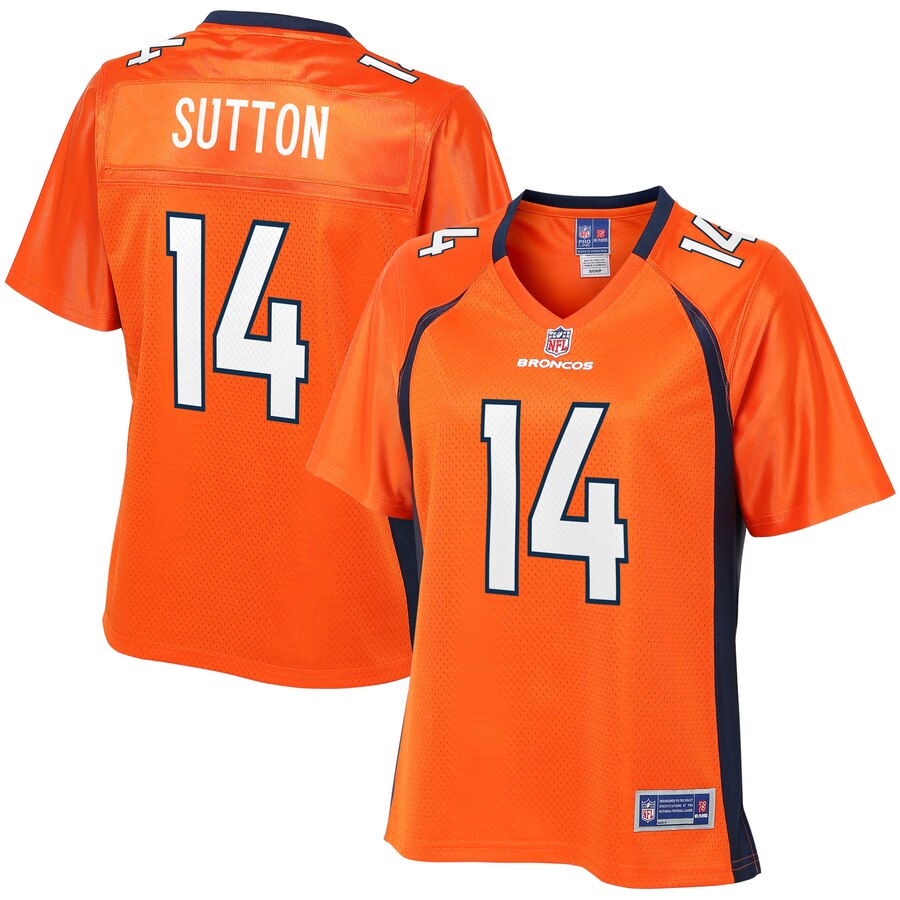 Shop Women's Courtland Sutton Jerseys & Denver Broncos Apparel
Shown in the image above is the women's Courtland Sutton jersey, made by Pro Line in Small – 4X.  You can also purchase a ladies Nike uniform in sizes Small – XXL. (Orange, White, or Navy as the primary color options).
You may also enjoy :
Kids Courtland Sutton Jersey
In addition to adult regular, bit, tall, and plus sizes there are also sizes for the kids as well!
Kids Denver Broncos apparel is available in sizes :
Baby – 6M, 9M, 12M, 18M, 24M
Toddler – 2T, 3T, 4T
Preschool – 4, 5, 6, 7, 8
Youth – XS, S, M, L, XL
Additional Retailers Who Denver Broncos Apparel
We are affiliated with dozens of sports retailers, but only a few carry Denver Broncos Jerseys in Big & Tall, or Plus Size options.  We have recommended one of our favorites for you below.  As an affiliate, we receive a small commission on orders placed (at no cost to the consumer).  Thanks for your support, and we hope that we have helped you find a Denver Broncos, Courtland Sutton Jersey in the sizes that you need.
NFL Fan Shops
This company carries a huge selection of Denver Broncos apparel.  They have big & tall, and plus size departments for the larger sizes that are harder to find at most retail stores.  NFL jerseys are available by Pro Line & Nike.  Adult, Youth, Toddler, and Baby apparel for the entire family.
Men's sizes available – S, M, L, XL, XXL (2X), 3XL (3X), 4XL (4X), 5XL (5X), 6XL (6X).  XT (XLT), 2XT (2XLT), 3XT (3XLT), 4XT (4XLT), and 5XT (5XLT).
Women's sizes available – S, M, Plus M, L, Plus L, XL, Classic XXL ,Plus 2X, Classic 3XL, Plus 3X, Classic 4XL, Plus 4X.
Kids sizes available – Baby 6M, 9M, 12M, 18M, 24M.  Toddler 2T, 3T, 4T.  Preschool 4, 5, 6, 7, 8.  Youth XS, S, M, L, XL.
Shop All Men's Denver Broncos Jerseys & Apparel
Shop All Women's Denver Broncos Jerseys & Apparel
Shop All Kids Denver Broncos Jerseys & Apparel