Dan Marino Jersey, Shirts S-3X 4X 5X 6X XLT 2XLT 3XLT 4XLT 5XLT
Dan Marino, the legendary Miami Dolphins quarterback is one of the greatest quarterbacks of all time.  He played 17 years in the NFL, all for the Miami Dolphins..  A true living legend, Dan Marino holds dozens of NFL records, an NFL MVP award, and was elected to the Pro Bowl 9 times!  Gear up with a Mitchell & Ness throwback Dan Marino Jersey of the Miami Dolphins and relive the glory days when Marino was leading the Dolphins to so many victorious season.. Men's sizes S-2X, 3X (3XL), 4X (4XL), 5X (5XL), 6X (6XL).  XLT (XT), 2XLT (2XT), 3XLT (3XT), 4XLT (4XT), and 5XLT (5XT).  Women's' Dan Marino Jerseys are available in S – Plus 4XL.
Dan Marino Jersey
You may also enjoy :
Long Sleeve Dan Marino Shirt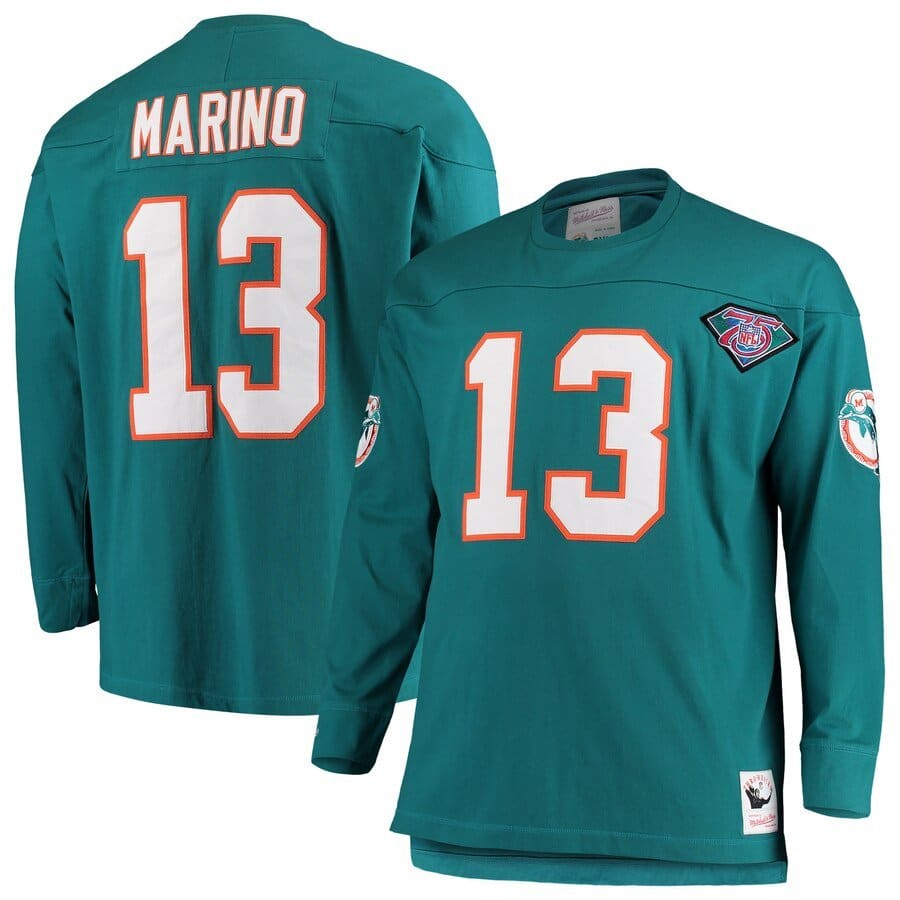 The long sleeve Dan Marino shirt shown above gives you the look and feel of a jersey, but with the comfort and warmth of a 100% cotton long sleeve shirt.  Available in big & tall sizes!
Material: 100% Cotton
Droptail hem
Woven jock tag
Sides split at bottom hem
Tackle twill graphics
Embroidered fabric applique
Embroidered graphics
Crew neck
Long sleeve
Machine wash, tumble dry low
Officially licensed
S, M, L, XL, XXL (2X), 3XL (3X), 4XL (4X), 5XL (5X), 6XL (6X).  XT (XLT), 2XT (2XLT), 3XT (3XLT), 4XT (4XLT), and 5XT (5XLT).
Brand: Mitchell & Ness
Women's Dan Marino Jersey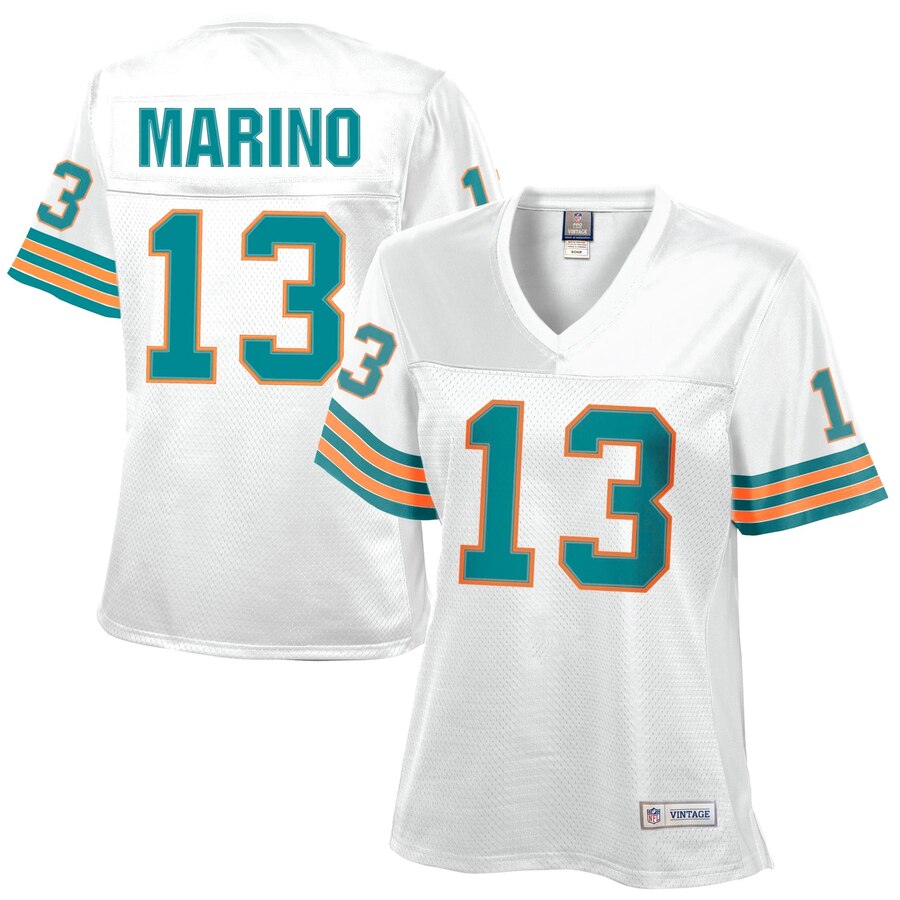 Women's Dan Marino Aqua Miami Dolphins Jersey
Both aqua and white Dan Marino jerseys are available, designed just for the ladies!  Women's sizes available are S, M, L, XL, 2X, 3X, and 4X.
You may also enjoy :
Additional Retailers Who Carry Big, Tall, and Plus Size Dolphin Jerseys & Apparel
Just in case you haven't found the Marino jersey or Dolphins gear you were searching for, don't give up quite yet.  We are affiliated with dozens of online sports retailers who carry a huge selection of Dolphins apparel.  We have chosen one of our favorites for you below.  This is because they carry Dolphins apparel in big & tall sizes for men, plus sizes for women, and even baby / toddler / youth sizes for the kids.  So, deck out your whole family in official team gear from a company that you can trust!
FTC Disclosure :
We are affiliates of the retailer that we have recommended for you below.  This simply means that we receive a small commission on all orders made (at no expense to the customer).  This helps to support our site, but also does not affect the price of any item that the company offers..  Hopefully, we have helped you find some cool Dolphins team apparel that you were searching for.
Sports Fanatics :
Return policy – 1 Year hassle free returns & exchanges.
International shipping – Yes.
Men's sizes available – S, M, L, XL, 2X, 3X, 4X, 5X, 6X, XLT, 2XLT, 3XLT, 4XLT, 5XLT.
Women's sizes available, S, M, Plus M, L, XL, 1X, XXL, 3XL, 4XL.
Dolphin jerseys available by : Nike, Pro Line, Mitchell & Ness, and Vintage.
Shop All Men's Miami Dolphins Gear.
Shop Big & Tall Miami Dolphins Apparel.
Shop All Women's Miami Dolphins Apparel.
Shop All Kids Miami Dolphins Apparel.