Darryl Strawberry Jersey S-2X 3X 4X 5X 6X XLT 2XLT 3XLT 4XLT 5XLT
Darryl Strawberry is one of the New York Mets infamous legends who starred for the team during their run in the 80's.  Straw had one of the sweetest swings in baseball who had a penchant for hitting clutch towering hrs.  Additionally, Strawberry had a rocket arm in right field and was a key piece in the Mets 1986 World Series Championship run.  Celebrate the career of a Mets legend with an authentic Darryl Strawberry Jersey by Mitchell and Ness.
Big and Tall Darryl Strawberry Jersey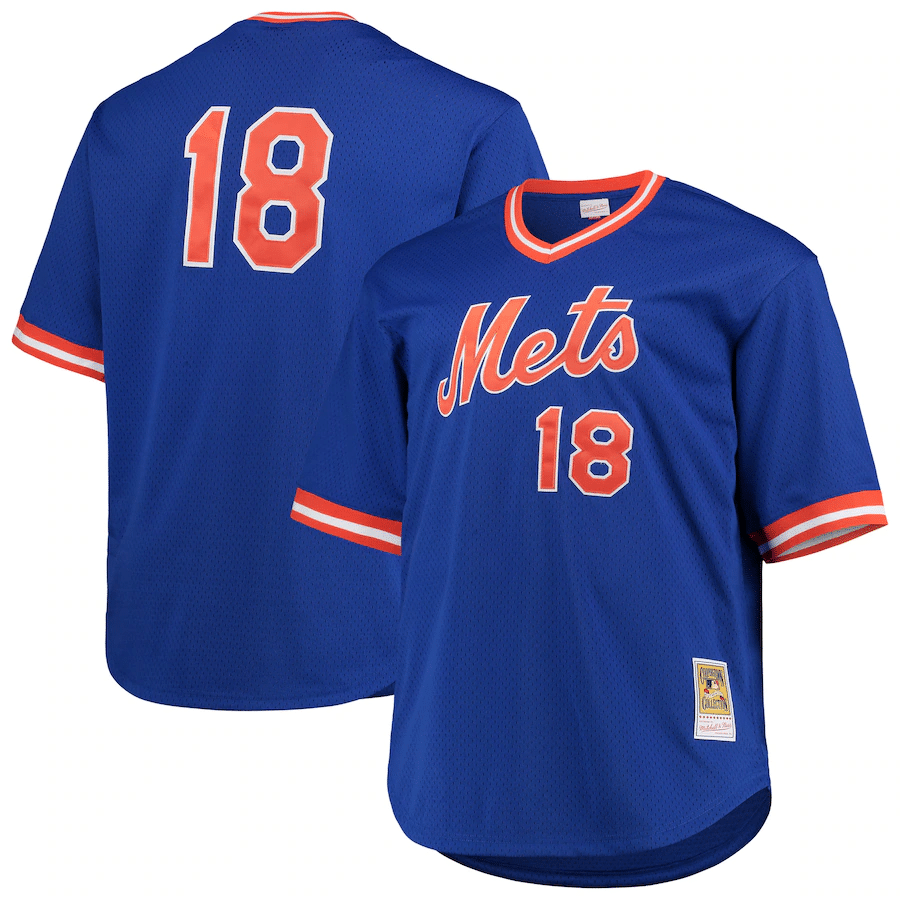 Here is one of the jerseys that Darryl Strawberry used to wear while starring for the Mets.  Strawberry had a personality that really fit well with the Mets roster.  Strawberry won the rookie of the year, and was a force in Major League Baseball for 17 seasons.  Strawberry was known for his prodigious homeruns towering presence at 6 feet 6 inches.
Jersey Details :
Material: 100% Polyester
Mesh fabric
Woven jock tag above left hem
V-neck
Stitched tackle twill applique
Short sleeves
Rounded bottom hem
Sublimated stripes
Machine wash, tumble dry low
Officially licensed
Sizes : 2X, 3X, 4X, 5X, 6X, XLT, 2XLT, 3XLT, 4XLT, and 5XLT.
Brand: Mitchell & Ness
White Pinstripe Darryl Strawberry Jersey
Jersey Details :
Material: 100% Polyester
Heat-sealed jock tag
Heat-sealed tackle twill applique
Rounded hem
Short sleeve
Machine wash gentle or dry clean. Tumble dry low, hang dry preferred.
Officially licensed
Brand: Nike
Shop All NY Mets Jerseys & Apparel by Size
You may also enjoy :
Big and Tall Mets Jerseys & Apparel – The Mets have opened up the pocket books and have fielded a team with all the talent to win a World Series Championship!  It's time to gear up, and support the Mets as they embark on their mission to play baseball deep into October!
Big and Tall NY Knicks Apparel – Jerseys, tee shirts, hoodies, jackets, and more..  If you love the Knicks and you need sizes XXL, 3XL, 4XL, 5XL, 6XL, XT, 2XT, 3XT, 4XT, or 5XT then be sure and check out all the fan gear that is available.
Additional Retailers Who Carry Throwback Darryl Strawberry Jerseys
MLB Fan Shops :
This company carries a huge selection of nostalgic throwback Mets apparel including the Darryl Strawberry Jersey.  In addition to Strawberry, they also carry sweet throwbacks like Tom Seaver, Mike Piazza, Gary Carter, Keith Hernandez, Dwight Gooden and more.  So, bring back those memories with an official throwback uniforms of one of your favorite all time legendary players.
FTC Disclosure : We are affiliated with MLB Fan Shops.  This simply means that we receive a small commission if an order is placed on their website.  Mind you, this is at no expense to the customer.  This helps to support our small business and for that we thank you.  We hope that we have helped you find the Mets gear that you were searching for.
MLB Fan Shops :
Return policy – 365 day hassle free returns.
Men's sizes available – S, M, L, XL, XXL (2X), 3XL (3X), 4XL (4X), 5XL (5X), 6XL (6X).  XT (XLT), 2XT (2XLT), 3XT (3XLT), 4XT (4XLT), and 5XT (5XLT).
Women's sizes available – S, M, Plus M, L, Plus L, XL, 1X, Classic XXL, Plus 2X, Classic 3XL, Plus 3X, and Plus 4X (4XL).
Shop All Mets Jerseys and Apparel Available.
Shop the Big and Tall NY Mets Department.