Johnny Bench, was one of the greatest catchers in MLB history.  Bench, was a key contributor on the "Big Red Machine, a Reds team that dominated the National League through the mid 70's.  Celebrate the career of this Cincinnati Red legend, and 14 time All Star with an official Johnny Bench Jersey that is available in regular, and big & tall size options.  Sizes include S, M, L, XL, 2X (XXL), 3X (3XL), 4X (4XL), 5X (5XL), 6X (6XL).  XLT (XT), 2XLT (2XT), 3XLT (3XT), 4XLT (4XT), and 5XLT (5XT).
Johnny Bench Jersey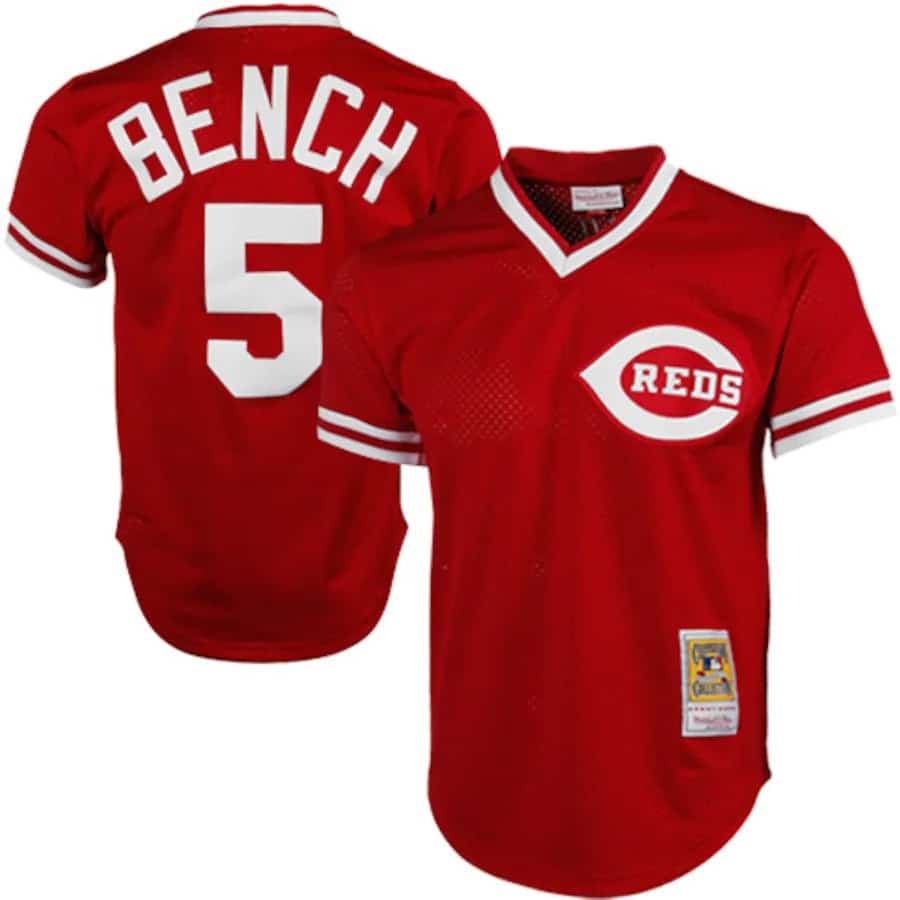 In addition to the offensive prowess of Johnny Bench, he was also an outstanding defender.  He won the NL MVP twice, and twice led the league in home runs.  At the time of his retirement, Johnny Bench was the only catcher who had ever won the hr title in the NL.  Defensively, Johnny Bench was a 10 time gold glove award winner!  Needless to say, Johnny Bench was inducted into the Baseball Hall of Fame the first year that he was eligible.i
Shop All Cincinnati Reds Jerseys & Apparel by Size
You may also enjoy :
Cheap Cincinnati Reds Jerseys – By affordable Cincinnati Reds jerseys, but be sure not to fall for cheap / counterfeit knockoffs.  Check out the replica Reds jerseys that are available from name brands that you can trust.
Joe Burrow Cincinnati Bengals Jersey
Big and Tall Throwback Cincinnati Reds Jersey
Material: 100% Polyester
Screen print name and numbers
Short sleeve
V-neck
Embroidered twill applique graphics
Machine wash, tumble dry low
Tagless Collar
Sizes : 2X, 3X, 4X, 5X, 6X, XLT, 2XLT, 3XLT, 4XLT, 5XLT.
Brand: Profile
In addition to Johnny Bench jersey, also be sure to check out the entire selection of throwback Cincinnati Reds apparel including tee shirts, jerseys, hats, and jackets in big & tall sizes..
Additional Retailers Who Carry Big & Tall Cincinnati Reds Jerseys & Apparel
If you still can't find the Johnny Bench jersey, or throwback Red gear then we would love to recommend MLB Fan Shops.  They  are an official supplier of Major League Baseball, and do indeed have a nice collection of regular, big & tall Cincinnati Reds apparel… Yes, they do carry Johnny Bench jerseys, as well as throwbacks of other former Reds legends like Barry Larkin, Pete Rose, Ken Griffey Jr., Joe Morgan and more.
FTC Disclosure : We are affiliates of MLB Fan Shops.  This simply means that we receive a small commission if an order is placed on their site (at no cost to the customer).  This helps to support our small business, and for that we thank you!  Thanks for stopping by, and we hope that we have helped you find what you were looking for.
MLB Fan Shops :
Return policy – Yes.
International shipping – Yes.
Men's sizes available – S, M, L, XL, XXL (2X), 3XL (3X), 4XL (4X), 5XL (5X), 6XL (6X).  XT (XLT), 2XT (2XLT), 3XT (3XLT), 4XT (4XLT), and 5XT (5XLT).
Women's sizes available – S, M, Plus M, L, XL, 1X, Classix XXL, Plus 2X, Plus 3X, and Plus 4X.
Shop All Cincinnati Reds Jerseys & Apparel Available.
Shop the Big & Tall Cincinnati Reds Department.