Josh Giddey has quickly made a name for himself.  He was the youngest player in NBA history to record a triple double.  The 6th overall draft pick made the 2nd team All Rookie team, and has the talent to be a star player in the NBA.  The Oklahoma City Thunder have high hopes that Josh Giddey will be a huge part of the teams success in the future.  Cheer on the team with an official OKC Thunder Josh Giddey Jersey and team apparel in sizes that include S-2X (XXL), 3X (3XL), 4X (4XL), 5X (5XL), 6X (6XL).  XLT (XT), 2XLT (2XT), 3XLT (3XT), 4XLT (4XT), and 5XLT (5XT).
Josh Giddey Jersey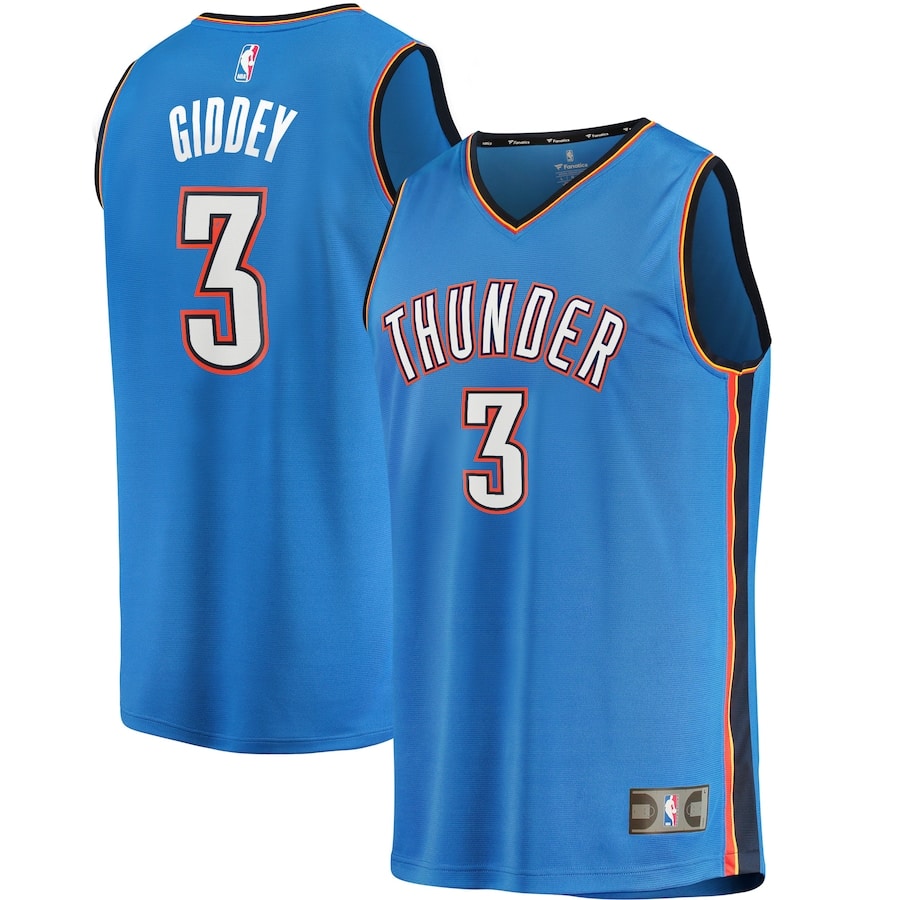 Josh Giddy is an Australian born player, who recorded three consecutive triple doubles as a rookie, and the future looks very bright for this young star.   The Josh Giddey jersey shown above is made by Fanatics Branded and is available for men, women, and kids.
Jersey details :
Material: 100% Polyester
Screen print graphics
FanFlex: Revolutionary trims that are foldable, lightweight and machine washable
Back neck taping
FanShield: Moisture management technology keeps you cool, dry and comfortable
FanTex: Performance midweight fabric that has the optimal drape and range of motion
FanFit: A more tailored fit providing improved comfort around the torso and arms
Heat-sealed woven jock tag
Machine wash
Officially licensed
Sizes : S, M, L, XL, 2X, 3X, 4X, 5X
Brand: Fanatics Branded
Shop All Josh Giddey Jerseys and Oklahoma City Thunder Apparel by Size
Being high 1st round draft pick comes with a lot of expectations, and after his rookie season all expectations have been met or surpassed.  How good can Josh Gibbey can be?  An NBA All Star is certainly within his reach, and stardom lies in his future.  Choose your size below to check out all of the Oklahoma City Thunder team apparel below.
You may also enjoy :
Additional Retailers Carry That Carry Josh Giddey Oklahoma Thunder City Jerseys
FTC Disclosure :  We are affiliated with the online sports retailer, that we have recommended for you below.  This simply means that we receive a small commission if an order is placed for referrals we deliver to their site that makes a purchases.  This is at no cost to the customer, and helps to support our site.  Thanks for your support, and we hope that we have helped you find what you were looking for.
Fans Edge Sports – This company carries a large selection of Oklahoma City Thunder jerseys, including the popular Josh Giddey Jersey.  Additionally they carry OKC Thunder big and tall tee shirts, hoodies, jackets, and much more.
Return policy – 365 hassle free returns.
International shipping – Yes.
Men's size availability – S, M, L, XL, XXL (2X), 3XL (3X), 4XL (4X), 5XL (5X), 6XL (6X).  XT (XLT), 2XT (2XLT), 3XT (3XLT), 4XT (4XLT), and 5XT (5XLT).
Women's size availability – S, M, Plus M, L, Plus L, XL, 1X, Classic XXL, Plus 3XL, Classic 3XL, Plus 3X, and Plus 4X.
Shop All Oklahoma City Thunder Jerseys and Apparel Available.
Shop Big and Tall Oklahoma City Thunder Apparel Available.