Mickey Mantle Jersey S-2X 3X 4X 5X 6X XLT 2XLT 3XLT 4XLT
Mickey Mantle was one of the greatest baseball times of all time.  Also known as "The Mick", was a switch hitting slugger who amazed his fans for a generation.  His speed, power, and agility was unparalleled and he was a Yankee fan favorite throughout his entire career.  Celebrate the life and career of the of the all time Yankees greatest legends with a Mickey Mantle jersey by Nike.  They are available in Yankee white pinstripes, and their road gray colors.  Additionally, Mickey Mantle jersey tees are available in big and tall sizes.  Yankees throwback gear is available in S-XL, 2X (XXL), 3X (3XL), 4X (4XL), 5X (5XL), 6X (6XL).  XLT (XT), 2XLT (2XT), 3XLT (3XT), 4XLT (4XT), and 5XLT (5XT).
Please note, we include affiliate links within this post to support the maintenance and development of this site. This helps to support our small business, at absolutely no cost to the customer.  Thank you for your support, and we hope that we have helped you find what you were searching for.
Mickey Mantle Jersey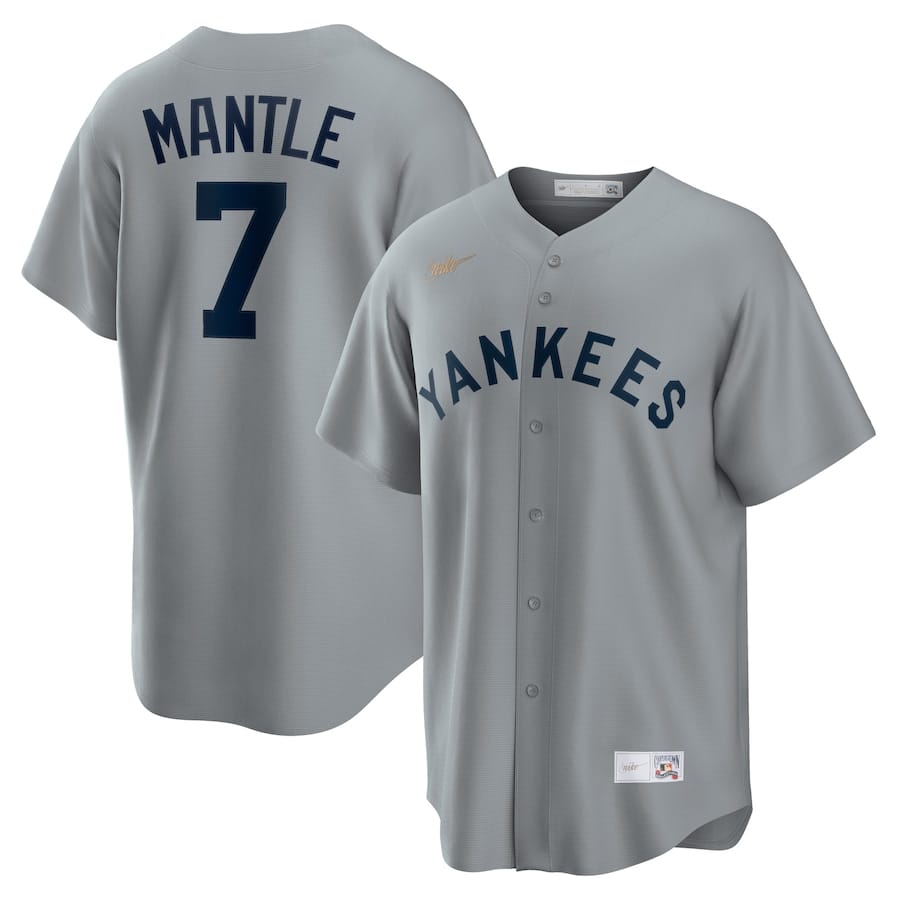 Shop All New York Yankees Jerseys and Apparel
Mickey Mantle came from humble beginnings, and fell in love with baseball at a young age.  Mantle quickly displayed an innate knack for the sport with scouts salivating at the talent "The Mick" possessed on the baseball field.  In addition to starring at baseball, Mantle also exceled at football as well.  The Yankees signed Mantle 1949, with his debut with the Yankees in 1951.
Mantle displayed electrifying speed, light tower power, and a switch hitting prowess that made him an unstoppable force on the field.  Mantle brought an unmatched combination of strength, grace, and unyielding determination.  1956 Mickey Mantle won the American Triple Crown (led the league in batting average, home runs, and runs batted in).
Over the course of his career, Mickey Mantle helped lead the Yankees to 7 World Series Championships, and won 3 AL MVP awards. Additionally, Mantle hit 536 career home runs with 16 All Star Game appearances.  Mantle was inducted into the Baseball Hall of Fame in 1974.
The Mickey Mantle Jersey shown above is made by Nike.  Celebrate the Yankees legend with an official throwback uniform of "The Mick", which will surely become one of your favorite jerseys to wear all throughout the year.
Big and Tall Mickey Mantle Tee Shirt Jersey
Shop All Big and Tall New York Yankees Apparel Available
(Sizes : 2X, 3X, 4X, 5X, 6X, XLT, 2XLT, 3XLT, 4XLT, and 5XLT)
You may also enjoy :
Additional Retailers Who Sell Mickey Mantle Jerseys
If you need additional assistance finding a Mickey Mantle Jersey, or throwback Yankees apparel be sure to check out the retailer that we have recommended for you below.  We have been affiliated with this sports retailer for many years, and we can verify that they are a great company, with an excellent collection of Yankees jerseys and apparel in big, tall, and plus sizes for men and women.  Kids gear is also available!
Fanatics :
Return policy – 365 days.
International shipping – Yes.
Men's sizes available – S, M, L, XL, XXL (2X), 3XL (3X), 4XL (4X), 5XL (5X), 6XL (6X).  XT (XLT), 2XT (2XLT), 3XT (3XLT), 4XT (4XLT), and 5XT (5XLT).
Shop All Yankees Jerseys and Apparel available at Fanatics.