Peyton Manning's NFL career is legendary, and he is the owner of countless records that look to stand the test of time.  Peyton Manning won 2 Super Bowls (Colts and Broncos) and appeared in 2 others.  Peyton was infamous for his cool and calm demeanor, as he dismantled defenses with ease… Celebrate the historic career of this Hall of Fame Legend with an Indianapolis Colts Peyton Manning Jersey in regular, and big and tall sizes.  Mitchell and Ness throwback uniforms available in S-2X, 3X (3XL), 4X (4XL), 5X (5XL), 6X (6XL).  XLT (XT), 2XLT (2XT), 3XLT (3XT), 4XLT (4XT), and 5XLT (5XT).
Peyton Manning Jersey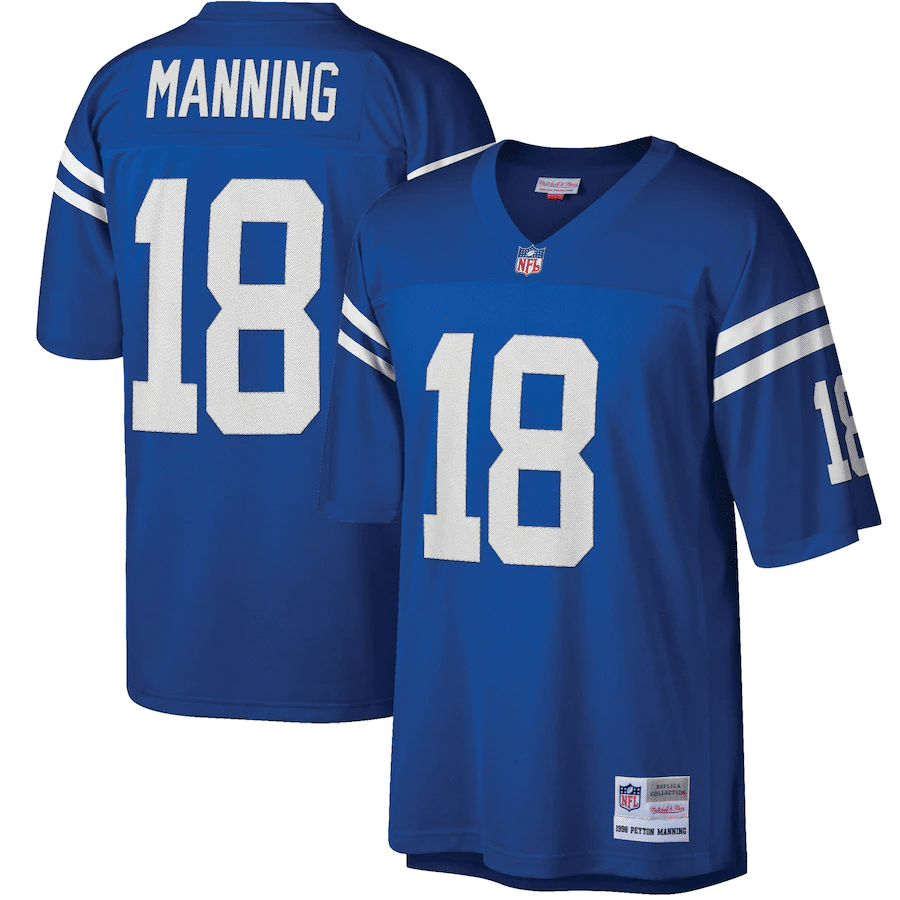 The Colts drafted Peyton Manning #1 overall in the 1998 draft, where he would develop into a star quarterback with the team between 1998 and 2010.  The Peyton Manning Jersey shown above has the look and style of the uniform that Manning wore while with the team.  It is made by Mitchell and Ness replica collection.
Jersey details :
Material: 100% Polyester
Woven tag at hem
Back neck taping – no irritating stitch on the back neck
Droptail hem with side splits
Stitched fabric applique with player year and name
Mesh fabric
Stitched tackle twill letters and numbers
Embroidered fabric applique
Pullover
Short sleeve
Stitched jock tag at bottom left hem
V-neck
Machine wash, tumble dry low
Officially licensed
S-XL, 2X, 3X, 4X, 5X, 6X, XLT, 2XLT, 3XLT, 4XLT, 5XLT
Brand: Mitchell & Ness
Shop All Indianapolis Colts Jerseys & Apparel by Size
In additional to the Peyton Manning Jerseys, there are also throwback jerseys available for Marvin Harrison, Eric Dickerson, and more.  Furthermore, be sure to check out all the big and tall vintage tee shirts, hoodies, jackets, jerseys and more.
You may also enjoy :
Additional Retailers Who Carry Peyton Manning Jerseys
If the size you were looking for was out of stock, or maybe you want an entirely different jersey altogether, be sure to check out some great alternatives.
FTC Disclosure : We are affiliated with the retailer that we have recommended for you below.  This simply means that we receive a small commission if an order is placed on their site (using one of our affiliate links below).  This helps to support our small business, and for that we thank you!
NFL Fan Shops : This company carries officially licensed NFL apparel including the throwback Peyton Manning Jersey.  Additionally, they also carry dozens of other NFL throwback jerseys of Hall of Fame legends.  Furthermore, they carry big and tall sizes that can be hard to find, especially for replica & authentic NFL jerseys (made by Nike & Mitchell & Ness).
Return policy – 365 day hassle free returns.
International shipping – S-XL, XXL (2X), 3XL (3X), 4XL (4X), 5XL (5X), 6XL (6X).  XT (XLT), 2XT (2XLT), 3XT (3XLT), 4XT (4XLT), and 5XT (5XLT).
Indianapolis Colts throwback Jerseys Available :
Peyton Manning
Marvin Harrison
Johnny Unitas
Marshall Faulk
Shop All Indianapolis Colts Apparel Available.
Browse the Big & Tall Indianapolis Colts Department.