2019 Pro Bowl Jerseys S-2X 3X 3XL, Barkley, Brady, Brees, Mack, Mahomes
The new 2019 Pro Bowl jerseys are out and they are looking pretty sharp.  They are made by Nike and all of the star players are available.  Saquon Barkley, Tom Brady, Drew Brees, Khalil Mack, JJ Watt, and more!  Sizing options include S, M, L, XL, XXL (2X), 3XL (3X).  Also big & tall NFL custom player tee shirts are available in 4X (4XL), 5X (5XL), 6X (6XL), XLT (XT), 2XLT (2XT), 3XLT (3XT), 4XLT (4XT), and 5XLT (5XT).
Saquon Barkley Pro Bowl Jersey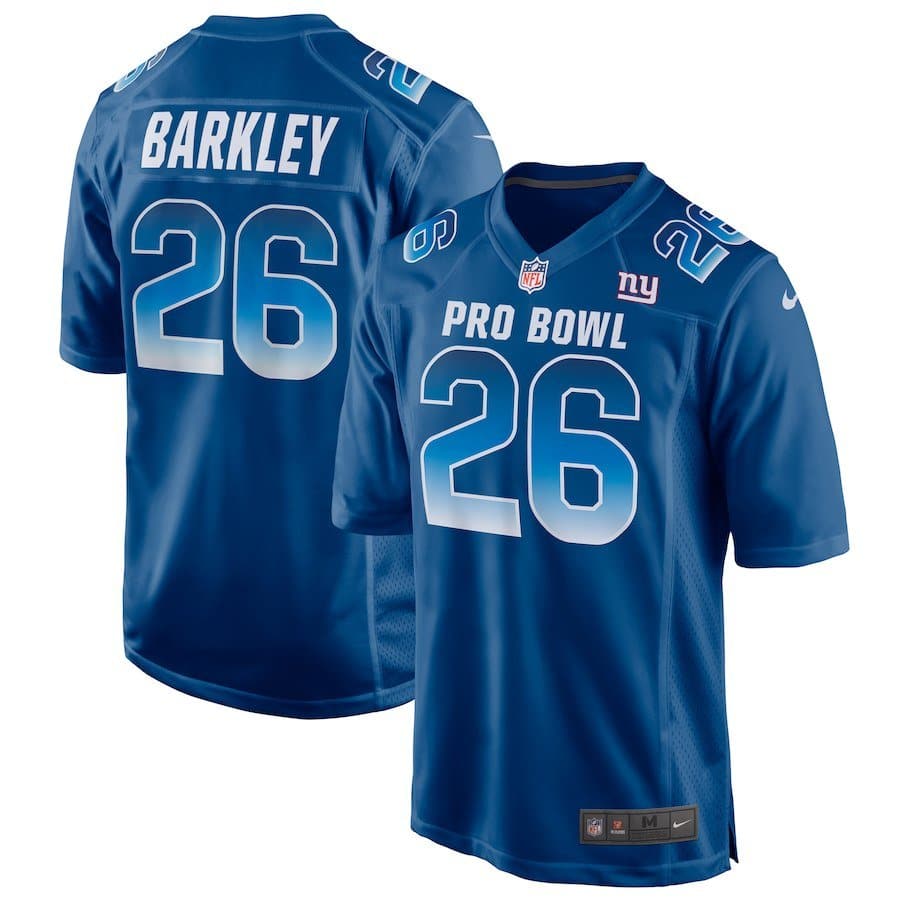 Saquon Barkley made the 2019 Pro Bowl in his rookie season..  The future is exciting if your a fan of Saquon and the NY Giants.  The Saquon Barkley Jersey shown above is available in S, M, L, XL, XXL (2X), and 3XL (3X).  So, grab a piece of history and celebrate Barkley's Pro Bowl season.  In addition to Barkley, 2019 Pro Bowl Jerseys are also available for :
Aaron Donald – If you love defense (and the L.A. Rams), then you would love a 2019 Pro Bowl Aaron Donald Jersey.  Donald isn't simply a sack artist, he is a defensive nightmare for opposing coordinators!
Tom Brady – A Pro Bowl just wouldn't seem right without Tom Brady there.  Nobody knows the last time that this Hall of Fame QB will hang it up, so capturing a piece of history with a 2019 Pro Bowl Jersey would become a pretty special selection in the wardrobe for years to come.
Jared Goff –  The LA Rams put together a spectacular season.. Where would they have been without the stellar play from Jared Goff?
Drew Brees – This future Hall of Famer broke a few yardage and touchdown records this year in putting a stamp on his legacy as one of the greatest quarterbacks of ALL TIME!  A 2019 Brees Pro Bowl jersey would be the perfect collector's piece to any die hard fan's wardrobe.
Todd Gurley II – The running game is still key if you want to be a Super Bowl team.  Todd Gurley II is the special type of running back that teams can build around, and the LA Rams did just that!
Saquon Barkley – The New Giants drafted themselves a gem. Saquon Barkley is a dynamic running back that not only is elusive, but explosive at the same time.  The Saquon Barkley Pro Bowl jersey is made by Nike and available for men, women, and even the kids.
Ezekiel Elliott – The Dallas Cowboys running game is in good hands with Ezekiel Elliott running the ball!  The Cowboys rushed their way to the playoffs and won their wild card game in their pursuit of a Super Bowl.  Ezekiel Elliott was a big part of their success.
Patrick Mahomes – The KC Chiefs, Patrick Mahomes jersey is one of the most popular in the NFL.  Here is his Pro Bowl jersey that was honored for him after he led the Chiefs 2018 / 2019 team to a division Championship!
Khalil Mack – Where would the Bears have been without Khalil Mack?  He was huge and he quickly became a fan favorite in Chicago.  Khalil Mack Jerseys will be popular for a long time for Chicago Bears fan, but this 2019 Pro Bowl Mack Jersey will be unique in every way.
JJ Watt – One of the best defensive forces in the NFL.  JJ Watt has been an MVP and a leader for the Texans playoff push..  Grab one of his All Pro jerseys and add it to your collection.
Telvin Smith – One of the great additions to the KC Chiefs defensive units!
Michael Thomas – Drew Brees favorite go to receiver, Michael Thomas.  He always seemed to be there when the New Orleans Saints need him the most!
2020 Pro Bowl Jerseys available in : S, M, L, XL, XXL (2X), 3XL (3X).
NFL Team apparel available in : S, M, L, XL, XXL (2X), 3XL (3X) 4XL (4X), 5XL (5X), 6XL (6X).  XLT (XT), 2XLT (2XT), 3XLT (3XT), 4XLT (4XT), 5XLT (5XT).