Redskins Jersey S-3X 4X 5X, John Riggins, Sean Taylor, Mann
Looking for that vintage throwback Redskins jersey?.. Maybe one of those legendary Washington Redskin stars like John Riggins, Joe Theisman, Dexter Manley, Sean Taylor, Charles Mann, Brian Orakpo, Joe Jacoby, or Gerald Riggs?  Great news, they are available for both men and women.. Bring back those classic memories with a vintage / retro Redskins jersey.  Men's sizes available in Small-XL, 2X, 3X (3XL), 4X (4XL), and 5X (5XL).  Women's throwbacks available in S, M, L, XL, XXL, 3X, 4X, and 5X.
Men's John Riggins Jersey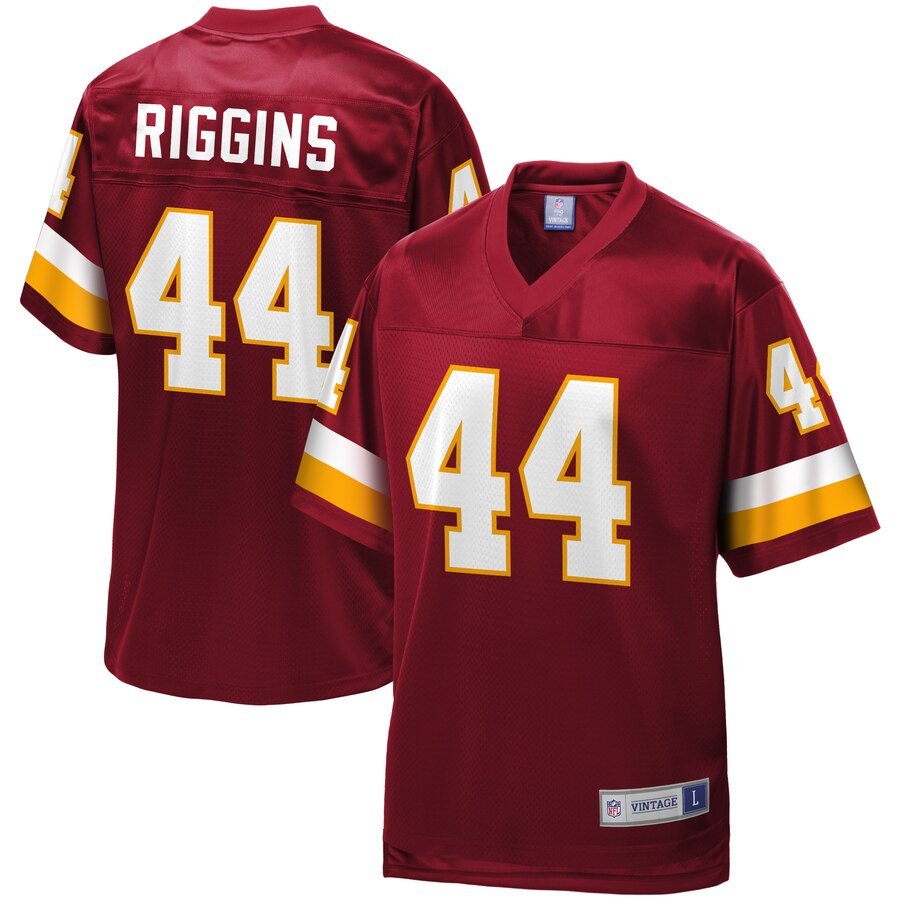 Made by : Pro Line
Sizes available – S, M, L, XL, XXL (2X), 3XL (3X), 4XL (4X), 5XL (5X).
You may also enjoy :
Women's John Riggins Jersey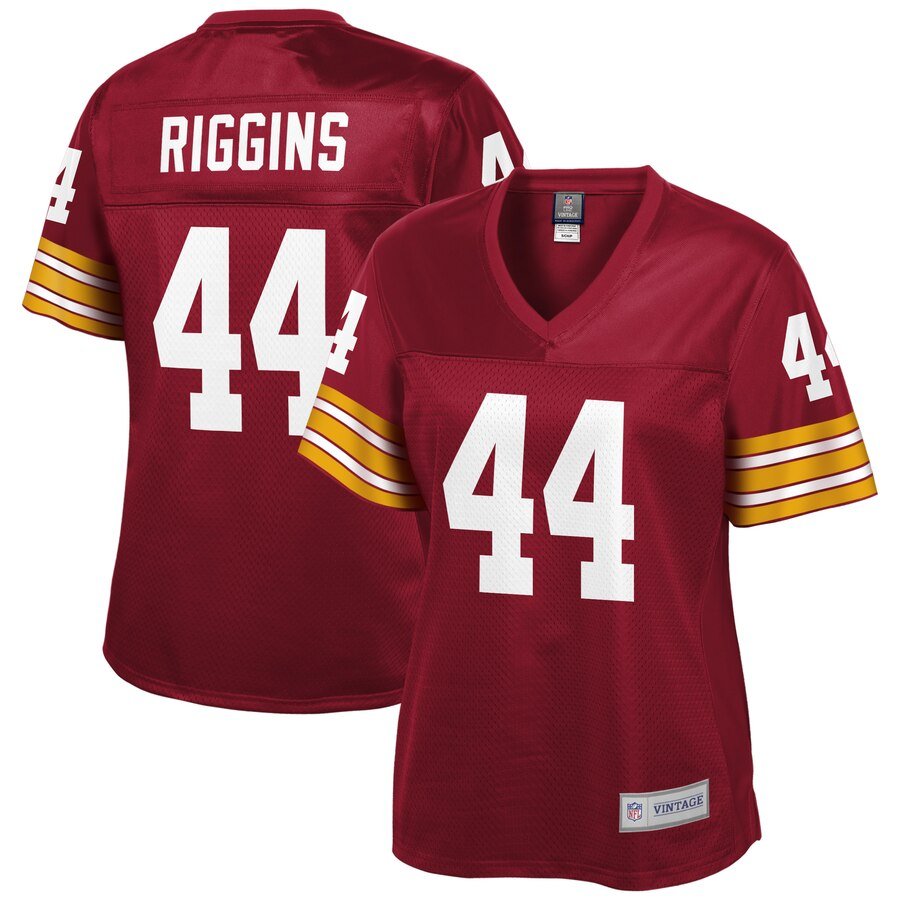 Wasn't it fun to watch John Riggins run?  He was in Beast Mode from the beginning snap, until the 4th quarter when his jersey was untucked, his plants bloodied, and the game was on the line.. John Riggins was just type of running back who could carry a team on his shoulders.  When you needed a first down, he was your man.. The John Riggins jersey for women shown above is available in sizes S, M, L, XL, 2X, 3X (3XL), 4X (4XL).
Big & Tall Sean Taylor, Washington Redskins Jersey by Mitchell & Ness
Looking for a big and tall Redskins jersey?  Something available in sizes 3X, 4X, 5X, 6X, XLT, 2XLT, 3XLT, 4XLT, and 5XLT?  This Sean Taylor Washington Redskins Jersey is made by Mitchell and Ness.
Sean Taylor was an amazing safety in the NFL, who tragically lost his life much too soon.. Celebrate an amazing human being with a Sean Tayler Washington Redskins throwback jersey by Mitchell and Ness.
Shop All Washington Redskins Jerseys by Size
Shop Women's Redskins Jerseys (Modern & Throwback) by Size
More Throwback Redskins Jerseys Available For :
Sean Taylor
John Riggins
Doug Williams
Sonny Jurgensen
Brian Orakpo
Charles Mann
Darrell Green
Dexter Manley
Joe Theismann
Gerald Riggs
Joe Jacoby
Additional Retailers Who Carry Washington Redskins Jerseys In Regular, Big, Tall, Sizes
FTC Disclosure : We are affiliated with the retailers shown below.  We will receive a small commission if a sale is made (at no cost to the customer).  We are not given any commission for a favorable review, page clicks, or page views.  Thanks, and Go Skins!
NFL Fan Shops :
Return policy – 1 Year.
International shipping – Yes.
Men's sizes available – S, M, L, XL, 2X (XXL), 3X (3XL), 4X (4XL), 5X (5XL), 6X (6XL), XLT (XT), 2XLT (2XT), 3XLT (3XT), 4XLT (4XT), and 5XLT (5XT).
Women's sizes available – S, M, L, XL, XXL, 3XL, 4XL.
Throwback Redskins Jerseys available :
Sonny Jurgensen – One of the all time great QBs.  Sonny Jurgensen was inducted to the Hall of Fame in 1983 and is one of the greats Redskins quarterbacks ever to put on a uniform.
Charles Mann – Simply legend…  Charles Mann was a 4 time All Pro defensive lineman who reigned terror on opposing quarterbacks.  Charles Mann played his career with the Washington Redskins and the San Francisco 49ers.
Dexter Manley – The "Secretary of Defense," was an appropriate nickname for Dexter Manley of the Washington Redskins.  Dexter Manley played defensive end and amassed 97.5 sacks in his career!
Brian Orakpo – 4 Time Pro Bowler, Brian Orakpo was one of the Redskins greatest linebackers to ever play the position.
John Riggins – Rough, tough, and ready to rumble.  Of all the throwback Redskins jerseys, John Riggins is the most popular.
Joe Theismann – One of the great Redskin quarterbacks.  Joe Theismann helped lead the Redskins to two consecutive Super Bowl appearances.  They won Super Bowl XVII!
Gerald Riggs – One of great running backs of the 80's.  Did you know, that during his best season when he amassed over 1,700 rushing yards, Gerald Riggs did not fumble the ball once?  Unbelievable!
Joe Jacoby – One of offensive tackles on the infamous "Hogs" offensive line.  Joe Jacoby stands at 6 foot 7, and helped pave the way for many of John Riggins epic runs!
Shop ALL Men's Washington Redskins Apparel at NFL Fan Shops.
Shop All Women's Washington Redskins Apparel at NFL Fan Shops.
Do you when you come across a cheap deal?  Money saving discounts?  Or maybe a coupon code to help save you money?  Consider Liking "Rivalry Sports" on Facebook.  We share promo information when great deals are available from well trusted online sports retailers.