San Francisco Shock Jersey, Tee S-3X 4X 4XL 5X 5XL
Ready for some Overwatch??  We are… The San Francisco Shock jersey is out and they look sharp.  All of your favorite squad players are available.  You can even choose your own name and number if you think that you have what it takes to be an Overwatch star someday.  In addition to SF Shock Jerseys, tee shirts, hoodies, jackets, and hats are also available for men, women, and kids.  Sizes S, M, L, XL, 2X (XXL), 3X (3XL), 4X (4XL), and 5X (5XL).
San Francisco Shock Jersey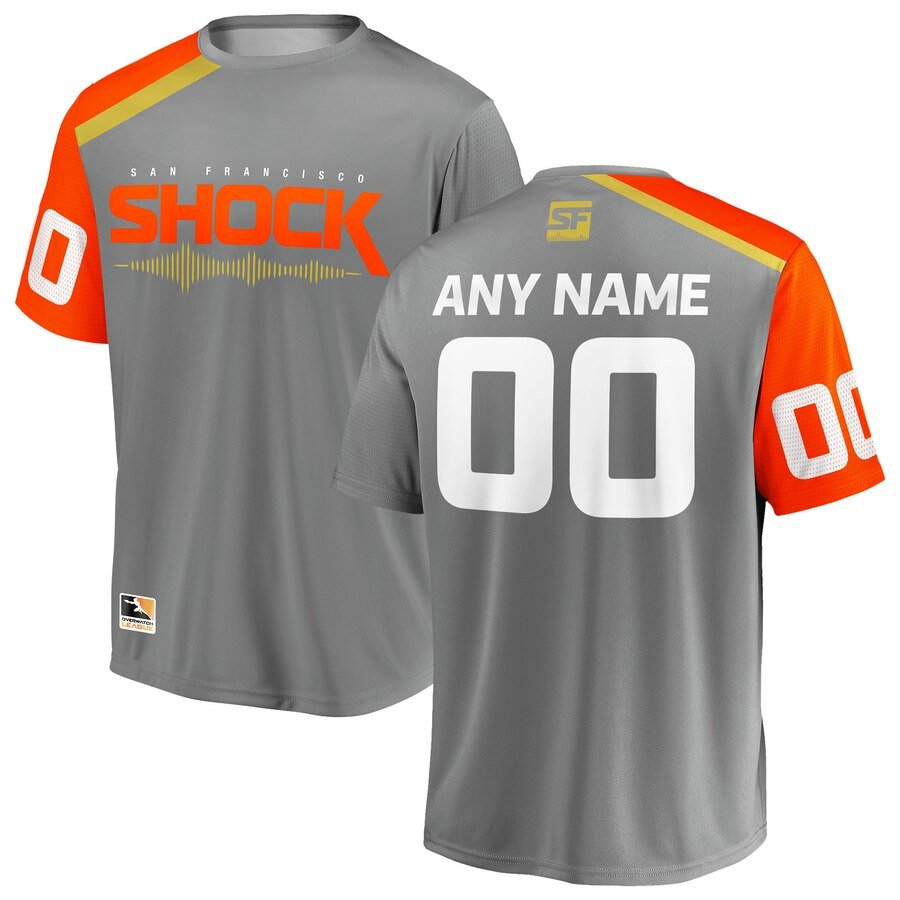 Note : Overwatch League apparel are available in sizes : S, M, L, XL, 1X, XXL, 3XL, 4XL.
You may also enjoy :
Players available :
ANS,ANS
ARCHITECT
CHOIHYOBIN
MOTH
RASCAL
SINATRAA
SMURF
STRIKER
SUPER
SINATRAA Limited Edition SF Shock Jersey Tee
The limited edition San Francisco Shock jerseys are also available for :
ANS,ANS – 10
ARCHITECT – 3
CHOIHYOBIN – 11
MOTH – 64
RASCAL – 27
SINATRAA – 2
SMURF – 5
STRIKER – 7
SUPER – 1
Customized White & Orange SF Shock Jersey
White & Orange Custom SF Shock Jersey Details :
Material: 100% Polyester
Heat-sealed graphics
Overwatch League jock tag above right hem
Perforated sleeves for breathability
Short sleeve
Machine wash, line dry
Please Note : Custom tee shirts and jerseys cannot be cancelled, changed, returned or refunded after order has been placed
Tagless Collar
Officially licensed
Sizes available – S, M, L, XL, 2X (XXL), 3X (3XL), 4X (4XL), 5X (5XL)
Brand: Overwatch League
Additional Retailers Who Carry San Francisco Shock Jerseys, Tee Shirts, and Hats
FTC Disclosure :

There are several online retailers who carry SF Shock apparel in sizes up to 5X (5XL).  We are affiliated with a few of them, and our favorite shop is recommended below.  We will receive a small commission if a purchase is made (at no cost to the customer).  The commission only adds up to about the amount of a flavored coffee.  It also does not affect the price of any product.  Thanks for helping out our site, and go SHOCK!
Fans Edge Sports :
This company has a great selection of Overwatch League gear for each team in the OWL.  They also carry SF Shock apparel for men, women, and kids.  They carry all the star players like SUPER, MOTH, SMURF, SUPER, VIOL2T, and more.
Men's sizes – S, M, L, XL, 2X, 3X, 4X, 5X.
Women's sizes – S, M, L, XL, XXL, 3XL.
Kids sizes – S, M, L, XL
Types of San Francisco Shock apparel available – Custom jerseys, player jerseys, tee shirts, hoodies, jackets, and hats.
Shop Men's, Women's, and Kids SF Shock Apparel at Fans Edge Sports.
Please Like "Rivalry Sports" on FB.  We share when cool sports gear is available on sale for money saving discounts!