Tim Duncan Jersey S-2X 3X 4X 5X 6X XLT 2XLT 3XLT 4XLT 5XLT
The San Antonio Spurs dynasty was a sight to see.  They were consistently great, and a large part of their success can be attributed to Tim Duncan.  Gear up with a vintage throwback Tim Duncan Jersey in regular or big and tall sizing options. S-2X, 3X (3XL), 4X (4XL), 5X (5XL), 6X (6XL).  XLT (XT), 2XLT (2XT), 3XLT (3XT), 4XLT (4XT), and 5XLT (5XT).
Please note, we include sponsored links within this post to help support the maintenance and development of our site.  Thank you for your support, and we hope that we have helped you find what you were searching for.
Tim Duncan Jersey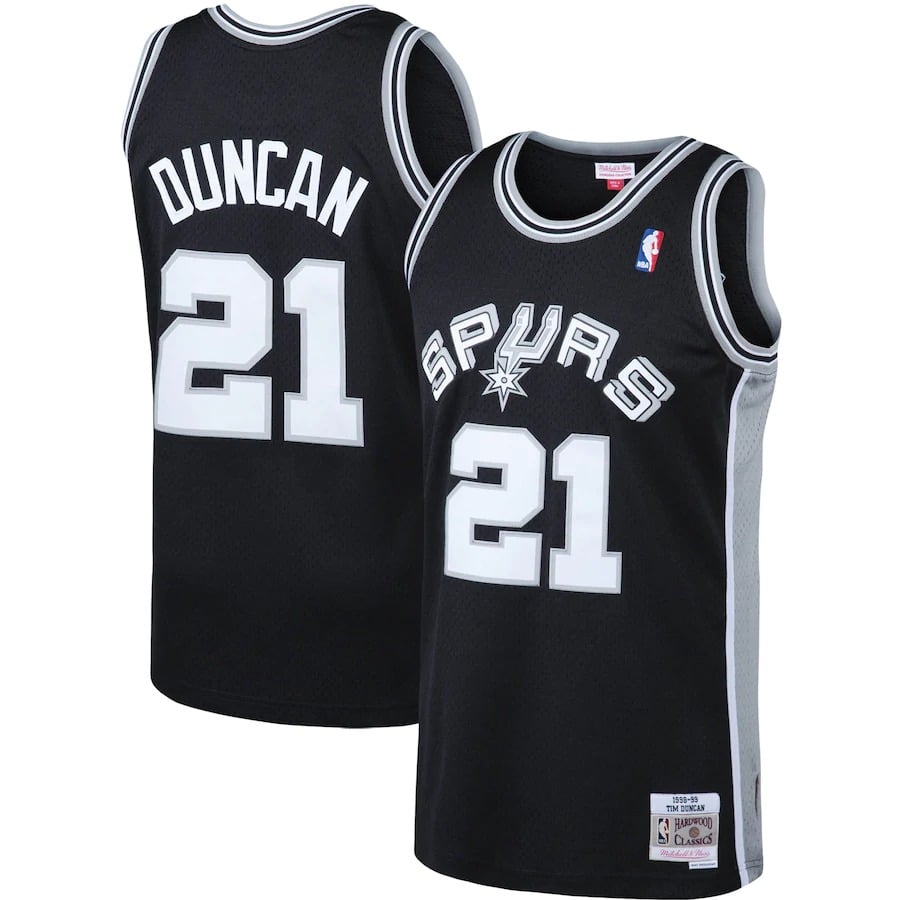 Shown above is a vintage throwback Tim Duncan Jersey by Mitchell & Ness.  This was the jersey that Duncan wore during the 1998-1999 season.  Celebrate the memories and commemorate one of the best players in NBA history with an authentic black & silver #21 Tim Duncan Jersey.  It is available in regular (S-2X), and big and tall XXL, 3XL, 4XL, 5XL, 6XL, XT, 2XT, 3XT, 4XT, 5XT.
Material: 100% Polyester
Sizing Tip: Product runs true to size. For a looser fit, we recommend ordering one size larger than you normally wear.
Sublimated stripes on trim
Mesh fabric
Made by – Mitchell & Ness
Woven jock tag at waist hem
Tackle twill applique
Back neck taping
Side splits at waist hem
Rib-knit collar and sleeve hems
Machine wash, tumble dry low
Officially licensed
You may also enjoy :
Tim Duncan Jersey Style Tee Shirt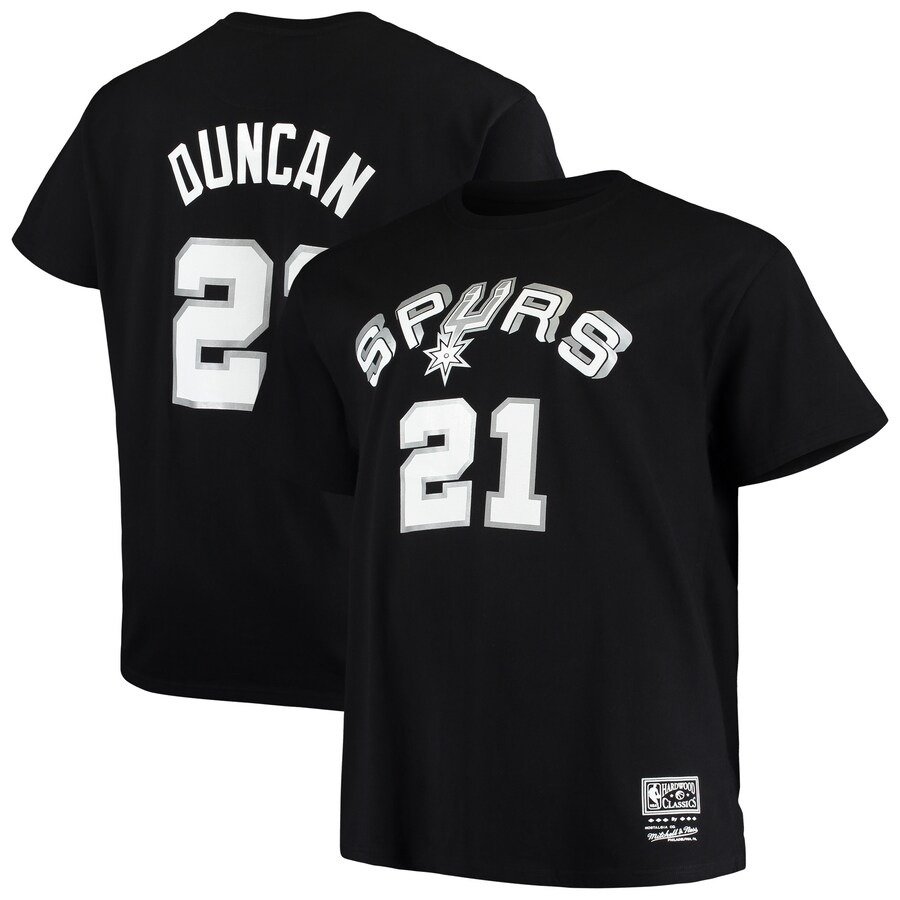 Looking for something cool and more casual?  How about a Tim Duncan tee shirt?  It has the stylish look of a jersey, but in a traditional tee shirt cut.
Tee Shirt Details :
Sizing Tip: Product runs large. We recommend ordering one size smaller than you normally wear.
Material: 100% Cotton
Crew neck
Screen print graphics
Short sleeve
Machine wash, tumble dry low
Tagless Collar
Officially licensed
Sizes S-2X, 3X, 4X, 5X, 6X, XLT, 2XLT, 3XLT, 4XLT, 5XLT.
Brand: Mitchell & Ness
Tim Duncan could do it all.  The Hall of Famer could post up, hit the jump shirt, find the open man, or take it to the hoop!  There is a reason why most fans include Duncan into the top tier of NBA legends to ever play the game of basketball.
Additional Retailers Who Carry San Antonio Spurs Tim Duncan Jerseys
There aren't many NBA players anymore who stick with one team throughout their career.  Tim Duncan spent 19 glorious years with the San Antonio Spurs and helped the team win 5 Championships (1999, 2003, 2005, 2007, 2014).
FTC Disclosure : We are affiliated with the retailer we have recommended for you below.  They carry several Tim Duncan Jerseys including the big and tall Mitchell & Ness 1999 uniform.  As an affiliate, we receive a small commission if an order is made.  Thanks for helping to support our site and Go Spurs!
Return policy – 365 days.
International shipping – Yes.
Spurs apparel available in men's sizes – S, M, L, XL, XXL (2X), 3XL (3X), 4XL (4X), 5XL (5X), 6XL (6X).  XT (XLT), 2XT (2XLT), 3XT (3XLT), 4XT (4XLT), and 5XT (5XLT).
Spurs apparel available in women's sizes – S, M, Plus M, L, Plus L, XL, Classic XXL, Plus 2X, Classic 3XL, Plus 3X, and Plus 4X.
Shop Men's San Antonio Spurs Apparel at Fans Edge Sports.
Browse Big & Tall Tim Duncan Gear Available.
Shop Women's San Antonio Spurs apparel available.