Tyson Bagent Jersey (Bears) S-3X, 4X, 5X Men's, Women's, Kids
Everybody loves a Cinderella Story, and the journey that Tyson Bagent has made to make it to the NFL is one for the ages.  As the only Division II quarterback in the NFL, not only did Tyson Bagent make the team, but he also won his first game starting for the Chicago Bears.  While the remainder of his career is untold, he has already become a household favorite with Chicago Bear fans.  Celebrate the Bears young QB with a Nike Tyson Bagent jersey available for men, women, and kids.  Men's Chicago Bears jerseys and apparel are available in sizes that include S-XL, 2X (XXL), big and tall 3X (3XL), 4X (4XL), 5X (5XL), 6X (6XL), XLT (XT), 2XLT (2XT), 3XLT (3XT), 4XLT (4XT), and 5XLT (5XT).
Please note, we include sponsored links within this post to help support the maintenance and development of our site.  Thank you for your support, and we hope that we have helped you find what you were searching for.
Men's Tyson Bagent Jersey
Tyson Bagent starred for Division II Shepherd Rams as a freshman and went on to set all sorts of college records including his very first game.  He made his debut on September 1, 2018 and threw for 518 yards on 36 completions (in 54 attempts).  These were both school records, and a sign of things to come for this unheralded and undrafted young quarterback.
The Bears scouting came up big when they selected this little known talent out of Shepherd college.  He surprised people during his rookie season in training camp when he beat out PJ Walker for the backup role to Justin Fields.  After an injury to Fields, Tyson Bagent came in and performed well.  His next start is when he really made a name for himself in the NFL when he led the Bears to their first home victory in a year as the Bears beat the Las Vegas Raiders convincingly.
Bears fans have quickly taken to Tyson Bagent and his jersey has been flying off the shelves.  Shown below are the official Nike (navy and white) Chicago Bears Tyson Bagent jerseys for men, women, and youth.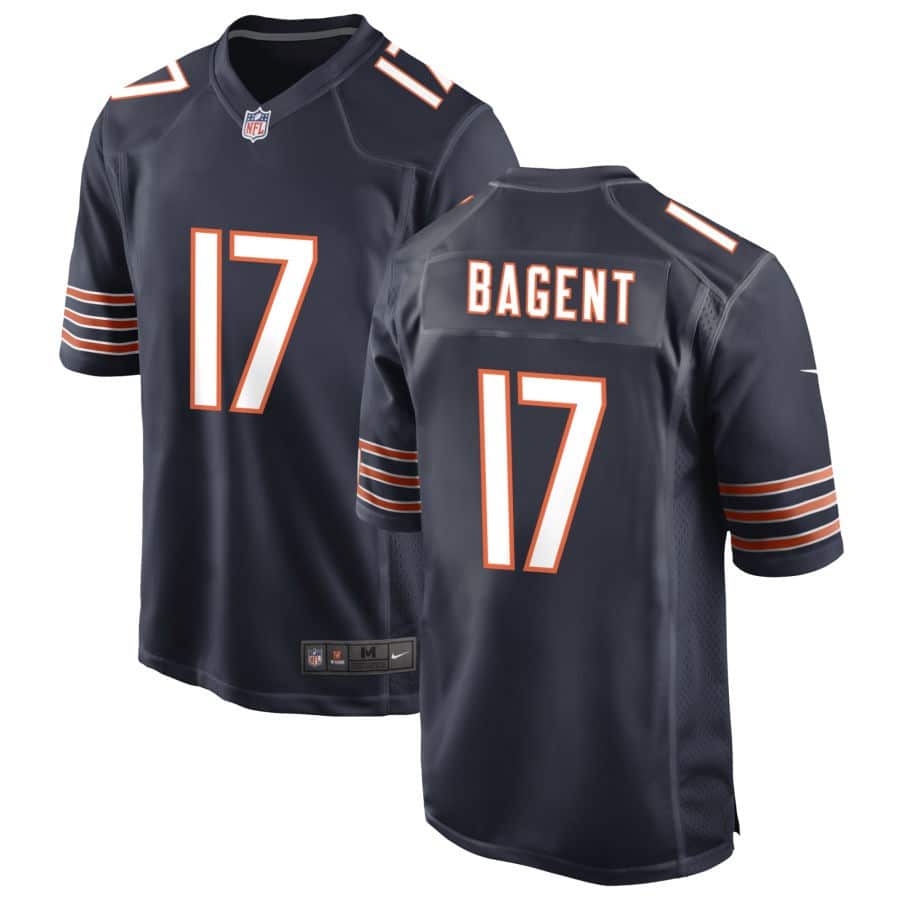 Order a Men's Tyson Bagent Bears Jersey
White Chicago Bears Tyson Bagent Jersey by Nike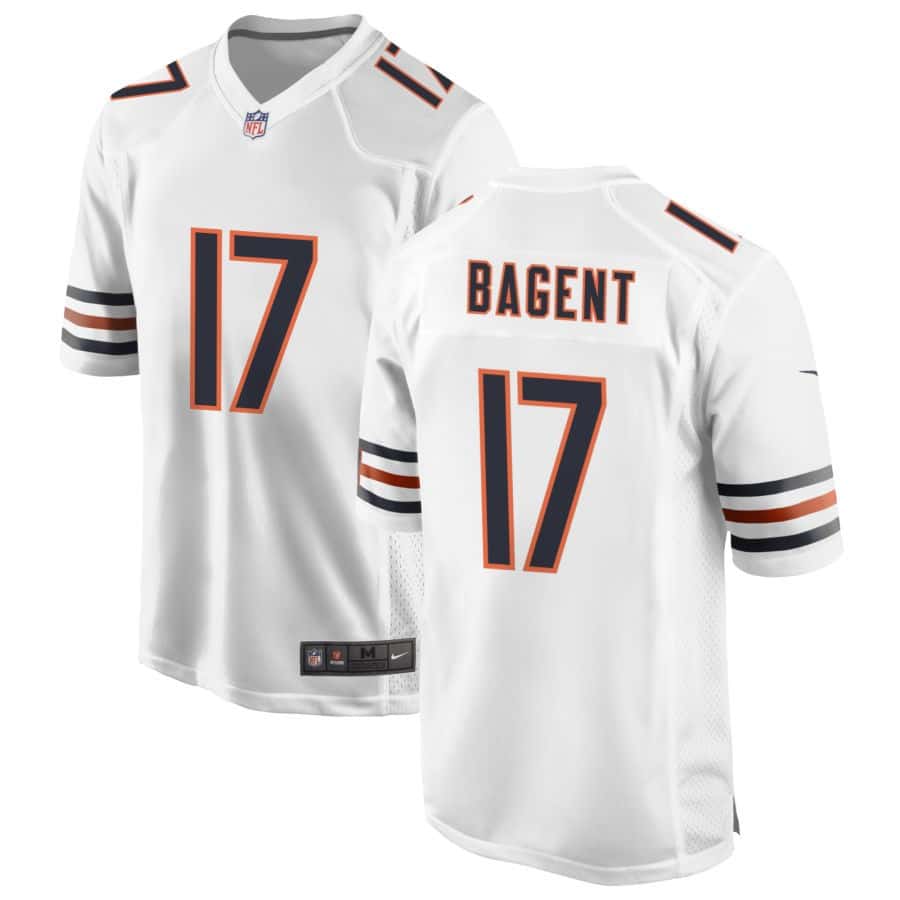 Order a White Tyson Bagent Jersey
Women's Tyson Bagent Jersey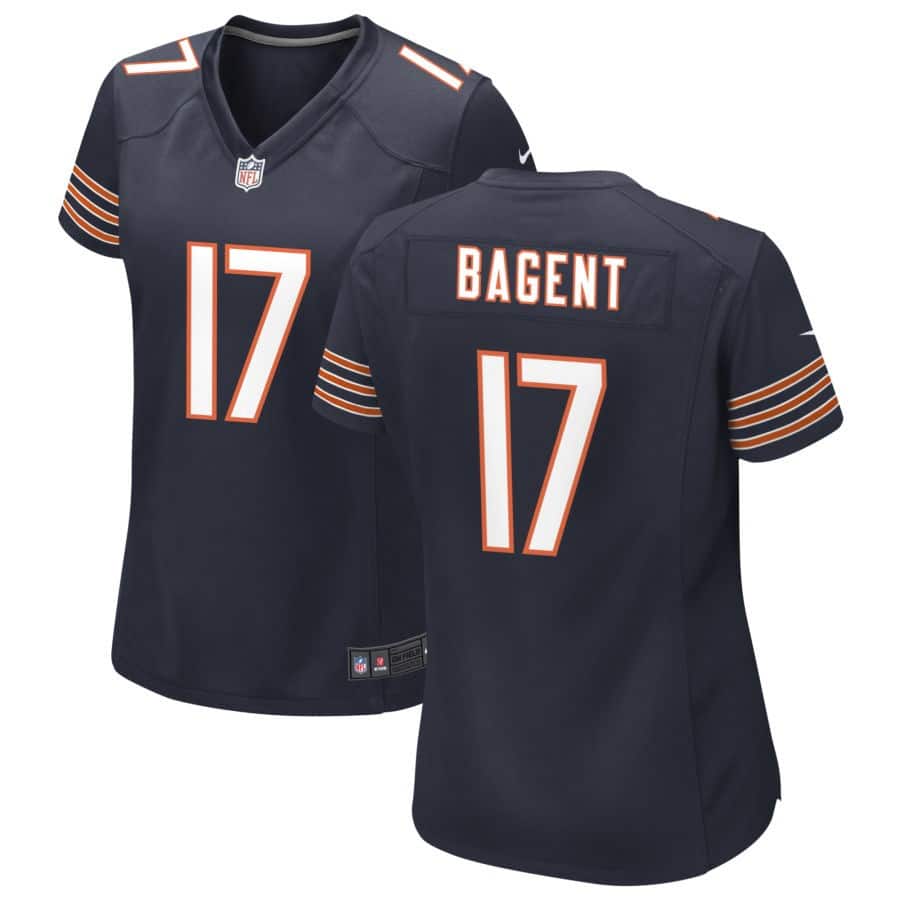 Order a Women's Tyson Bagent Jersey
Kids Tyson Bagent Jersey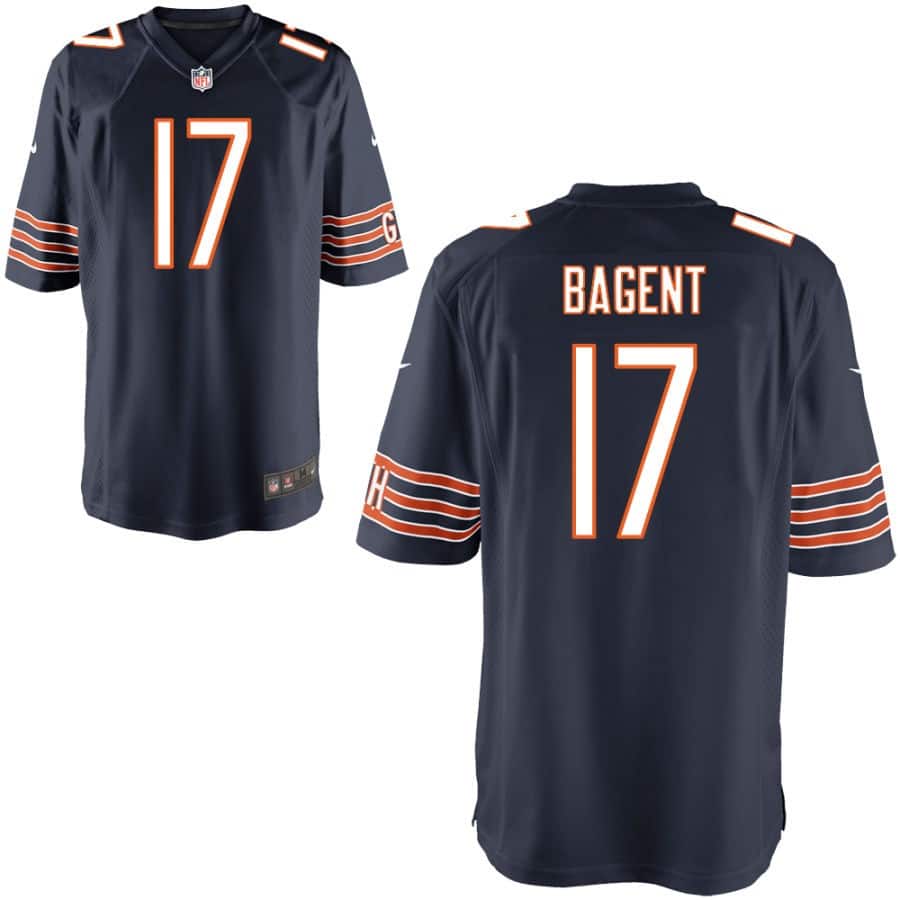 Order a Kids Tyson Bagent Jersey
You may also enjoy :
Shop All Chicago Bears Jerseys & Apparel by Size
Check Out More Retailers Who Carries the Chicago Bears Tyson Bagent Jerseys by Nike (Navy and White)
Here is another retailer that we are partnered with who also carries the D.J. Moore Bears jersey by Nike.  Additionally, they also carry Bears jerseys for other star players (current and past) like Justin Fields, Darnell Mooney, Walter Payton, etc…
NFL Shop :
Return policy : 365 days.
International shipping – Yes.
Chicago Bears Apparel Available in : S, M, L, XL, 2X (XXL), 3X (3XL), 4X (4XL), 5X (5XL), 6X (6XL).  XLT (XT), 2XLT (2XT), 3XLT (3XT), 4XLT (4XT), 5XLT (5XT).
Shop All Chicago Bears Jerseys and Apparel available.