Yordan Alvarez Jersey S-XL 2X 3X 4X 5X XLT-5XLT Orange White Blue
What an inspirational journey it has already been for this young Cuban 1B/OF for the Houston Astros.  Yordan Alvarez defected from Cuba in 2016 and established residence in Haiti..  He was then signed with the Dodgers as an international free agent.. Later in 2016 he was traded to the Houston Astros.  In 2019 Alvarez has emerged as one of the bright young stars in Major League Baseball!  Gear up with a Yordan Alvarez Jersey in either blue, white, or orange color options.  Additionally, Astros apparel is available in S, M, L, XL, 2X (XXL), 3X (3XL), 4X (4XL), 5X (5XL), and 6X (6XL).  Also extended tall XLT (XT), 2XLT (2XT), 3XLT (3XT), 4XLT (4XT), and 5XLT (5XT).
Yordan Alvarez Jersey (Blue & Orange)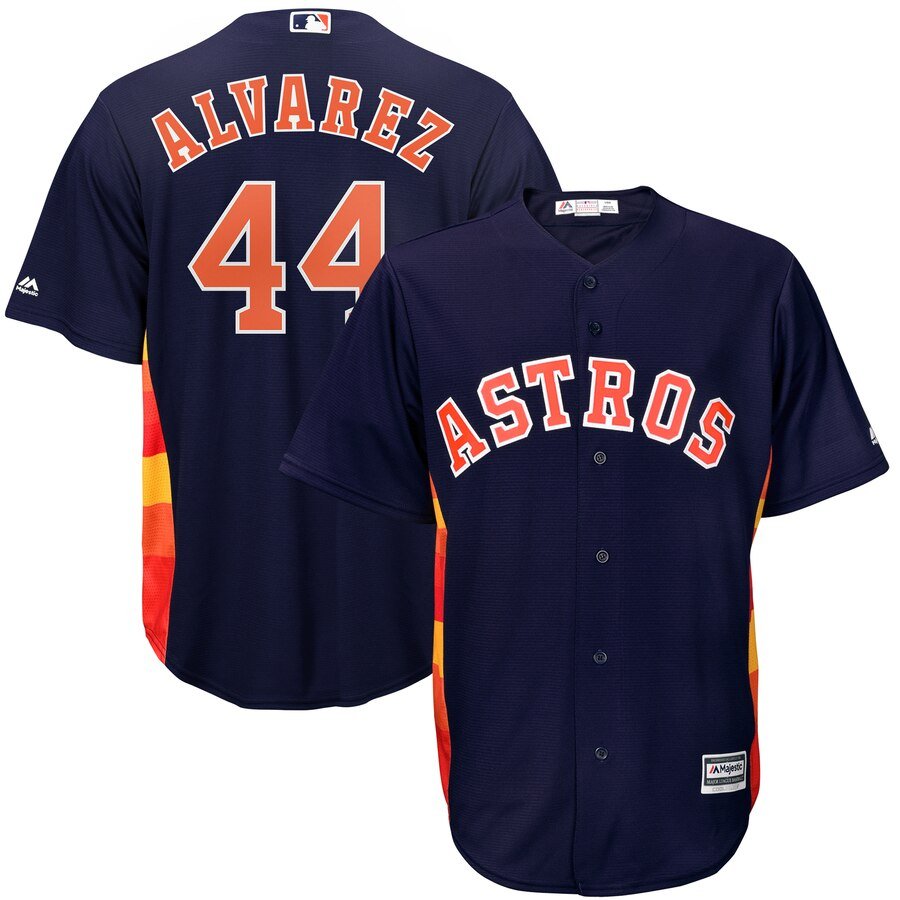 Shown above is the popular blue & orange Yordan Alvarez Jersey that is immensely popular with Houston Astro fans… His ascent to the Major Leagues didn't take long.. In 2016 he played in the Dominican Summer league hitting .341 and an .974 OPS…  Considering his immense success he was quickly promoted (after 16 games) to the Quad Cities River Bandits.. From there he soon after promoted to the Buies Crees Astros….  He made such an impression that he made the All-Star Futures Game!
Alvarez quickly rose through the ranks of the Astros Minor League system and was called up on June 9, 2019..  Yordan Alvarez his a home run during his debut in the Majors and hasn't looked back since.  In fact, he became the first player in MLB history to hit 4 hrs in his first 5 games in the Major Leagues!  
So you can see there are many reasons for fans to be excited to be wearing a Yordan Alvarez Jersey.. During his rookie season he hit .313/.412/.655 with 27 hrs and 75 rbis…. All of this was done in only 313 at bats!  This kids future looks bright, and the blue and orange Yordan Alvarez Jersey by Majestic will be one of the most popular uniforms in Houston for many years to come!
White Yordan Alvarez Jersey by Majestic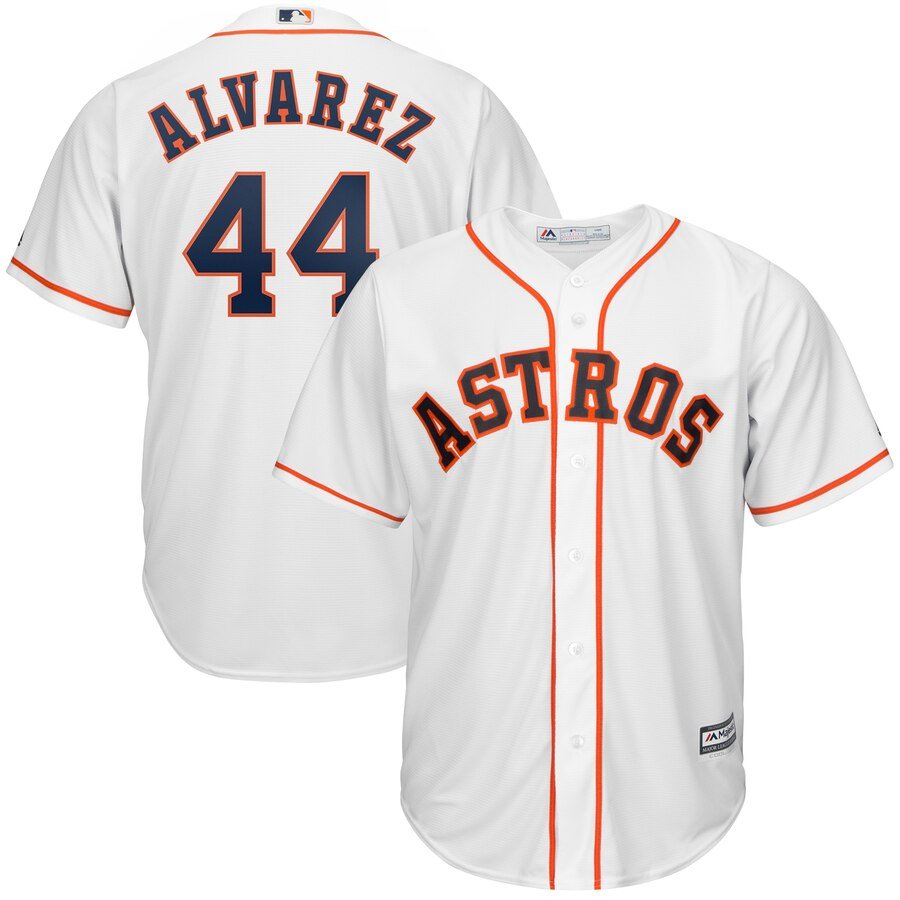 Here is the Yordan Alvarez Jersey in white with orange trim (made by Majestic).. In addition to Yordan Alvarez Jerseys, you can also choose to customize Houston Astros tee shirts, long sleeve shirts, and hoodies.. You can add Alvarez and #44 to a wide variety of team apparel in regular, big, tall, and plus sizes!
Shop All Houston Astros Jerseys & Apparel by Size
You may also enjoy :
Additional Retailers Who Carry Yordan Alvarez Jerseys
We are affiliated with dozens of online sports retailers, but only a few of them carried the Yordan Alvarez Jersey while he was setting the league on fire as a rookie.  Listed below are our favorite choices for online retailers who carry Astros gear in regular, big, tall, and plus sizes.  As one of their affiliates, we receive a small commission if a sale is generated, at no cost to the customer.  This helps us to maintain our site, and we hope we have helped you find the Yordan Alvarez Jersey or the Astros gear in the sizes that you need.
Fans Edge Sports :
Return policy – 1 Year no hassle returns (Yes, really!)
International shipping – Yes.. This ship to over 120 countries around the world.
Men's size availability – S, M, L, XL, 2X (XXL), 3XL (3X), 4XL (4X), 5XL (5X), 6XL (6X).  XT (XLT), 2XT (2XLT), 3XT (3XLT), 4XT (4XLT), and 5XT (5XLT).
Women's Astros apparel available in – S, M, Plus M, L, Plus L, XL, 1X, Classic XXL, Plus 2X, Classic 3XL, Plus 3X, Classic 4XL, and Plus 4X.
Shop Men's Yordan Alvarez Jerseys & Astros Gear at Fans Edge Sports.
Shop Women's Yordan Alvarez Jerseys & Astros Gear at Fans Edge Sports.
MLB Fan Shops :
One last retailer that we recommend for Yordan Alvarez Jerseys (in blue, orange, and white) is MLB Fan Shops.. This company has a huge collection of Jerseys (by Majestic) in regular, big, tall, and plus sizes for the Astros.. Additionally, they also carry Astro tee shirts, hoodies, jackets, tank tops, and more.. Furthermore, they also carry Houston Astros World Series Champions apparel, ALCS Champions gear, and more… Let's hope they win it again this year for even more Champs gear!
Shop Men's Houston Astros Gear at MLB Fan Shops.
Shop Women's Houston Astros Gear at MLB Fan Shops.
Be sure to Like Us at Rivalry Sports on Facebook..  We share great deals, discounts, and promo alerts for when officially licensed sports apparel is on sale for cheap!  Save money on official MLB gear that you were wanting anyway..