Aaron Jones Jersey was a 5th round pick by the Packers and he has emerged as a young star in the NFL.. Jones shined at UTEP running for over 1,700 yards and 17 touchdowns in his senior year… He has continued that success in the NFL and has become a big play threat for the Pack as they try to return to the playoffs and win another Super Bowl.. Gear up with an Aaron Jones jersey for men, women, or youth..   Furthermore, those hard to find big, tall, and plus size Aaron Jones jerseys are also available..   Sizes run Small-3X, 4X (4XL), 5X (5XL), 6X (6XL).  XLT (XT), 2XLT (2XT), 3XLT (3XT), 4XLT (4XT), and 5XLT (5XT).
Aaron Jones Jersey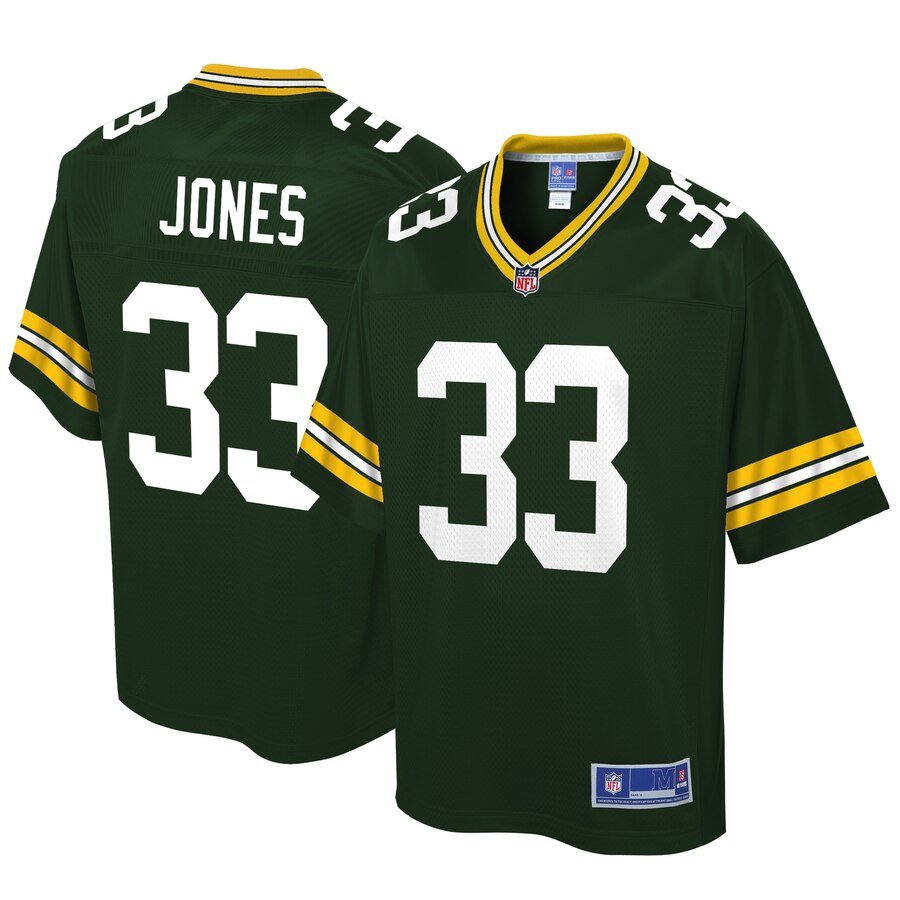 As good as Aaron Rodgers is at quarterback, you need a good running game for the offense to really gel..  A running back who can break tackles, and always a threat to break loose on a big run.. Aaron Jones is that special type of dynamic backs that are hard to find in the NFL..  The Aaron Jones jersey shown above is made by Pro Line and available in regular, big, tall, and plus sizes for men and women.
Shop Aaron Jones Jerseys & Packers Gear by Size
You may also enjoy :
Women's Aaron Jones Jersey & Packers Apparel
Additional Retailers Who Carry Green Bay Packers Big, Tall, and Plus Size Apparel
Disclosure :
We are affiliated with dozens of online retailers who carry Green Bay Packers jerseys & apparel, but only a few of them carry the big, tall, and plus size Pro Line Jerseys.  The retailer that we have recommended for you does carry the big and tall Pro Line Uniforms for Aaron Jones as well as dozens of other Packer players.  If we refer a customer and make a sale, we receive a small commission (at no cost to the customer).  This helps us to maintain our site.. Thank you for your support, and we hope that we have helped you find what you were searching for.
Sports Fanatics :
Return policy – 1 Year.
Shipping fee – $4.99 flat rate fee.  However, most orders ship for free if the total purchase price exceeds $40.  Often, they offer free shipping with no minimum!
Men's sizes available – S, M, L, XL, 2X (XXL), 3XL (3X), 4XL (4X), 5XL (5X), 6XL (6X).  XT (XLT), 2XT (2XLT), 3XT (3XLT), 4XT (4XLT), 5XT (5XLT).
Women's sizes available – S, M, Plus M, L, Plus L, XL, Classic Fit XXL, Plus 2X, Classic 3XL, Plus 3X, Classic 4XL, and Plus 4X.
Aaron Jones jerseys are made by – Nike & Pro Line.. The big and tall size uniforms above 3X are made by Pro Line.
Shop Men's Regular, Big, and Tall, Packers Gear at Sports Fanatics
Shop Women's Regular & Plus Size Packers Apparel at Sports Fanatics.