Brett Favre is a legend in Green Bay and widely respected as one of the greatest quarterbacks ever to play in the NFL.  Favre's gunslinger style of play was a joy to watch and the excitement was off the charts regardless off the score.  Celebrate a Packer legend with a Brett Favre Jersey in sizes that include S-2X.  Also Mitchell & Ness big and tall 3X (3XL), 4X (4XL), 5X (5XL), 6X (6XL), XLT (XT), 2XLT (2XT), 3XLT (3XT), 4XLT (4XT), and 5XLT (5XT).
Brett Favre Jersey
Brett Favre was infamous for his rocket arm, dramatic comebacks, extending the play and passionate will to win.  Wild 4th quarter comebacks, unthinkable pass completions, and the joy he displayed on the field will always be remembered.  Brett Favre's green and gold Packers #4 jersey is still seen worn by all of his fans all across the country, and especially in the great state of Wisconsin.  Bring those memories back to life and cheer the Pack on to victory.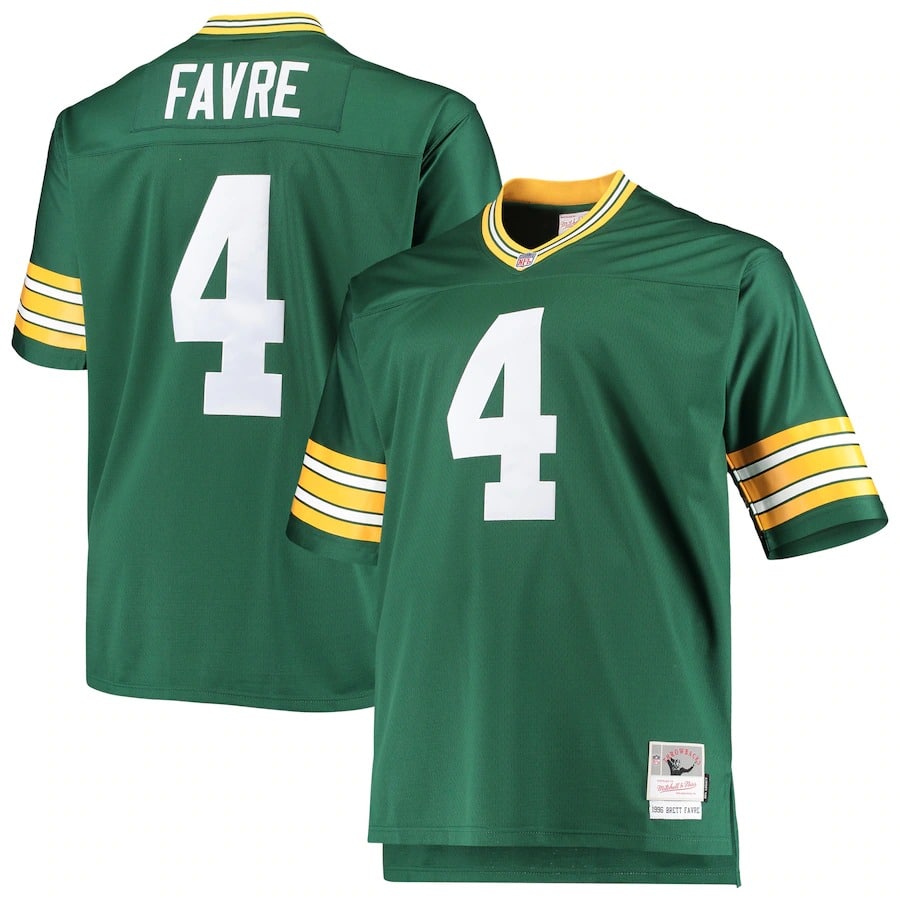 You may also enjoy :
Shop All Green Bay Packers Jerseys & Apparel by Size
Women's Brett Favre Jersey – Green Bay Packers
Mitchell & Ness came out with a Brett Favre jersey made just for the ladies.  The 100% polyester design is comfortable to wear, and fashionable as well.  Commemorate the legendary career of the Packers QB that still holds many NFL records and led the Green Bay Packers to 11 playoff runs, seven division titles, four NFC Championship Games, two consecutive Super Bowl appearances, and one championship title in Super Bowl XXXI.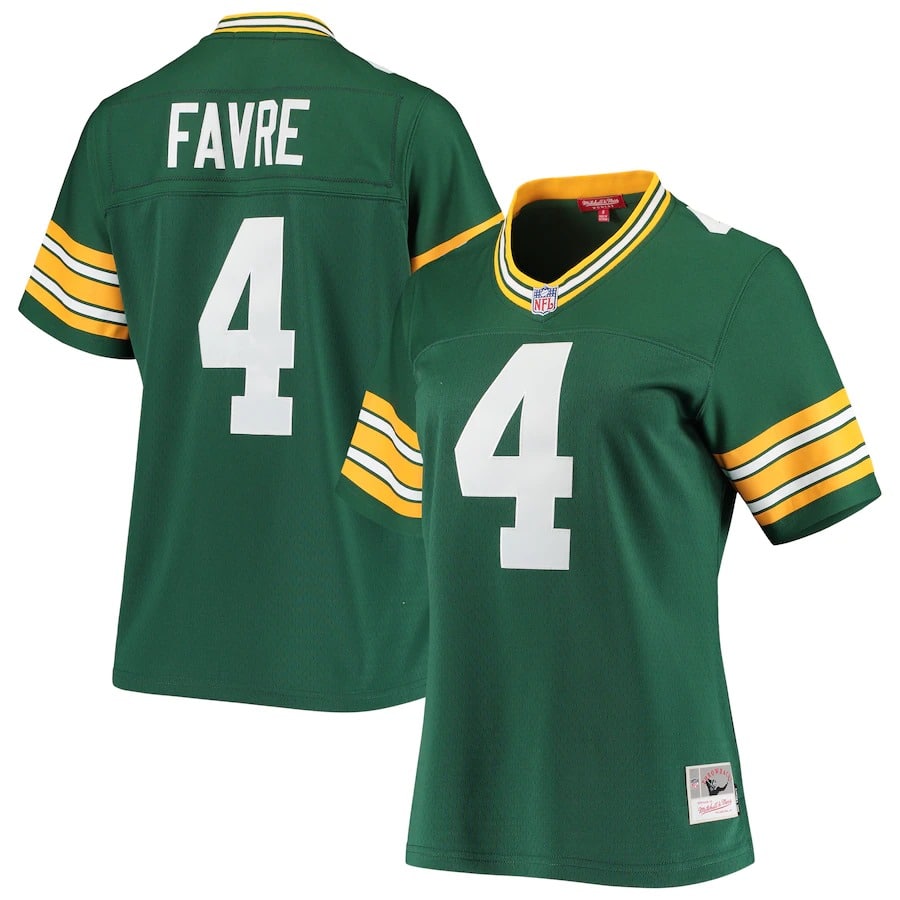 Shop All Women's Brett Favre Jerseys & Green Bay Packers Apparel
Jersey Details :
Material: 100% Polyester
Short sleeve
Embroidered fabric applique
V-neck
Woven jock tag
Machine wash, line dry
Officially licensed
Name Brand: Mitchell & Ness
Additional Retailers Who Carry Big and Tall Brett Favre Jerseys
We have recommended to you one of our favorite online retailers who carry big and tall Packers gear, including Brett Favre jerseys and tee shirts.  In addition to Favre uniforms, they also carry big and tall Packers jerseys of former legends like Bart Starr, Charles Woodson, and Reggie White.
NFL Fan Shops :
Return policy – 365 day hassle free returns.
International shipping – They ship to over 100 countries around the world.
Shipping fee – $4.99 flat rate fee on orders under $40.  Shipping is usually free on orders over $40.
Men's size availability – S, M, L, XL, 2X (XXL), 3XL (3X), 4XL (4X), 5XL (5X), 6XL (6X).  XT (XLT), 2XT (2XLT), 3XT (3XLT), 4XT (4XLT), and 5XT (5XLT).
Women's sizes availability – S, M, Plus M, L, Plus L, XL, Classic XXL, Plus 2X, Classic 3XL, Plus 3X, and Plus 4X.
Types of Packers gear available – Replica, authentic, and throwback Packers jerseys.  Also, Packers tee shirts, hoodies, jackets, tank tops, and more.
Brands available :
Nike
Mitchell & Ness
Majestic
Fanatics Branded
Adidas
Under Armour
ProLine
Puma
Cutter & Buck
Shop All Green Bay Packers Apparel Available.
Browse the Big & Tall Green Bay Packers Department.
Shop All Women's Green Bay Packers Apparel available.