Christopher Morel quickly became a fan favorite during his rookie season..  He plays with a youthful passion that is contagious throughout the clubhouse.  His enthusiasm on the field has also been accompanied with unique skills of power and speed that has risen to another level during his sophomore season and fans hope that his star potential continues to blossom.  Celebrate being a fan with a Christopher Morel jersey by Nike.  White pinstripe, gray, or blue color options.  Cubs jerseys and apparel are available in sizes S-XL, 2X (XXL), 3X (3XL), 4X (4XL), 5X (5XL), 6X (6XL).  XLT (XT), 2XLT (2XT), 3XLT (3XT), 4XLT (4XT), and 5XLT (5XT).
Christopher Morel Jersey
Christopher Morel is one of the most exciting players in Major League League baseball.  He can play six positions, hit for light tower power, steal bases, and is incredibly exciting to watch.  Morel is easy to like, and his jerseys are already wildly popular in Wrigley Field.
Please note, we include affiliate links within this post to support the maintenance and development of this site.  This is at absolutely no expense to our customers.
Shop All Chicago Cubs Jerseys and Apparel by Size
You may also enjoy :
Dansby Swanson Jersey – The Cubs signed Dansby Swanson to a mega-contract, to be the Cubs long term answer at shortstop and be the double play duo with another Cubs star player in Nico Hoerner.  Swanson can do it all as a hitter, and is a gold glove shortstop who gives the couples excellent defense up the middle of the field.
Ryne Sandberg Throwback Jersey – Hall of Fame Ryne Sandberg is one of the Cubs all time legendary players.  Check out the vintage throwback style Sandberg jersey that he wore for the Cubs back in the day.
Clearance Chicago Cubs Apparel – Find Cubs jerseys, tee shirts, hoodies, etc… that are on sale from leading online retailers that we are affiliated with and fully endorse.
Women's Christopher Morel Jersey – Chicago Cubs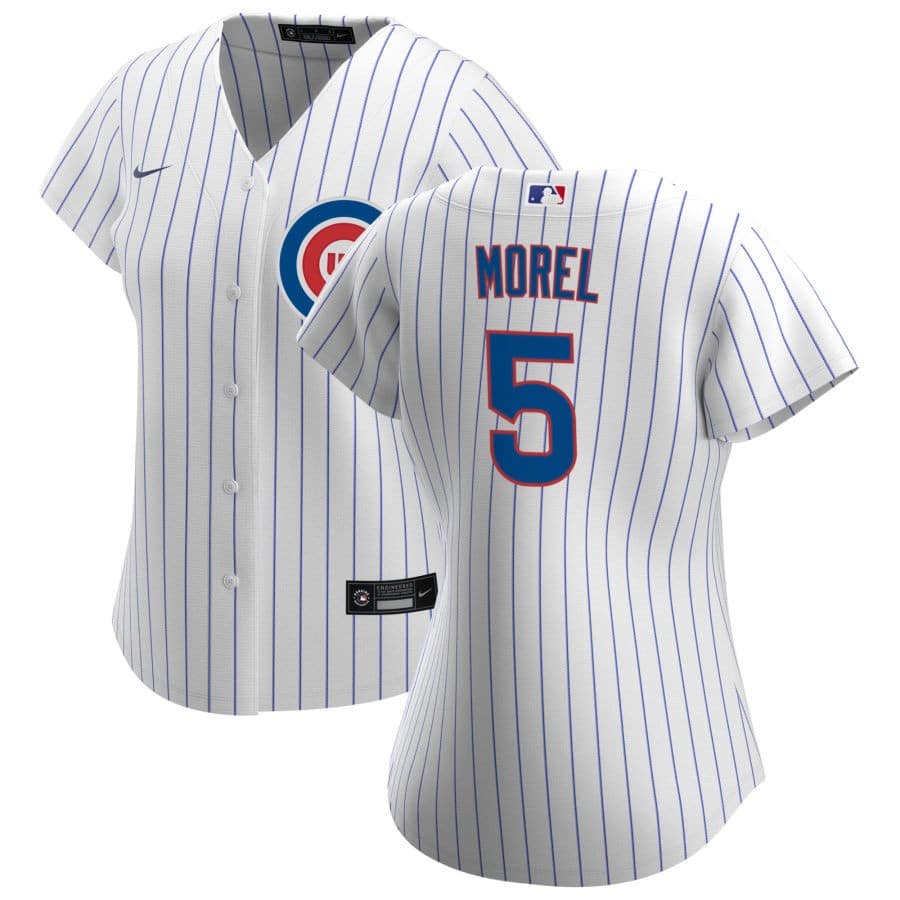 Shop More Women's Chicago Cub Jerseys & Apparel
Jersey details :
Brand: Nike
Sizes : S, M, L, XL, 2X
Full-button front
Heat-sealed jock tag
Heat-sealed transfer applique
MLB Batterman applique on center back neck
Rounded hem
Material: 100% Polyester
Machine wash gentle or dry clean. Tumble dry low, hang dry preferred.
Jersey Color Style: Home
Officially licensed
Replica Jersey
Additional Retailers Who Carry Christopher Morel Jerseys
MLB Shop :
We have been affiliated with MLB Shop for years, and we can assure you that they are an excellent source for Chicago Cubs gear.  Men's, women's, and children's Chicago Cubs tee shirts, hoodies, jackets, jerseys including the Christopher Morel Cubs jersey!
Men's size availability – S, M, L, XL, XXL (2X), 3XL (3X), 4XL (4X), 5XL (5X), 6XL (6X).  XT (XLT), 2XT (2XLT), 3XT (3XLT), 4XT (4XLT), and 5XT (5XLT).
Women's size availability – S, M, L, XL, 1X, Classic XXL, Plus 2X, Classic 3XL, Plus 3X, and Plus 4X.
Shop All Chicago Cubs Jerseys and Apparel available for men, women, and kids.