Ryne Sandberg Jersey – Cubs Throwback S-3X 4X 5X 6X XLT-5XLT
The Chicago Cubs Hall of Fame 2nd baseman, Ryne Sandberg is beloved millions of Cub fans all around the world.  Sandberg won 9 gold gloves, and made it to the All Star game for 10 consecutive seasons.  Gear up for the exciting season at Wrigley Field with an authentic throwback Chicago Cubs Ryne Sandberg Jersey.  Both Cubbie blue and white pinstripe Sandberg jerseys are available.  Regular S-2X, and also big & tall 3X (3XL), 4X (4XL), 5X (5XL), 6X (6XL).  XLT (XT), 2XLT (2XT), 3XLT (3XT), 4XLT (4XT), and 5XLT (5XT).
White Pinstripe Ryne Sandberg Jersey – Chicago Cubs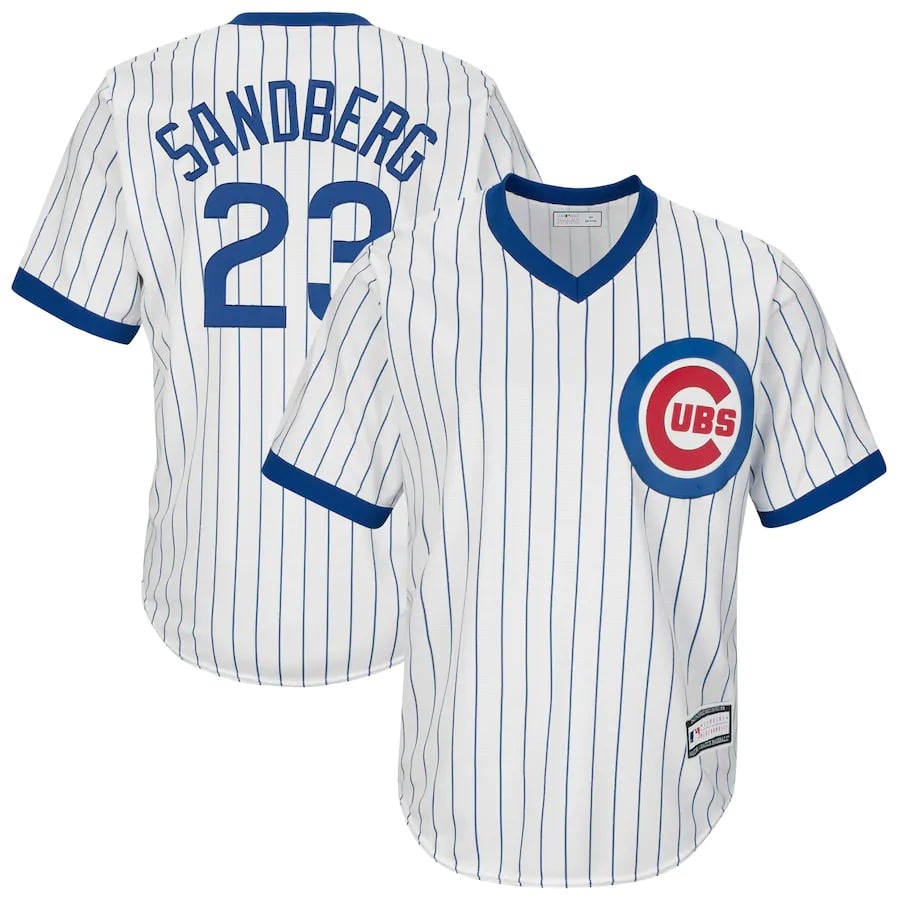 Who could ever forget the "Sandberg" game against the St. Louis Cardinals when Ryno came up huge against the Cardinals to tie the game, but then to also win the game against Bruce Sutter in extra innings!  That was just one example of the many heroics that Sandberg performed as a Cub, but it was in a jersey that just like the one above where all of the memories took place.
Relive the glory days of Sandberg and the throwback Cubs of yesteryear with some nostalgic retro gear!
Shop All Chicago Cubs Throwback Apparel by Size
Blue Ryne Sandberg Jersey – Cooperstown Throwback Collection by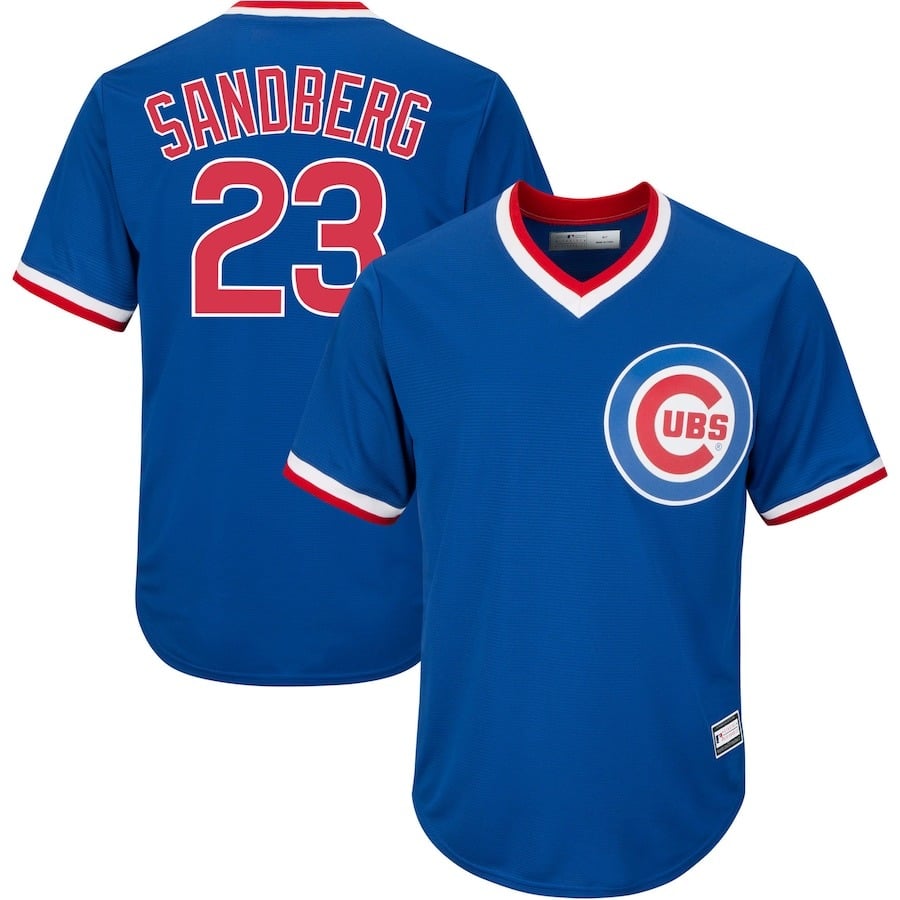 View All Chicago Cubs Throwback Jerseys
You may also enjoy :
Ryne Sandberg was one of the "smoothest" ballplayers that ever played the game.  It all seemed so easy.. His casual demeaner, you would never know if he was on hot streak, winning an MVP, or perhaps his consecutive game streak without an error..  He came to the ball park prepared, and always led by example.  Sandberg let his talents show on the field, and his teammates loved the way he went about his business.
The blue Ryne Sandberg Jersey shown above is what was worn during the Cubs 1984 Division Champions season!  While, the Cubs ended the playoffs one game short of ending their World Series drought, the 1984 campaign still still one to be cherished and remembered fondly.  Also, Ryne Sandberg hit .314 and won the National League MVP during that season!
Additional Retailers Who Carry Throwback Chicago Cub Jerseys
FTC Disclosure : We receive a small commission, at no cost to the customer, for referring a customer to the recommended site below.  This has no affect on the pricing of any items.  Thanks for your support, and we hope that we have helped you find what you are looking for.
MLB Fan Shops : This company has a huge selection of Chicago Cubs retro fan gear, including the blue & white pinstripe Ryne Sandberg Jersey.  Additionally, they also carry a huge selection of hard to find big and tall Chicago Cub jerseys, hoodies, tee shirts, tank tops, custom gear and much more.
Cubs men's gear available in – S, M, L, XL, XXL (2X), 3XL (3X), 4XL (4X), 5XL (5X), 6XL (6X).  XT (XLT), 2XT (2XLT), 3XT (3XLT), 4XT (4XLT), and 5XT (5XLT).
Cubs women's gear available in – S, M, Plus M, L, Plus L, XL, Classic XXL, Plus 2X, Classic 3XL, Plus 3X, Classic 4XL, and Plus 4X.
Cub throwback jerseys available for :
Ryne Sandberg
Andre Dawson
Billy Williams
Ernie Banks
Ron Santo
Shop All Ryne Sandberg Jerseys available at MLB Fan Shops.
Browse All Big & Tall Sandberg Jerseys & Apparel available.
Shop All Women's Chicago Cubs Apparel available.