Craig Biggio Jersey, Astros Tees S-3X 4X 5X XLT 2XLT 3XLT 4XLT
When you think of dynamic duos, Craig Biggio and Jeff Bagwell come to mind.  In fact, they were in the trio (Biggio, Bagwell, and Bass) that were famously nicknamed "The Killer Bees."  Craig Biggio began his career as a speedy catcher, but spent the vast majority of the career as a Hall of Fame 2nd baseman.  Biggio is the only MLB to finish his career with at least 3,000 hits, 600 doubles, 400 stolen bases and 250 home runs.  Jeff Bagwell also made the Hall of fame and is one of only 11 players in MLB history with at least 440 home runs and 200 stolen bases?  The Craig Biggio Jersey, and Jeff Bagwell Jersey displayed below are available in S, M, L, XL, 2X (XXL), 3X (3XL), 4X (4XL), 5X (5XL).  Additionally, throwback Mitchell and Ness Astros Apparel are available in S-6X, and extended tall XLT (XT), 2XLT (2XT), 3XLT (3XT), 4XLT (4XT), and 5XLT (5XT).
Craig Biggio Jersey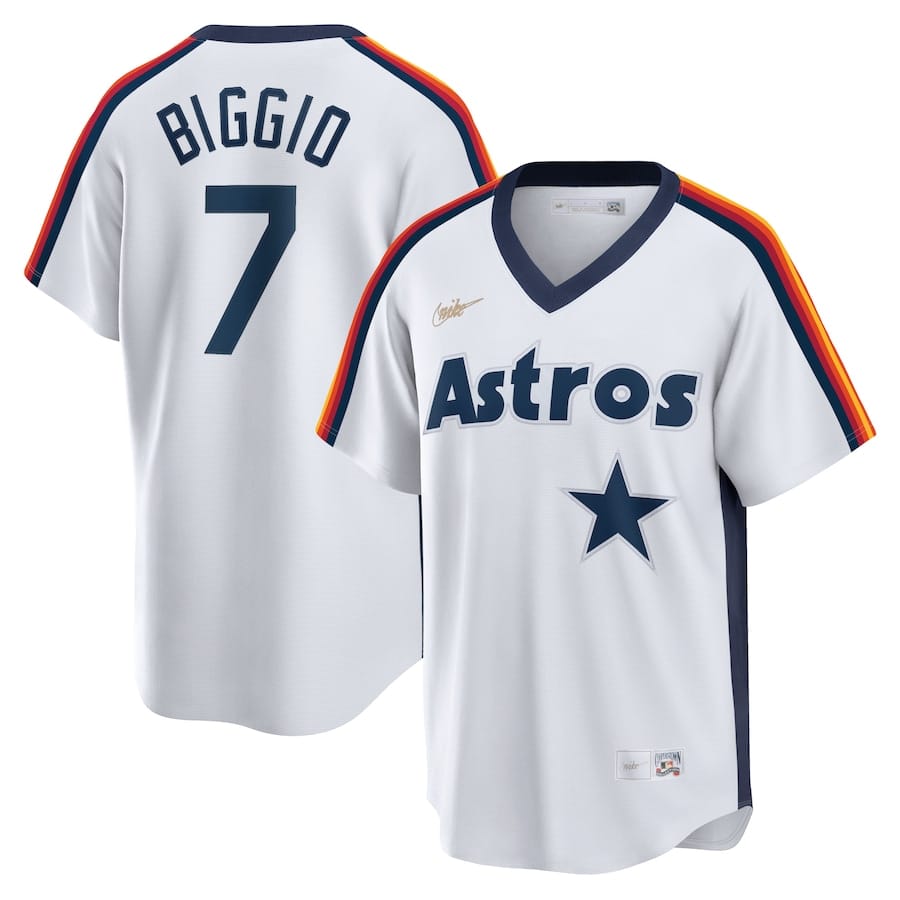 Craig Biggio could do it all for the Astros.  In addition to being an offensive force, and holding many all time Astro records, Biggio also has 4 gold gloves to his credit on the defensive side of the ball.  Furthermore, Biggio played his entire illustrious career with the Astros and is beloved by Astros fans from cost to coast.
The vintage white Cooperstown Collection throwback Craig Biggio shown above is what he wore on the field while starring for the Astros.  Made by Nike.
Shop All Houston Astros Apparel by Size
You may also enjoy :
Orange Vintage Throwback Craig Biggio Jersey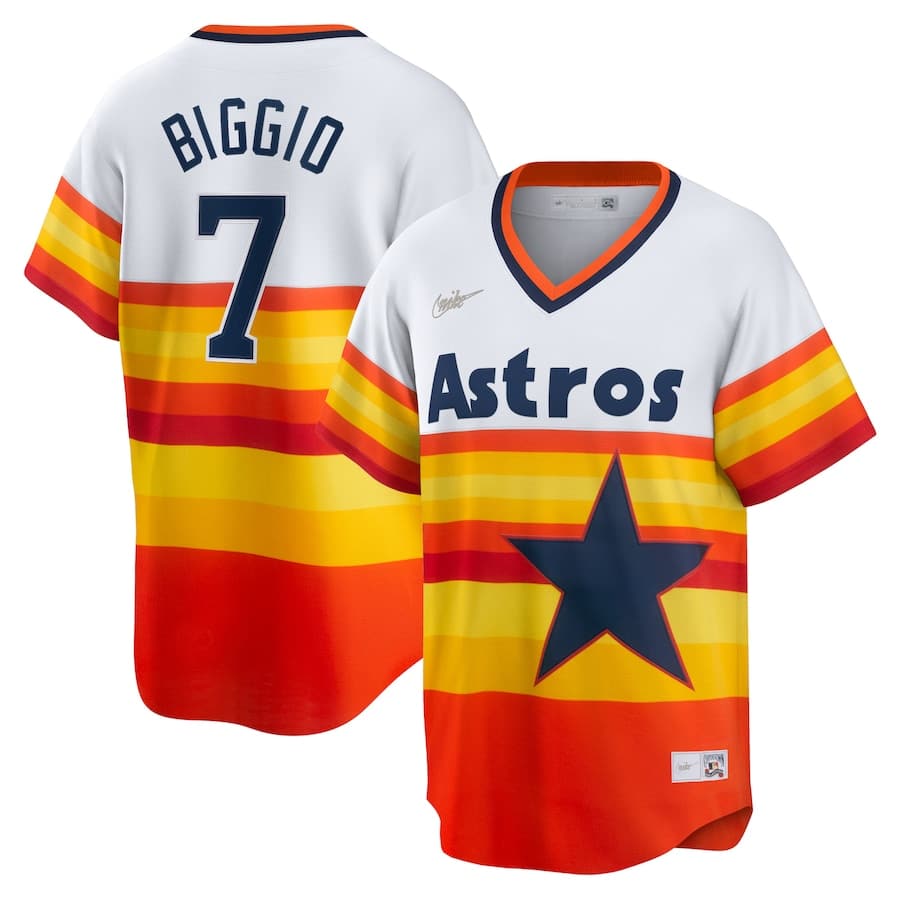 Jersey Details :
Rounded hem
Short sleeve
Heat-sealed jock tag
Heat-sealed tackle twill applique
Sizing Tip: Product runs true to size. If you are in between sizes, we recommend ordering the smaller size.
Material: 100% Polyester
Machine wash gentle or dry clean. Tumble dry low, hang dry preferred.
Tagless Collar
Officially licensed
Sizes : S, M, L, XL, 2X, 3X, 4X, 5X
Brand: Nike
Jeff Bagwell Jersey
Jeff Bagwell, the slugging first baseman Hall of Famer spent his entire 15 year career with the Houston Astros.  He hit 449 home runs (club record), won a gold glove, and the Silver Slugger award on three different occasions.   He is the only player in MLB history to have six consecutive 30 homerun seasons, 100 RBIs, 100 runs scored, and 100 walks.  Can you talk about a great all around great player?  Bagwell was solid to great in every aspect of his game!
Celebrate the memories with a Cooperstown Collection Throwback Jeff Bagwell Jersey by Nike.
Additional Retailers Who Carry Craig Biggio Jerseys
Fanatics :
Return policy – 1 Year hassle free returns.
International shipping – Yes.
Astros apparel for men available for sizes : S, M, L, XL, 2X, 3XL (3X), 4XL (4X), 5XL (5X), 6XL (6X).  XT (XLT), 2XT (2XLT), 3XT (3XLT), 4XT (4XLT), and 5XT (5XLT).
Astros apparel for women available in sizes : S, M, L, XL, Classic XXL, Plus 2X, Classic 3XL, Plus 3X, and Plus 4X.
Shop All Houston Astros Apparel Available.
Shop All Vintage Throwback Houston Astros Apparel available.