Jeff McNeil Jersey & Tee S-3X 4X 5X 6X XLT 2XLT 3XLT 4XLT 5XLT
Jeff McNeil is one of those gritty throwback type of players that coaches, teammates and their fans absolutely love.  By the end of the game, McNeil is usually the guy with the dirtiest jersey.  Nicknamed "Squirrel", fans love the way that he puts it all on the line every day.  Gear up and show your fan appreciation and team support with a Jeff McNeil Jersey that is made for men and women.  In addition to Jeff McNeil Jerseys, tee shirts and hoodies are also available with his name and number.  Sizes S-2X, big & tall 3X (3XL), 4X (4XL), 5X (5XL), 6X (6XL).  XLT (XT), 2XLT (2XT), 3XLT (3XT), 4XLT (4XT), and 5XLT (5XT).  Women's NY Mets apparel is available in Small – Plus 4XL.
Jeff McNeil Jersey
Jeff McNeil was a 12th round draft pic, who is now a rising star in Major League Baseball.. McNeil appears to be poised to challenge for a batting title with a career batting average near .320.  In fact, McNeil is the fastest NY Mets player ever to record 200 hits, doing so in just 599 at bats.  Furthermore, McNeil is one of those rare throwback players who rarely strikes out.  He has already led MLB in swinging at the highest percentage of pitches inside the strike zone.
You may also enjoy :
Jeff McNeil Big & Tall Tee Shirts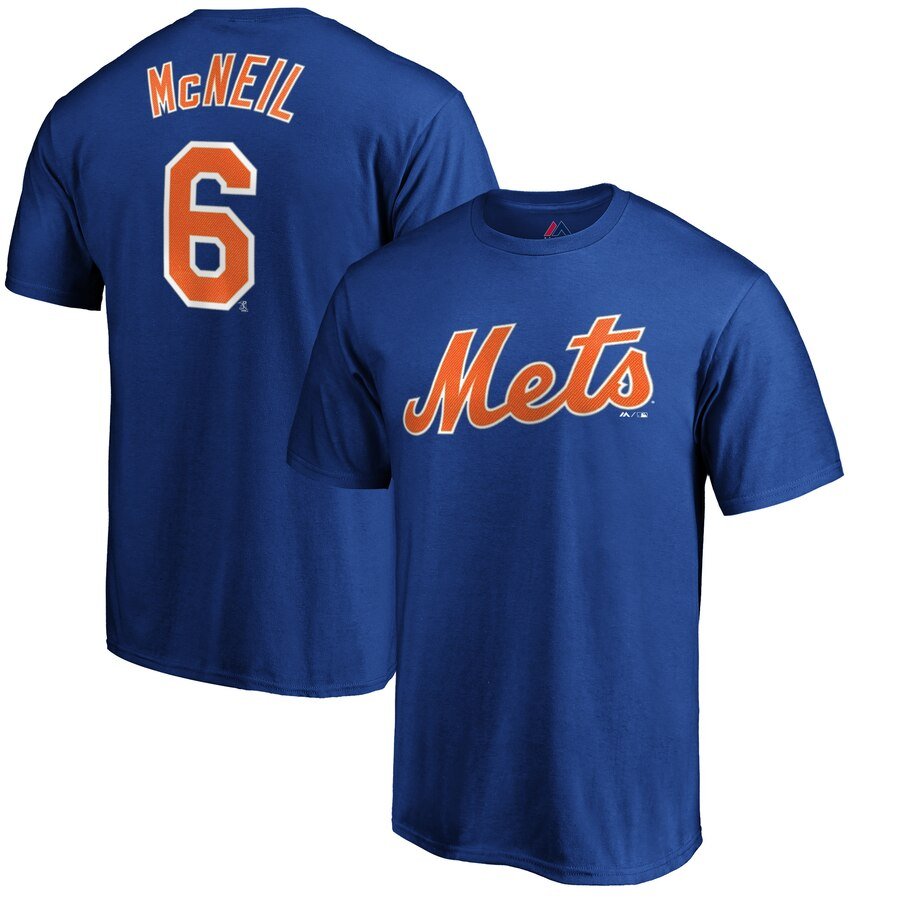 Looking for those hard to find big and tall NY Mets sizes?  Tee shirts, jerseys, hoodies, jackets and more…
Shop All NY Mets Jerseys & Apparel by Size
Additional Retailers Who Sell Jeff McNeil Jerseys (Big, Tall, and Plus Sizes Included)
Big & tall Mets jerseys are available in white pinstripe, gray, and navy blue.  We have recommended one of our favorite retailers who carry big, tall, and plus size Mets gear.
FTC Disclosure :
As an affiliate of the retailer that we have recommended to you, we receive a small commission if an order is placed (at no cost to the customer).  This has no affect on the price of any item that is ordered.  
Fans Edge :
This company carries the home and away (authentic and replica) Jeff McNeil Jersey.  In addition to McNeil, they also carry Pete Alonso, Francisco Lindor, and many other Mets stars.  Additionally, they carry NY Mets throwback jerseys of legendary players like Mike Piazza, Darryl Strawberry, Keith Hernandez, and more.
Men's sizes available – S, M, L, XL, XXL (2X), 3XL (3X), 4XL (4X), 5XL (5X), 6XL (6X).  XT (XLT), 2XT (2XLT), 3XT (3XLT), 4XT (4XLT), and 5XT (5XLT).
Women's sizes available – S, M, Plus M, L, Plus L, XL, 1X, Classic XXL, Plus 2X, Classic 3XL, Plus 3X, Classic 4XL, Plus 4X.
Shop All Men's NY Mets Jerseys Available.
Shop Big & Tall Mets Jerseys & Apparel Available.
Shop All Women's Met's Jerseys Available.
Shop Plus Size Women's NY Mets Apparel Available.
Shop the Kids NY Mets Jerseys & Apparel Department.
Be sure to Like "Rivalry Sports" on Facebook. We share great deals, clearance sales, and promotions from leading online retailers to help save you money.