Julius Erving Jersey S-3X 4X 5X 6X XLT 2XLT 3XLT 4XLT 5XLT
Commonly known as Dr. J, Julius Erving dazzled fans in both the ABA and NBA.  He won 3 Championships, 4 MVPs,  and 3 scoring titles.  Amazingly, in Erving's 16 seasons not a single team that he played on ever missed the playoffs.  Dr. J was infamous for his thunderous (yet graceful) slam dunks.  Celebrate the legendary career of one of the most influential sports figures in history with a Julius Erving Jersey.  Dr. Jay Jersey's are available in S-2X (XXL), 3X (3XL), 4X (4XL), 5X (5XL), 6X (6XL).  XLT (XT), 2XLT (2XT), 3XLT (3XT), 4XLT (4XT), and 5XLT (5XT).
Julius Erving Jersey – Philadelphia 76ers
Shown above is the Julius Erving that he wore with the Philadelphia 76ers.   Erving was inducted into the Basketball Hall of Fame in 1993 and was named (by Sports Illustrated) as one of the most important athletes of all time.
Jersey details :
Sizing Tip: These Mitchell & Ness throwback jerseys run large.  It is recommended that you consider ordering one size smaller than what you normally wear.
Material: 100% Polyester
Side splits at waist hem
Tackle twill applique
Rib-knit collar and sleeve hems
Sizing Tip: Product runs true to size. For a looser fit, we recommend ordering one size larger than you normally wear.
Woven jock tag at waist hem
Sublimated stripes on trim
Back neck taping
Mesh fabric
V-neck
Machine wash, tumble dry low
Officially licensed
Sizes : S, M, L, XL, 2X, 3X, 4X, 5X, 6X, XLT, 2XLT, 3XLT, 4XLT, 5XLT.
Brand: Mitchell & Ness
Julius Erving Jersey 
(Rear View)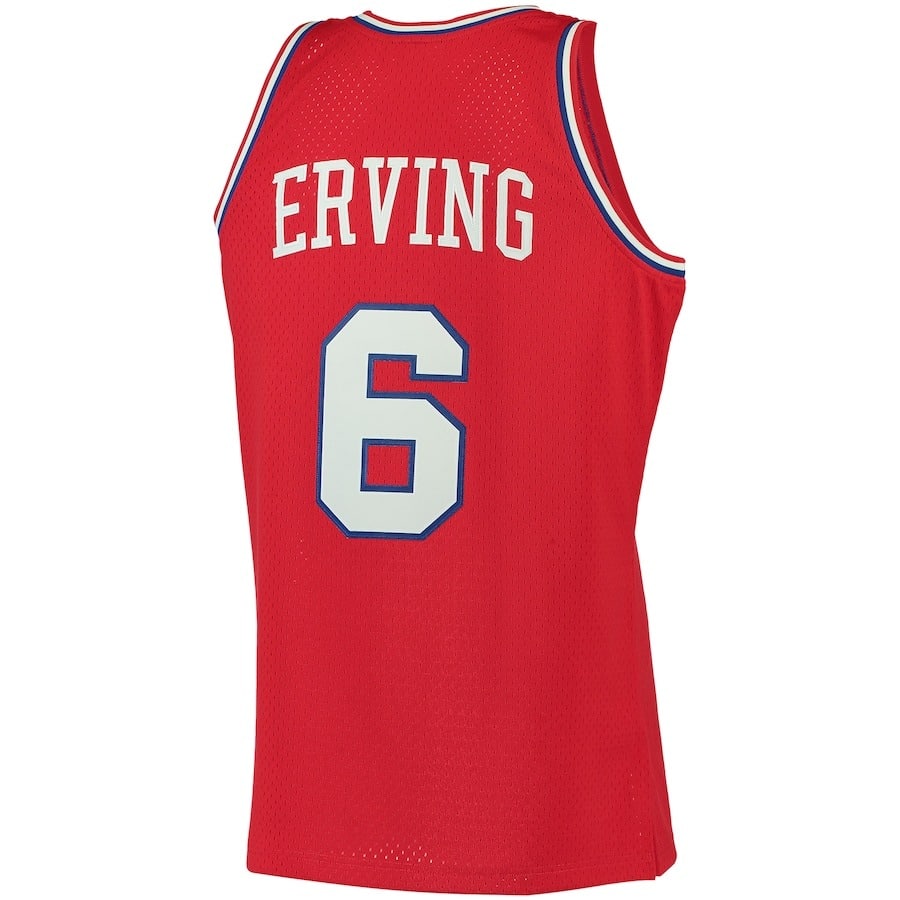 You may also enjoy :
Shop All Philadelphia 76ers Jerseys & Apparel by Size
Additional Retailers Who Carry Julius Erving Throwback Jerseys
We are affiliated with dozens of online retailers, but only a few carry big and tall NBA throwback jerseys of famous legends like Julius Erving, Magic Johnson, Shaquille O'Neal, etc…  The retailer that we have recommended to you below does carry big and tall NBA throwback, including the Philadelphia 76ers Julius Erving Jersey.
FTC Disclosure :  As an affiliate to Fans Edge Sports, we receive a small commission for orders placed on their site.  This is all at no cost to the customer, and helps to support our site.  Thanks for helping to support our small business and we hope we have helped you the fan gear you were searching for.
Fans Edge Sports :
Return policy – 365 day hassle free returns.
International shipping – Yes, they will ship to over 100 countries around the world.
Men's sizes available – S, M, L, XL, XXL (2X), 3XL (3X), 4XL (4X), 5XL (5X), 6XL (6X).  XT (XLT), 2XT (2XLT), 3XT (3XLT), 4XT (4XLT), and 5XT (5XLT).
Women's sizes available – S, M, Plus M, L, Plus L, XL, Classic XXL, Plus 2X, Classic 3XL, Plus 3X, and Plus 4X.
Shop All Men's Philadelphia 76ers Jerseys & Apparel available.
Browse the Big and Tall Philadelphia 76ers department.