Mike Piazza Jersey (Mets, Dodgers) S-3X 4X 5X 6X XLT-5XLT
Mike Piazza was one of the greatest catchers in MLB history.  He played 16 seasons, most notably for the New York Mets and L.A. Dodgers.  Celebrate the career of a 12 time All Star, 10 time Silver Slugger, and MLB Hall of Famer with a Mike Piazza Jersey for the New York Mets and/or the Los Angeles Dodgers.  Piazza jerseys are available in regular S-2X, big and tall 3X (3XL), 4X (4XL), 5X (5XL), 6X (6XL), XLT (XT), 2XLT (2XT), 3XLT (3XT), 4XLT (4XT), and 5XLT (5XT).
Mike Piazza Jersey – Los Angeles Dodgers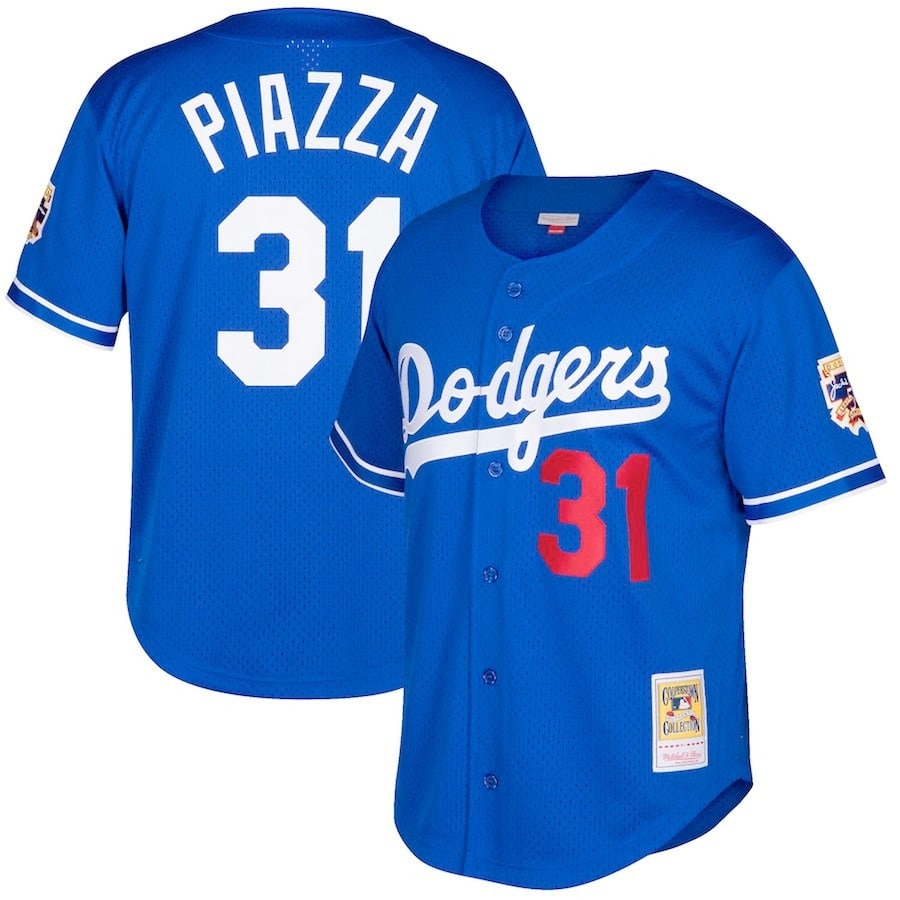 Shop Mike Piazza Dodger Jerseys & Tee shirts
As a favor to Tommy Lasorda, the Dodgers drafted Mike Piazza in the 62nd round..  Piazza went on to prove that the Dodger's made the right decision and chose one of the best 62nd round picks of all time!  Piazza signed for a mere 15,000 dollars and went on to become the rookie of the year in 1993 and the rest is history!
Mike Piazza Jersey – New York Mets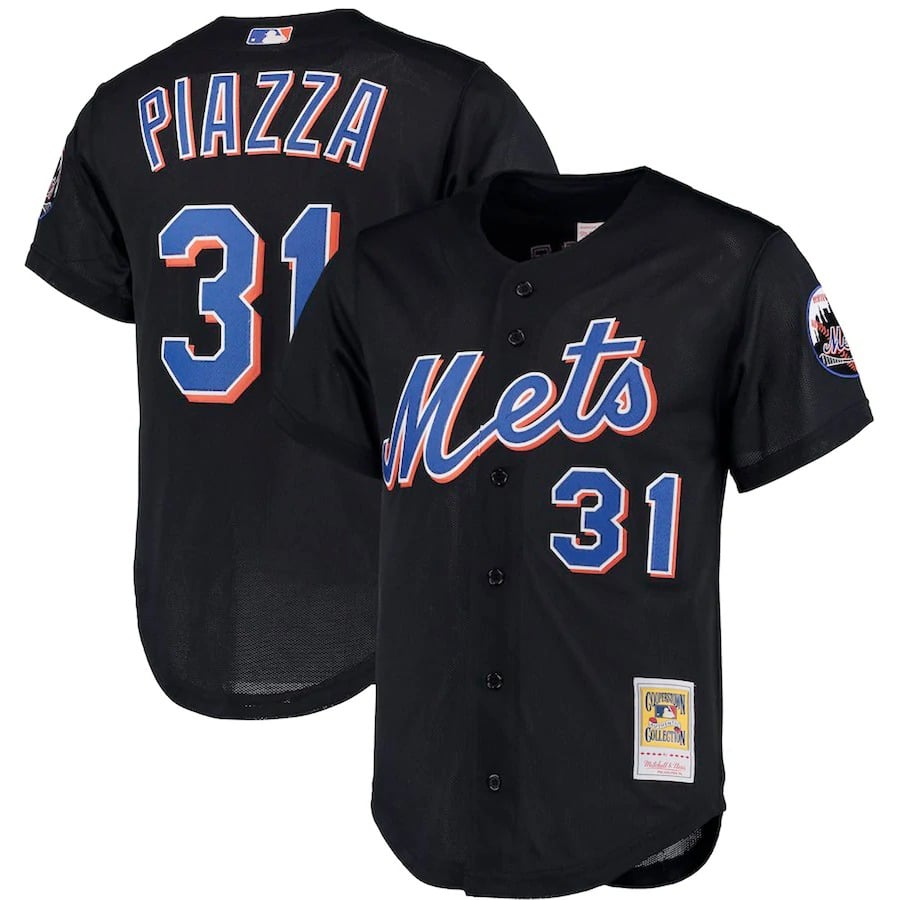 Mike Piazza played for the Mets from 1998-2005.   He was elected to the Mets Hall of Fame in 2013 and the Major League Hall of Fame in 2016.  Piazza was a star for the Dodgers, but after arriving in New York he immediately became a sports icon in the Big Apple.
Jersey Details :
Sizing Tip: Product runs large. We recommend ordering one size smaller than you normally wear.
Material: 100% Polyester
Cooperstown collection showcases the design of yesteryear
Embroidered fabric applique
Full-button front
Woven tag on bottom hem
Mesh fabric
Rounded hem
Tackle twill graphics
Built to baseball's demanding specifications and exacting detail
Short sleeve
Machine wash, line dry
Officially licensed by Major League Baseball.
Sizes : S, M, L, XL, 2X, 3X, 4X, 5X, 6X, XLT, 2XLT, 3XLT, 4XLT, 5XLT.
Made by Mitchell & Ness.
Shop All Los Angeles Dodgers Apparel by Size
You may also enjoy :
Additional Retailers Who Carry Mike Piazza Jerseys
Looking for some college vintage, retro gear of your favorite all time sport heroes?  We have selected a reputable online retailer below who carries Mitchell and Ness throwbacks of former sports legends (Including Mike Piazza).  Commemorate the careers of your all time favs with an authentic throwback uniform.
FTC Disclosure : We are affiliated with the retailer that we have recommended for you below.  This simply means that we receive a small commission on orders placed by using our referral link.  This has no affect on the price of any items that they offer.  This helps to support our small business, at no expense to you the consumer.  Thanks for your support and we hope that we have helped you find what you were looking form.
MLB Fan Shops :
This company carries a nice selection of Mitchell & Ness throwbacks for most professional sports teams.  They carry both the Mets and Dodgers Mike Piazza Jersey in regular, as well as big & tall sizes.
Return policy – 1 Year hassle free returns.
Piazza jersey available in – S, M, L, XL, XXL (2X), 3XL (3X), 4XL (4X), 5XL (5X), 6XL (6X).  XT (XLT), 2XT (2XLT), 3XT (3XLT), 4XT (4XLT), and 5XT (5XLT).
Shop All Mitchell & Ness Throwback Jerseys Available.
Shop Dodgers Mike Piazza Jerseys & Apparel.