Patriots, Rams Super Bowl LIII Tee, Jerseys 3XL 4XL 5XL 6XL XLT-5XLT
Big & Tall Super Bowl LIII apparel to commemorate a magical season between two great teams!  Most retailers, don't carry Super Bowl gear (or have a terrible selection) in sizes 3X (3XL), 4X (4XL), 5X (5XL), 6X (6XL). XLT, 2XLT, 3XLT, 4XLT, or 5XLT.  We feature the most reputable sports retailers that do carry LA Rams and New England Patriots Super Bowl LIII tee shirts, jerseys, hoodies and more.  Additionally, you can get your favorite players jersey with the Super Bowl LIII emblem on the upper left chest to proudly display your teams Championship season.
Big & Tall New England Patriots Super Bowl LIII Apparel
Browse by Size
Disclosure : We review online retailers who sell big and tall football jerseys.  We only receive a commission when an order is placed.  We don't receive any compensation for "clicks" to browse any jersey or NFL apparel item.
Note : Both the 3XL, 4XL, 5XL  sizes have different selctions 3X, 4X, 5X, so we have added them both.
Extended Tall
When the subject of "Greatest of All Time" QB's comes up, it's hard to argue that Tom Brady is the GOAT.  He has played in 9… Count them, 9 Super Bowl Championship games.  His name is written all throughout the record book..  This tee is a great way to commemorate a generational quarterback.
Be sure to check out ALL of the Patriots Super Bowl LIII tee shirts, hoodies and jerseys that are available.  There is a huge selection of official team gear.
Patriots Super Bowl LIII Jerseys are available for :
Rob Gronkowski
Sony Michel
Julian Edelman
Chris Hogan
Big & Tall Los Angeles Rams Super Bowl LIII Apparel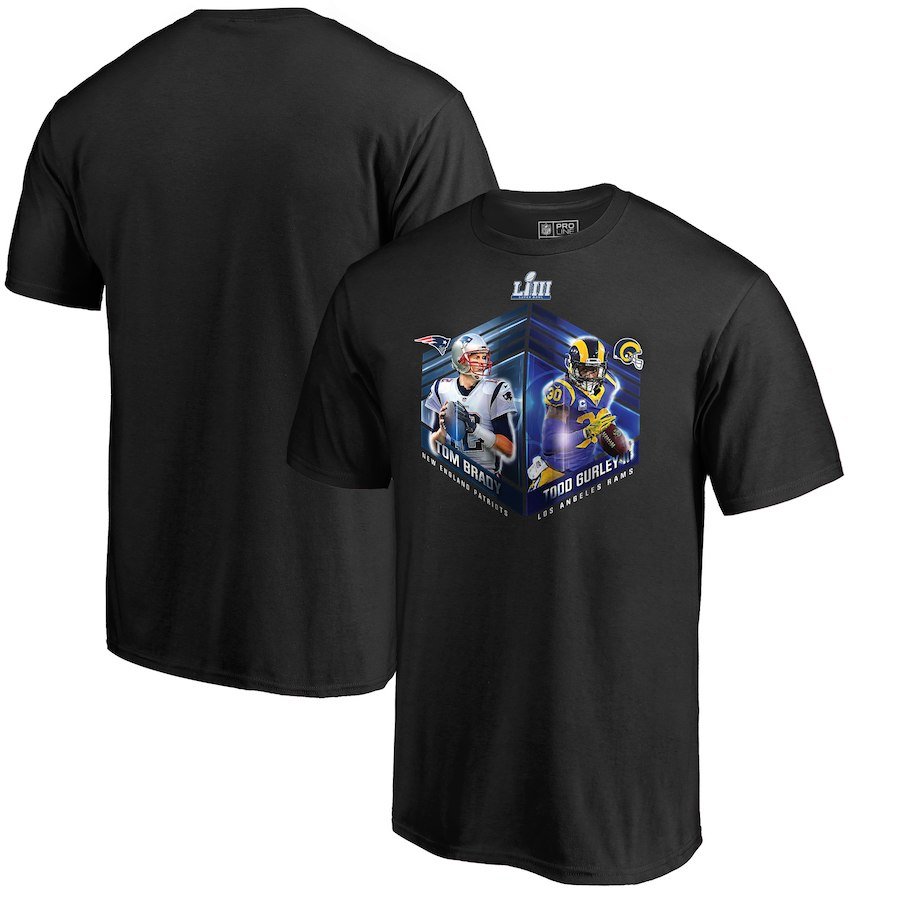 Shop Rams 2019 Super Bowl LIII Tee Shirts, Hoodies & Jerseys by Size
You may also enjoy :
The Los Angeles Rams had a Champion Season no doubt.  Their high powered offense led by Jared Goff, Todd Gurley, and Brandin Cooks could light up the scoreboard.  On the defensive side of the ball, Aaron Donald is the NFL's premier sack master who can change the tide of the game!  Congratulations on your NFC Champions and Super Bowl Championship season.  Grab your gear in remembrance of an epic season.
View More Retailers Who Carry Big & Tall LA Rams, NE Patriots Super Bowl Tee Shirts :
NFL Fan Shops – You have likely heard of this company.  They are an official supplier of NFL gear and a leader in the industry.  They have a great selection of Rams and Patriots big and tall gear in 2X (XXL), 3X (3XL), 4X (4XL), 5X (5XL), 6X (6XL).  Extended tall sizing for Super Bowl LIII apparel is available in XLT (XT), 2XLT (2XT), 3XLT (3XT), 4XLT (4XT), 5XLT (5XT).
Return policy – 90 days
International shipping – Yes
Shop Super Bowl LIII Apparel at NFL Fan Shops