Pedro Martinez Jersey S-XL 2X 3X 3XL 4X 4XL 5X 5XL Red Sox
While you can still watch Pedro Martinez giving his professional analysis on tv, or watch one of his epic games on Youtube, nothing brings back those nostalgic memories than actually wearing an official Pedro Martinez Jersey from Mitchell and Ness throwback collection.  Pedro Martinez played for the Red Sox for the majority of his career but also played for the Mets, Dodgers, Phillies, and Nationals.  Check out the entire Mitchell and Ness throwback collection in sizes that include S, M, L, XL, 2X (XXL), big and tall 3X (3XL), 4X (4XL), 5X (5XL), 6X (6XL).  XLT (XT), 2XLT (2XT), 3XLT (3XT), 4XLT (4XT), and 5XLT (5XT).
Boston Red Sox Pedro Martinez Jersey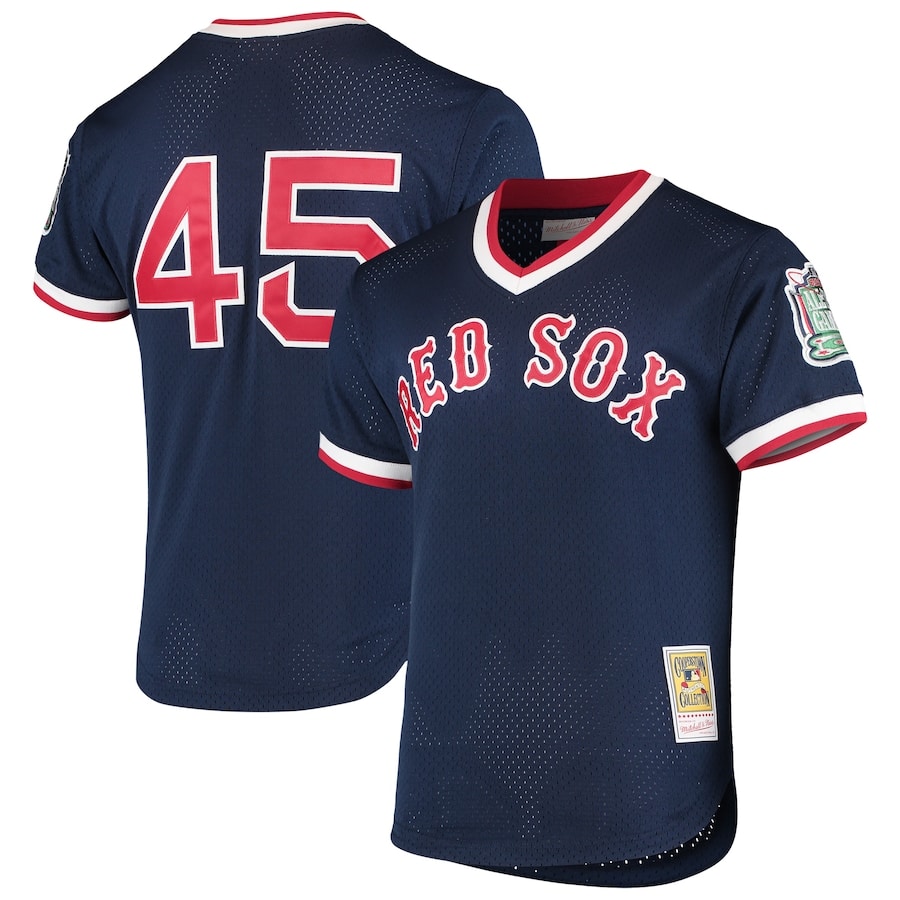 Pedro Martinez had a 219-100 career record as a pitcher, which ranks him 4th all time in winning percentage in MLB history!  Additionally, Pedro was an 8 time All star, and won three Cy Young awards.  Furthermore, Martinez let the league in ERA 5 times, and strikeouts 3 times.  As if that wasn't enough, this future Hall of Famer won the pitchers "Triple Crown", with a 23-4 record, 2.07 ERA, and 313 strikeouts.
The Boston Red Sox Pedro Martinez jersey shown above is what he wore while dominating the American League and piling up records, accomplishments, and the awe of his fans.
What made Pedro Martinez stand out even "taller" amongst his peers was that Martinez was known as a power pitcher despite his lean 5 feet 11, 170 lb frame.  Many believe, that they were being generous listing him at 170 pounds.  While lean on body mass, Pedro could bring the heat with any of the power pitchers during his era in the Major Leagues.
Jersey Features :
Rounded hem
Short sleeve
Mesh fabric
Woven jock tag at left hem
Embroidered fabric applique with metallic details
Stitched tackle twill letters and numbers
Interior felt applique with embroidered player name and number
Woven stripes on collar and cuffs
Material: 100% Polyester
Machine wash, line dry
Officially licensed
Sizes : S, M, L, XL, 2X (XXL), 3X (3XL), 4X (4XL), 5X (5XL).
Brand: Mitchell & Ness
Shop All Boston Red Sox Apparel
(Mitchell & Ness, Fanatics Branded, Nike, Majestic, and more)
You may also enjoy :
Additional Retailers Who Carry Pedro Martinez Jerseys and Mitchell and Ness Throwback Apparel
Fanatics :
This company has a huge selection of Mitchell and Ness throwback gear, including the Boston Red Sox Pedro Martinez jersey.  Additionally they carry nostalgic Mitchell and Ness throwback tee shirts, hoodies, jerseys, and hats for the NFL, MLB, NHL, and NBA.  Find that vintage jersey that you loved from your favorite team back in the day.
Return policy – 365 days.
International shipping options – Yes.
Men's sizes available – S, M, L, XL, XXL (2X), 3XL (3X), 4XL (4X), 5XL (5X), 6XL (6X).  XT (XLT), 2XT (2XLT), 3XT (3XLT), 4XT (4XLT), and 5XT (5XLT).
Women's sizes available – S, M, L, XL, 1X, Classic XXL, Plus 2X, Classic 3XL, Plus 3X, and Plus 4X.
Shop All Mitchell and Ness Throwback Apparel Available.