Talanoa Hufanga has become a fan favorite at Levi's Stadium, and all throughout the SF 49er fan base.  The former standout at USC has really come into his own as a safety, and his hard hitting style of play fits in perfectly with the 49ers hard nosed defense.  Celebrate being a super-fan with an officially licensed Talanoa Hufanga Jersey, made by Nike.  In addition to the 49ers home / away / alternate jerseys be sure to check out all of the 49ers regular, big and tall, and plus size 49ers tee shirts, hoodie, jackets and more.  49ers apparel is available in S-XL, 2X (XXL), 3X (3XL), 4X (4XL), 5X (5XL), 6X (6XL).  XLT (XT), 2XLT (2XT), 3XLT (3XT), 4XLT (4XT), and 5XLT (5XT).
Please note, we include affiliate links within this post to support the maintenance and development of this site.  This is at absolutely no expense to our customers.
Talanoa Hufanga Jersey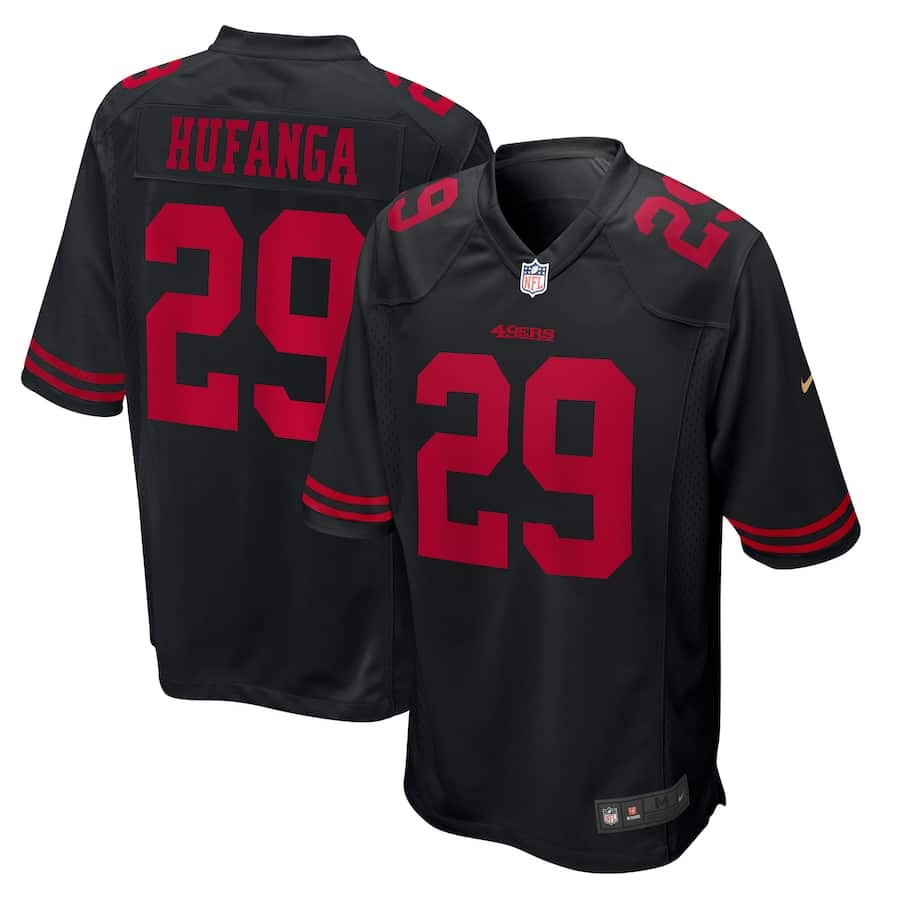 Many 49ers absolutely love the black alternate jerseys that the players were on occasion.  They are visually appealing, and unique.  If you are one of those fans who are looking for a uniform that stands out in the crowd, and apart from their traditional colors then this jersey may be for you.
Jersey details :
Side splits at hem
Mesh side panels for extra breathability
Sewn-on NFL Shield at collar and satin twill woven jock tag at hem
Designed for movement
Screen print name, numbers and team details
Material: 100% Polyester Tricot
Machine wash
Officially licensed
Sizes : S, M, L, XL, 2X, 3X, 4X, 5X
Brand: Nike
Men's Talanoa Hufanga Jersey – Scarlett Red and White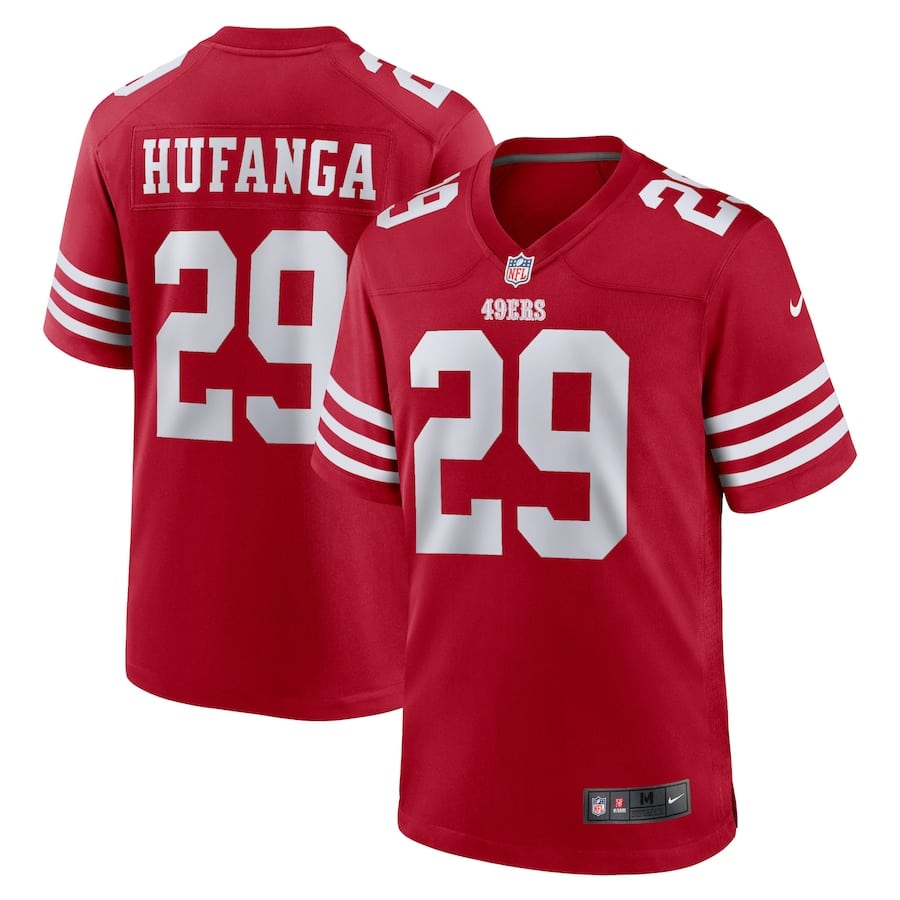 Shop All Talanoa Hufanga Jerseys
White Talanoa Hufanga Jersey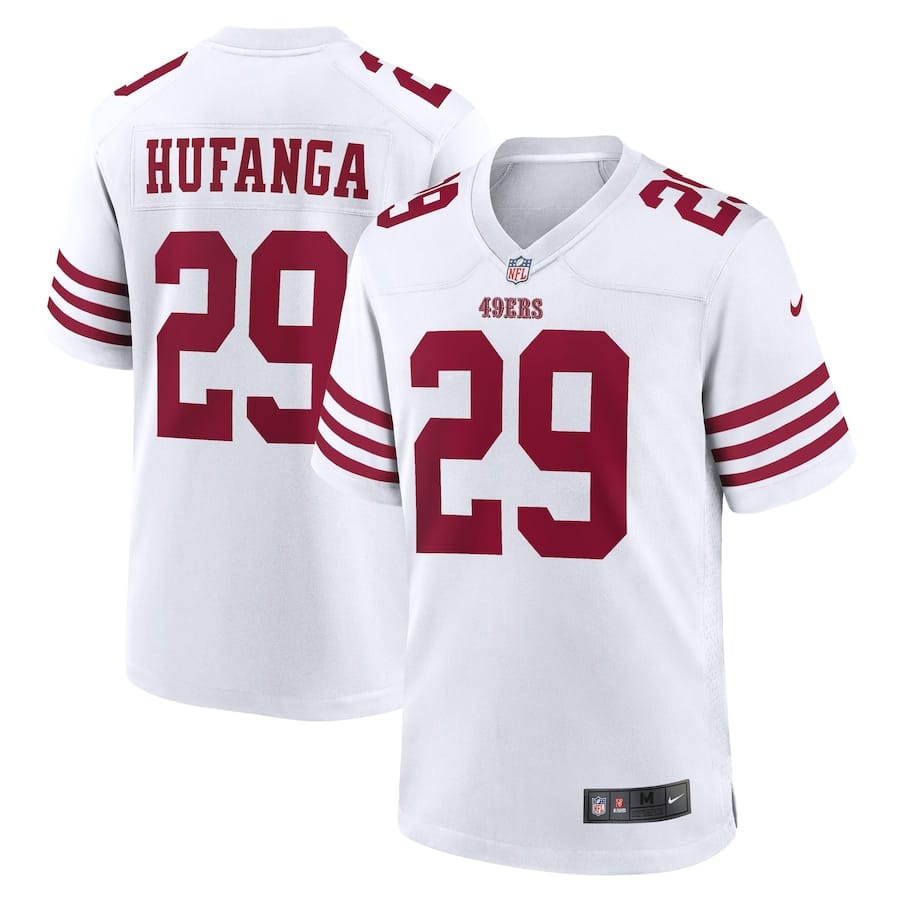 Shop All San Francisco 49ers Apparel by Size
You may also enjoy :
Women's Talanoa Hufanga Jersey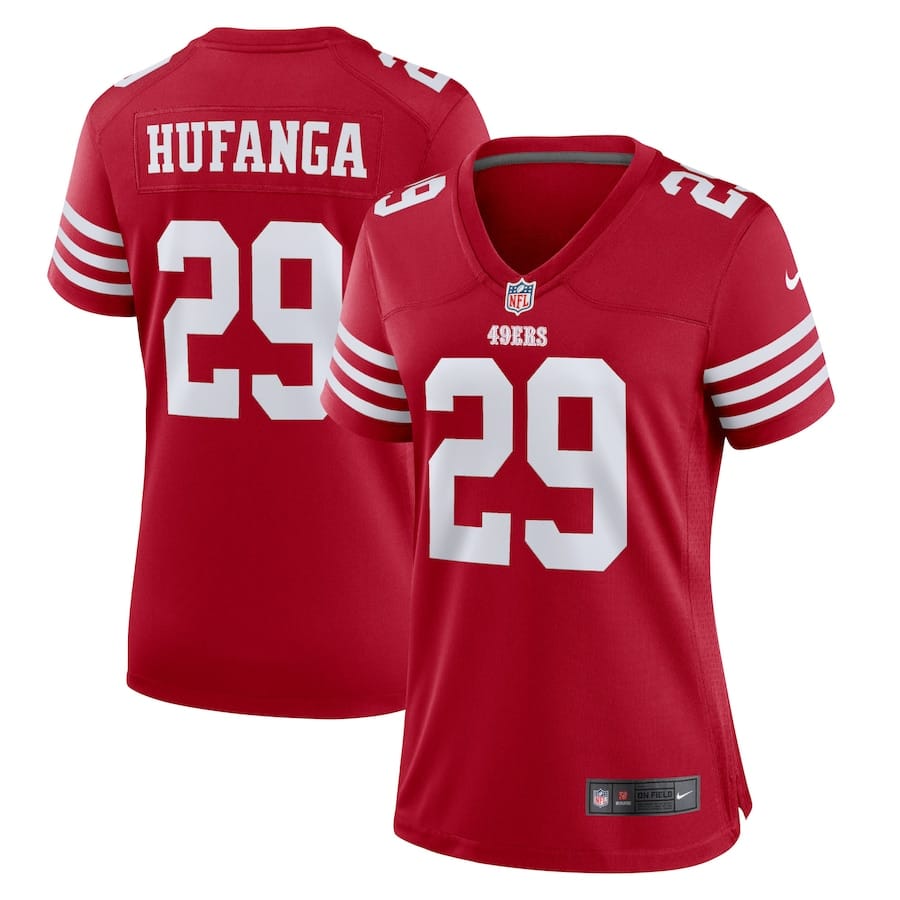 Here is the Talanoa Hufanga jersey designed for a woman.  Stylish, sporty, and perfect for ladies.  Made by Nike.  Sizes : Small to 2X.
Additional Retailers Who Carry Talanoa Hufanga Jerseys
Fans Edge :
If you are still having difficulties locating a Hufanga jersey, they we strongly suggest Fans Edge.  We are one of their affiliates, and we can attest that they are one of the worlds leading online sports retailers.  They carry name brand jerseys and apparel for all the big name brands like Nike, Under Armour, Proline, and more.
Return policy – 365 day hassle free returns.
International shipping – Yes, they ship to over 100 countries throughout the world.
Men's size availability – S, M, L, XL, XXL (2X), 3XL (3X), 4XL (4X), 5XL (5X), 6XL (6X).  XT (XLT), 2XT (2XLT), 3XT (3XLT), 4XT (4XLT), 5XT (5XLT).
Women's size availability – S, M, L, XL, 1X, Classic XXL, Plus 2X, Classic 3XL, Plus 3X, and Plus 4X.
Types of apparel available – Jerseys, tee shirts, hoodies, customized t-shirts and hoodies, jackets, tank tops, and more.
Shop All 49ers Jerseys and Apparel available.