Trea Turner Jersey – Phillies Nike White Pinstripe
Fresh off a World Series appearance, the Phillies aren't ready to sit on their laurels… They want to improve their team further, and they did that by signing Trea Turner to an 11 year, 300 million dollar contract!  Trea Turner can do it all on the field.. He is an outstanding table setter at the top of the lineup, can steal bases, hit for power, average, and with stellar defense to boot!  It's going to be exciting in Philly for years to come and the Phils continue their pursuit at greatness.  Celebrate the Phils new shortstop with a Trea Turner Jersey or Phillies fan gear in sizes that include S, M, L, XL, 2X (XXL), 3X (3XL), 4X (4XL), 5X (5XL), 6X (6XL).  XLT (XT), 2XLT (2XT), 3XLT (3XT), 4XLT (4XT), and 5XLT (5XT).
Phillies Trea Turner Jersey
Phillies Customized Jersey – Add Any Players Name and Number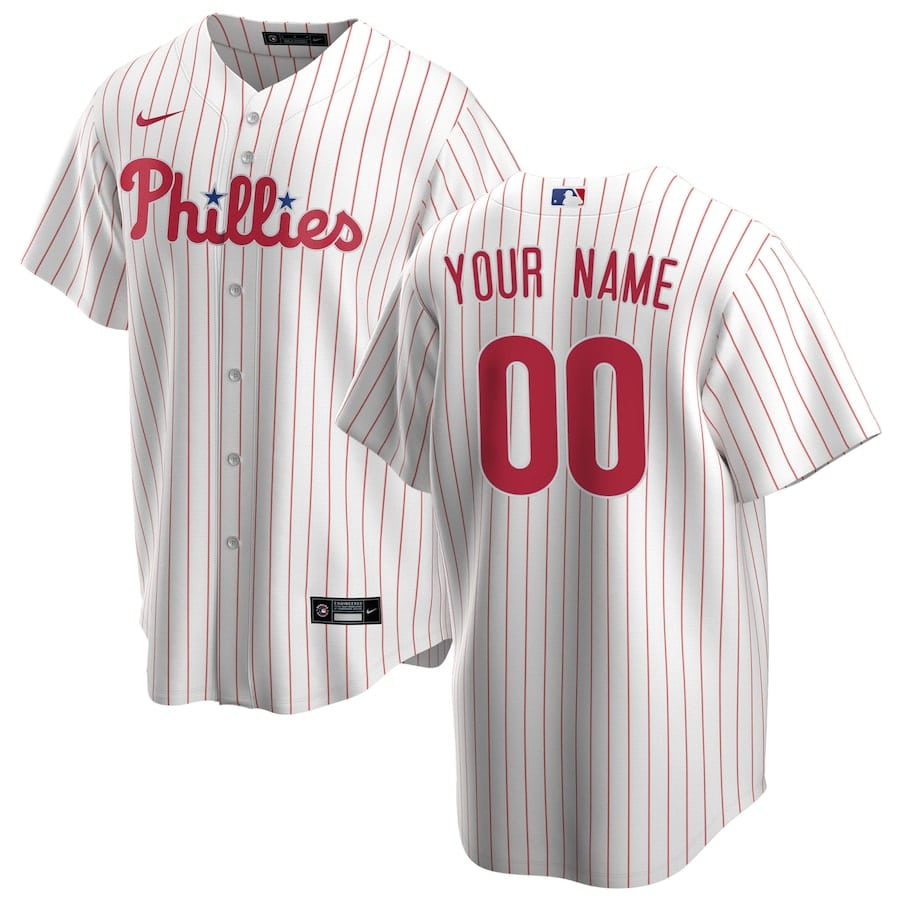 Shop All Phillies Fan Gear Available
The white and red pinstripe Trea Turner jersey shown above is surely to be a popular uniform around Philly, especially while cheering on the team at Citizens Bank Park.  Trea is a former first round draft pick (13th overall), and has improved all aspects of his game.  While Turner has always had speed, Turner has become a more well rounded All Star over the years.  In addition to being able to steal a base, Turner has a good glove, is a .300 hitter, and has added power to his game in recent years.
The Trea Turner jersey shown above is available for men and women.  Additionally, Phillies customized tee shirts, and hoodies are available which allows you to add Turner's name and number to those as well.
Please note, we include affiliate links within this post to support the maintenance and development of this site.  This is at absolutely no expense to our customers.
Shop All Trea Turner Jerseys and Phillies Apparel by Size
You may also enjoy :
Throwback Bryce Harper Powder Blue Jersey – Many Phillie fans never tire of those gorgeous powder blue throwbacks.  For the nostalgic fans, having a throwback Phillies jersey is mandatory… Especially when it is a Bryce Harper jersey!  Furthermore big and tall Harper white pinstripe big and tall jerseys area available in 2X, 3X, 4X, 5X, 6X, XLT, 2XLT, 3XLT, 4XLT, and 5XLT.
Philadelphia 76ers Julius Erving Jersey – Dr. Jay at his finest in this authentic throwback uniform from Mitchell and Ness.  Relive the days when Erving was mesmerizing the crowds with all of those graceful, acrobatic dunks.
Additional Retailers Who Carry Trea Turner Jerseys
One of our favorite online retailers who carry officially licensed MLB jerseys, tee shirts, jerseys, jackets, etc…. is MLB Shops.  They have all the gear you could possibly want from each team in baseball.  Additionally, they also carry Philadelphia Phillies Trea Turner jerseys for men and women.  Furthermore, they have a great kids section of baseball gear so you can deck out your entire family.
MLB Fan Shops :
Return policy – 365 days.
International shipping – Yes.
Men's MLB apparel available in – S, M, L, XL, XXL (2X), 3XL (3X), 4XL (4X), 5XL (5X), 6XL (6X).  XT (XLT), 2XT (2XLT), 3XT (3XLT), 4XT (4XLT), and 5XT (5XLT).
Women's MLB apparel available in – S, M, L, XL, 1X, Classic XXL, Plus 2X, Classic 3XL, Plus 3X, and Plus 4X.
Shop All Philadelphia Phillies Apparel Available.