Bryce Harper Jersey (Phillies), T-Shirts S-3X 4X 5X 6X XLT-5XLT
Philly fans are top notch and fans have waited patiently for this team to shoot for the stars and take aim at another World Series Championship!  The Phillies Bryce Harper Jersey is certain to be one of the most popular selling baseball jerseys for years to come.  Citizens bank park is going to be electric with the talent that the Philadelphia Phillies have assembled!  Gear up with one of the official Bryce Harper Jerseys by Majestic.  Sizes that will be available are S, M, L, XL, XXL, 3XL, 4XL, 5XL, 6XL, XLT, 2XLT, 3XLT, 4XLT, and 5XLT.
Bryce Harper Jersey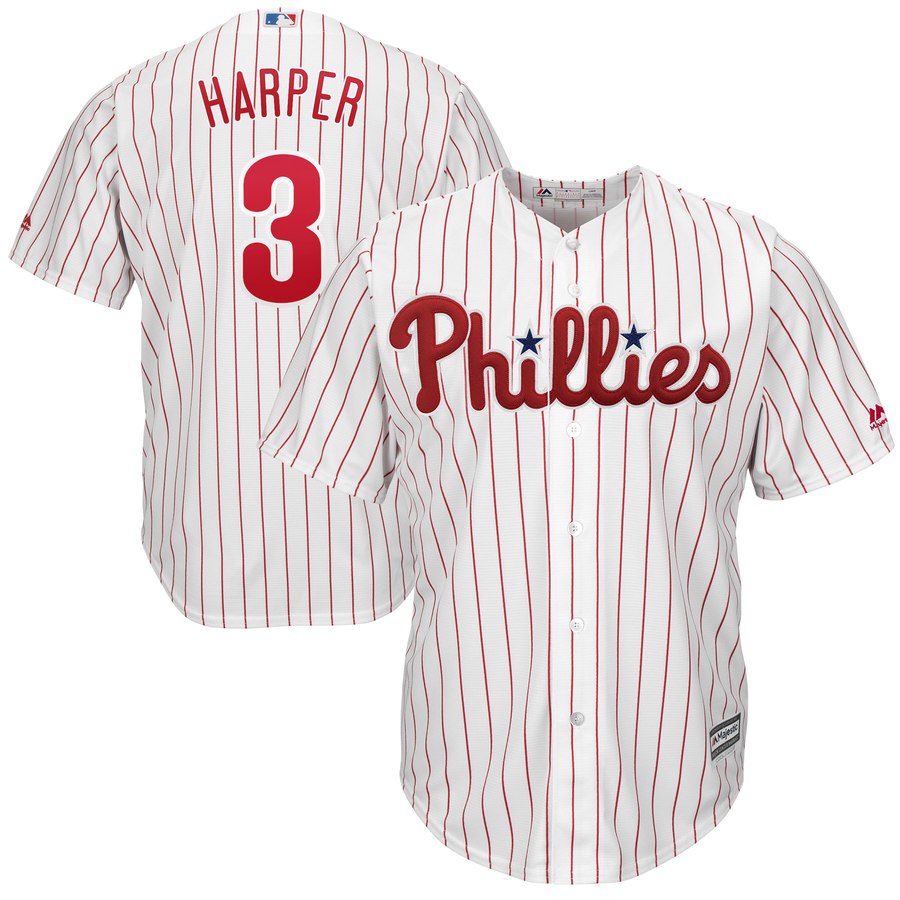 Browse Bryce Harper Jerseys & Tee Shirts by Size
Note : There are different selections for both sizing options "XL" and "X"
Extended Tall Sizing Phillies Gear also Available in Extended Tall Sizing
You may also like Blank MLB Jerseys if you prefer not to have a name and number on the uniform.  Furthermore, Phillies Spring Training Jerseys are also pretty fresh this year.
Note : If you only need sizes up to 4X, you may also enjoy the blue throwback Bryce Harper Jersey by Majestic.  It has the cool old style baby blue color design that are still popular with fans today.
It's been a busy off season for the Philadelphia Phillies organization.  They have put up the cash to vastly improve this team for years to come.  The great thing about Harper signing such a long contract is that you can expect him to be on the team for many years to come.  So, buying a Phillies Bryce Harper Jersey just makes sense because it will never be "out of date" in your wardrobe as your favorite go-to jersey when it's time to play ball!
Retailers Who Carry Bryce Harper Jerseys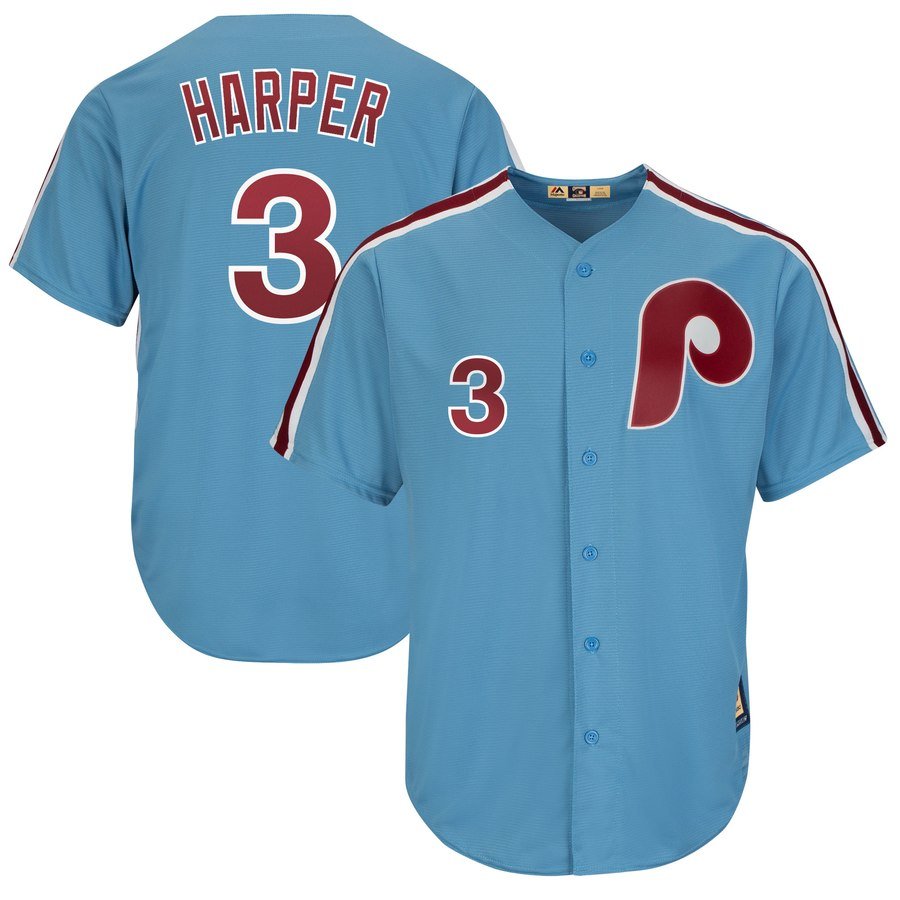 MLB Shop :
This company is legit..  How, can you be sure?  Well, they are the official manufacturers of Major League Baseball jerseys is one reason.  They make the actual jerseys that you see your favorite players wearing on the field.  They do make authentic Philly jerseys, but they also sell the cheaper replica Bryce Harper Jersey as well.. Just because they are "cheap" doesn't mean that they aren't top quality, because they are comfortable and made to last!
Return policy – 1 Year… Yes, so you could by a Phillies Bryce Harper Jersey now and save it for the baseball season, or even the Holidays without fear of not being able to make a return or an exchange in case you needed a different size.
Men's Philadelphia Phillies jerseys, tee shirts and hoodies avialable in : S, M, L, XL, XXL (2X), 3XL (3X), 4XL (4X), 5XL (5X), 6XL (6X).  XLT (XT), 2XLT (2XT), 3XLT (3XT), 4XLT (4XT), 5XLT (5XT).
Women's Phillies apparel available in S, M, Plus M, L, Plus L, XL, Plus 1X, Classic XXL, Plus 2X, Classic 3XL, Plus 3X, Classic 4X, and Plus 4X.
Bryce Harper Jerseys made by – MLB Shop.
Shop Phillies Jerseys and Apparel at MLB Shop.
We Also Recommend Fans Edge for Bryce Harper Phillies Jerseys & T-Shirts
Fans Edge is a fan favorite.  They can be trusted with your order, and they also carry the official Majestic Bryce Harper Philly jerseys.  Additionally they carry Phillies apparel including team gear in big and tall sizes for men and plus sizes for the ladies.
Men's sizes : Small-XXL, 3XL, 4XL, 5XL, 6XL, XLT, 2XLT, 3XLT, 4XLT, 5XLT.
Women's sizes : S, M, L, XL, 1X, 2X, 3X, 4X.
Shop All Phillies Gear at Fans Edge.
Shop Big & Tall Phillies Apparel at Fans Edge.
Browse Women's Plus Size Phillies Harper Jerseys & Apparel at Fans Edge.