Lawrence Taylor Jersey S-3X 4X 5X 6X XLT 2XLT 3XLT 4XLT 5XLT
The NY Giants have an illustrious history full of Hall of Famers, legends, dominating defenses, and interesting characters that fans still love today.  Gear up with your favorite NFL star from years past, and bring back their memories with a throwback NY Giants jersey of players like Lawrence Taylor, Michael Strahan, Phil Simms, Carl Banks, Mark Bavaro, Tiki Barber, Harry Carson, and more.. Sizes available S, M, L, XL, 2X (XXL), 3X (3XL), 4X (4XL), and 5X (5XL).
Big & Tall Lawrence Taylor Jersey – NY Giants Throwback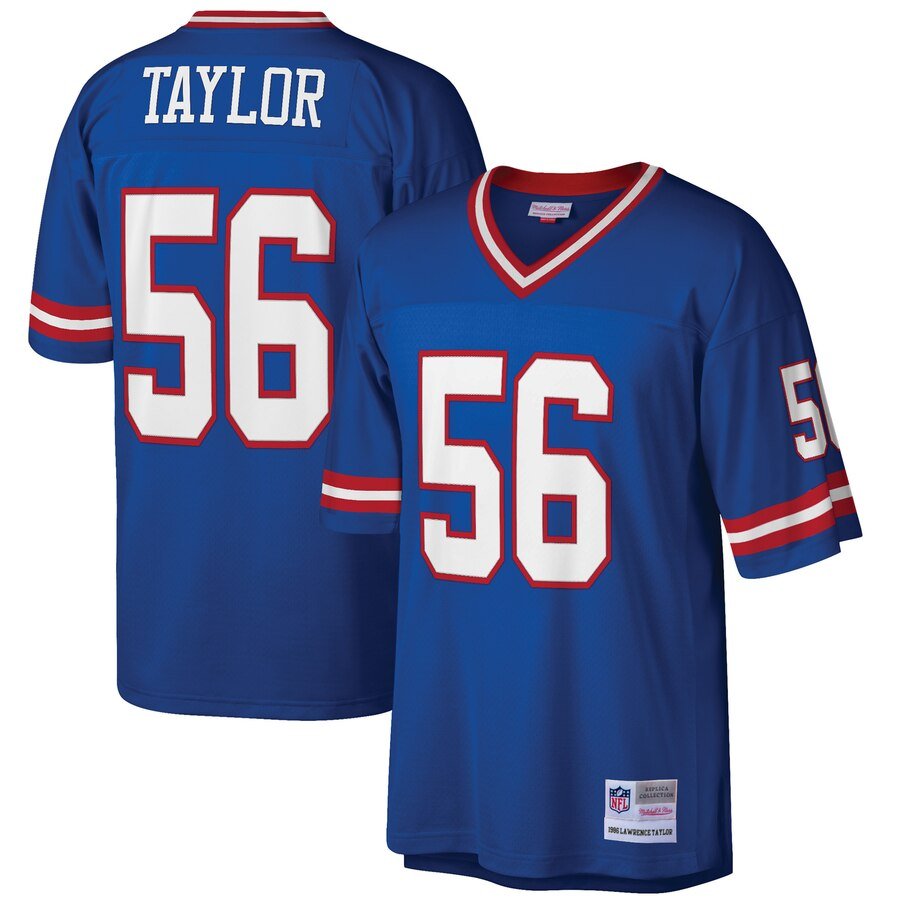 Nicknamed L.T., Lawrence Taylor was one of the greatest linebackers ever to play in the NFL.  After starring for North Carolina in college, L.T. continued his domination in the Pros.  He was drafted 2nd overall in the 1981 draft and he immediately proved his worth by winning several defensive awards as a rookie.
L.T. was a disruptor on offense and has been credited with altering pass rushing schemes and offensive formations for whenever opposing teams faced the NY Giants.   Lawrence Taylor won three AP NFL Defensive Player of the Year awards and had a career high sack total of 20.5 in 1986.  Additionally, he also won the league MVP award in 1986!  In fact, Lawrence Taylor is one of only two defensive players to ever win the League MVP award (the other being Alan Page).
Shop All NY Giants Lawrence Taylor Throwback Jerseys by Size
You may also enjoy :
Players available :
Phil Simms
Lawrence Taylor
Michael Strahan
Tiki Barber
Carl Banks
Harry Carson
Mark Bavaro
Additional Retailers Who Carry NY Giants Throwback Jerseys from Vintage Mitchell & Ness
FTC Disclosure :

We are affiliated with the retailer that we have recommended for you listed below.  This means that we will receive a small commission if an order is placed (at no cost to the customer).  The average commission is about $5 and has no affect on the price of any item.  It's a referral bonus for sending the company an interested customer.  Thanks for helping to support our site!  
Sports Fanatics :
Return policy – 365 day no hassle returns.
Throwback Jerseys available :
Phil Simms – One of the great quarterbacks in Giants history.  Phil Simms help lead the Giants to win two Super Bowl Championships!
Lawrence Taylor – One of the most fierce pass rushers in NFL history.  Lawrence Taylor was a vital part of the dominant NY Giants defenses from the 80s.
Carl Banks – One of the NY Giants outstanding linebackers, who played alongside Lawrence Taylor to form a rock solid defense..
Tiki Barber – One of the great running backs in Giants history. He was elusive, versatile, and powerful.  So, basically Tiki Barber could do it all on the field and one of the greats to ever play.
Michael Strahan – One of the best pure pass rushers in NFL History.  Michael Strahan was a model of consistency and rewrote many of the record books when it came to rushing the QB.
Mark Bavaro – When you needed a tough catch, Mark Bavaro was your many.. He was one of the toughest tight ends to ever play, and he fit right in with the rough and tough G-Men of the 80's.
Harry Carson – Played his entire 13 year career with the Giants.  Harry Carson was named the team captain 10 out of his 13 seasons, including their 1986 Super Bowl Championship team.  Harry Carson was a 9 time Pro Bowler and one of the best inside linebackers ever to play football.  True Hall of Famer, and one of the all time greats ever to put on a Giants uniform.  Just imagine a linebacker trio of Harry Carson, Carl Banks, and Lawrence Tayler all on one team.  Amazing!
Shop NY Giants Throwback Jerseys at Sports Fanatics.
Shop Big & Tall NY Giants Gear at Sports Fanatics.