Vapor Untouchable Jersey by Nike 4X 3X 2X S-XL What the Pros Wear
Perhaps you have noticed that the jerseys that the pros wear on the field don't look quite the same as the NFL jerseys in your wardrobe?  This is because there are many different designs, using different fabrics, and sell for different price ranges.  The best of the best uniforms are the Vapor Untouchable Jersey by Nike.  These are the closest uniforms to what the players wear during their games.  They are available in S, M, L, XL, 2X, 3X (3XL, Size 56), and 4X (4XL, Size 60.
If you are in need of big and tall NFL jerseys in sizes 5X (5XL), 6X (6XL), XLT (XT), 2XLT (2XT), 3XLT (3XT), 4XLT (4XT), 5XLT (5XT), then your choices are limited to the Pro Line big and tall selections.  Don't worry, the Pro Line big and tall collection are of high quality as well.
Vapor Untouchable Jersey by Nike
You also enjoy :
The customized Nike Vapor Untouchable Jersey shown above is available for each team in the NFL.  This not only means that you can add your favorite player, you can also add names of throwback legendary players.  So, you could add Troy Aikman, Emmitt Smith, etc.. to the untouchable jersey shown above.  Or, you can choose the back up right guard… You decide.
Arizona Cardinals Nike Vapor Untouchable Jersey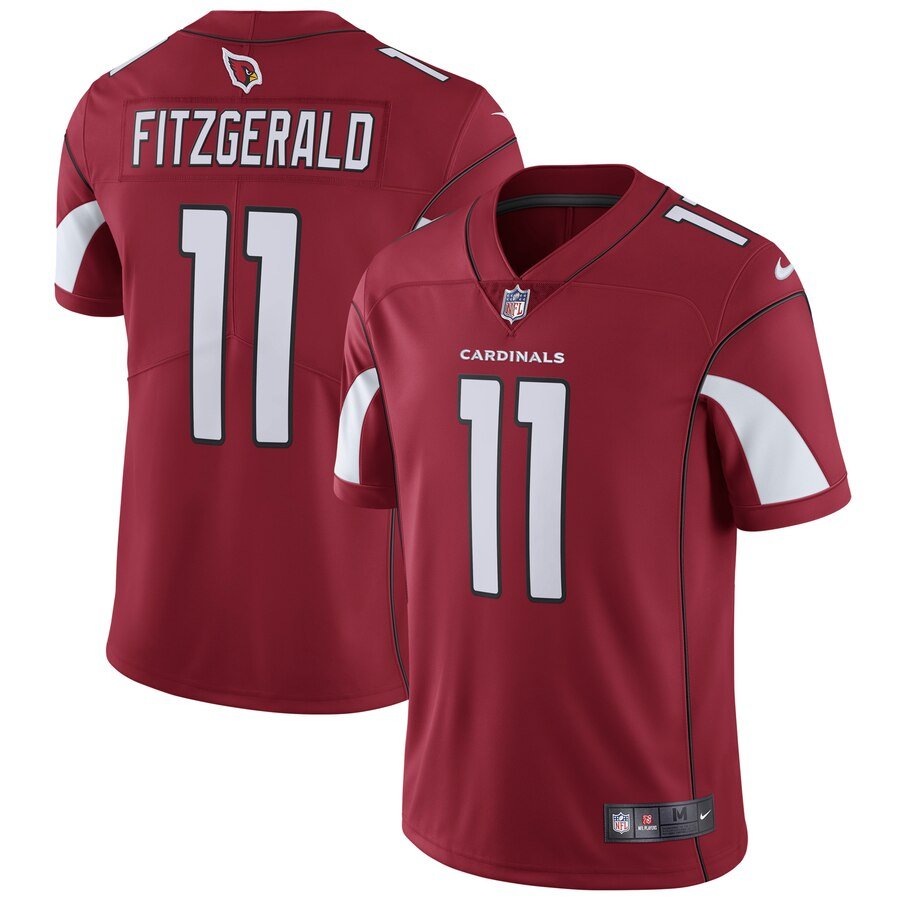 Featured Arizona Cardinals players available :
Pat Tillman
Larry Fitzgerald
David Johnson
Chandler Jones
Patrick Peterson
Haason Reddick
Atlanta Falcons Nike Vapor Untouchable Jerseys
Julio Jones
Matt Ryan
Devonta Freeman
Vic Beasley
Calvin Ridley
Deion Sanders
So, now you get the idea of what they look like.  Nike Vapor Jerseys are available for the following teams :
Arizona Cardinals
Atlanta Falcons
Baltimore Ravens
Buffalo Bills
Chicago Bears
Cincinnati Bengals
Cleveland Browns
Dallas Cowboys
Denver Broncos
Detroit Lions
Green Bay Packers
Houston Texans
Indianapolis Colts
Jacksonville Jaguars
Kansas City Chiefs
Los Angeles Chargers
Los Angeles Rams
Miami Dolphins
Minnesota Vikings
New England Patriots
New Orleans Saints
New York Giants
New York Jets
Oakland Raiders
Philadelphia Eagles
Pittsburgh Steelers
San Francisco 49ers
Seattle Seahawks
Tampa Bay Buccaneers
Tennessee Titans
Washington Redskins
Nike Vapor Untouchable Jersey Details Include :
Fit: True to size. We recommend ordering one size larger than you normally wear. Also, if you will be layering in tee shirts underneath you may want to order up to 2 sizes larger.
Material: 100% Polyester
Screen print team accents
Stitched tackle twill name and numbers of your favorite players.  You can choose between a drop down menu of all players on the current roster or add your own name.  You can also add the name and number of throwback stars.
Mesh side panels for for ventilation.
Satin twill woven jock tag
Vapor untouchable limited chassis
Tagless collar
Silver shield stitched on the collar
Chainmaille Mesh Grill at front neck and back seam lines inspired by the authentic on-field jersey
Metallic-effect NFL shield at collar
Machine washable.  We recommend line drying the jerseys for the longest lasting wear.
Officially licensed
Sizes : S, M, L, XL, 2X, 3X (Size 56), 4X (Size 60)
Brand: Nike
Note : if you need big and tall sizes 2X, 3XL (3X), 4XL (4X), 5XL (5X), 6XL (6X), XLT (XT), 2XLT (2XT), 3XLT (3XT), 4XLT (4XT), and 5XLT (5XT), we recommend checkout out the Pro Line Jerseys big and tall section.
Additional Retailers Who Carry Nike Vapor Jerseys
FTC Disclosure : If you still can't find the jersey your looking for, then we recommend checking out a site that we are affiliated with called Sports Fanatics.  We receive a small commission (at no cost to you) if a purchase is made through one of our affiliate links.  Thanks for helping to support our site.
Fanatics :
This company carries regular, big, tall, and plus size NFL gear for men, women, and kids.  Furthermore, they also carry the Nike Vapor jerseys in sizes up to 4X.  Also Pro Line jerseys up to 5X, and tall jerseys up to 5XLT.  NFL apparel is available in sizes up to Big 6X.
Return policy – 1 Year no hassle returns.
Sizes available – S, M, L, XL, 2X, 3X, 4X, 5X, 6X, XLT, 2XLT, 3XLT, 4XLT, 5XLT.
San Francisco 49ers
Chicago Bears
Cincinnati Bengals
Buffalo Bills
Denver Broncos
Cleveland Browns
Tampa Bay Buccaneers
Arizona Cardinals
L.A. Chargers
Kansas City Chiefs
Indianapolis Colts
Dallas Cowboys
Miami Dolphins
Philadelphia Eagles
Atlanta Falcons
New York Giants
Jacksonville Jaguars
Las Vegas Raiders
Los Angeles Rams
New York Jets
Detroit Lions
Green Bay Packers
Carolina Panthers
New England Patriots
Baltimore Ravens
Washington Redskins
New Orlean Saints
Seattle Seahawks
Pittsburgh Steelers
Houston Texans
Tennessee Titans
Minnesota Vikings
Shop Nike NFL Vapor Jerseys at Fanatics
Shop Men's Big & Tall NFL Jerseys at Fanatics.
Please Like "Rivalry Sports" on Facebook for great sports contents, money saving coupons, and clearance sales alerts from trusted online sports retailers.