The Green Bay Packers have turned over the reigns to Jordan Love to lead the team during the post Aaron Rodgers era.  Jordan love was a first round draft pick in 2020 and has patiently been waiting for his time to shine.  Love is talented, knows the offense, and has shown flashes of his potential during the playing time that he has received since being drafted.  Celebrate the Packers QB of the future with a Nike Jordan Love jersey available in S, M, L, XL, 2X (XXL), 3X (3XL), 4X (4XL), 5X and 5XL.  Also, Packers tee shirts, hoodies, etc.  are also available in big and tall 5X (5XL), 6X (6XL).  XLT (XT), 2XLT (2XT), 3XLT (3XT), 4XLT (4XT), and 5XLT (5XT).
Please note, we include affiliate links within this post to support the maintenance and development of this site.  This is at absolutely no expense to our customers.
Jordan Love Jersey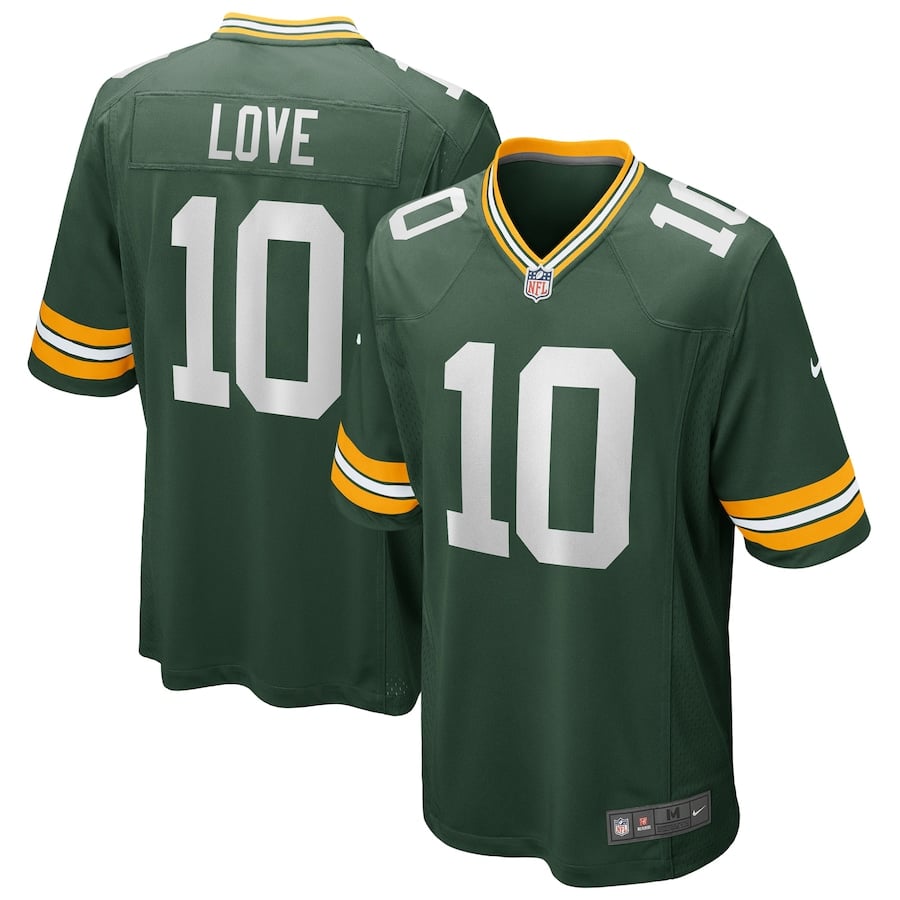 Jordan Love signed a contract extension in 2023, so the Packers look forward to many years of Jordan Love as their starting quarterback.  The Jordan Love jersey shown above is available in home and away primary green and gold, or white color options.
Shop All Jordan Love Jerseys Available
Jersey Details :
Brand: Nike
Sizes : S, M, L, XL, 2X, 3X, 4X, 5X
Designed for movement
Heat-sealed name, numbers and team details
Mesh side panels for extra breathability
Sewn-on NFL Shield at collar and satin twill woven jock tag at hem
Short sleeve
Side splits at hem
Material: 100% Polyester Tricot
Machine wash
Jersey Color Style: Team
Officially licensed
Nike Game
Shop All Green Bay Packers Jerseys and Apparel by Size
You may also enjoy :
Brett Favre Jersey

– Just as Jordan Love has had to patiently wait his turn behind Aaron Rodgers, Brett Favre was blocking Aaron Rodgers on the depth chart for a number of years.  Brett Favre jerseys are still wildly popular in Green Bay with the nostalgic Packers fan.  Brett Favre jerseys are made by Mitchell and Ness (available for men and women), who also produces dozens of other jerseys for NFL legendary players like Sterling Sharpe, Bart Starr, and many other Packer greats.

Reggie White Jersey

– One of the greatest defensive lineman, and sack masters of all time.  Reggie White Mitchell and Ness jerseys are available for both the Packers and the Philadelphia Eagles.
Throwback Jerseys – Mitchell and Ness vintage retro jerseys for NFL, NBA, NHL, and MLB Hall of Fame legends.
Women's Jordan Love Jersey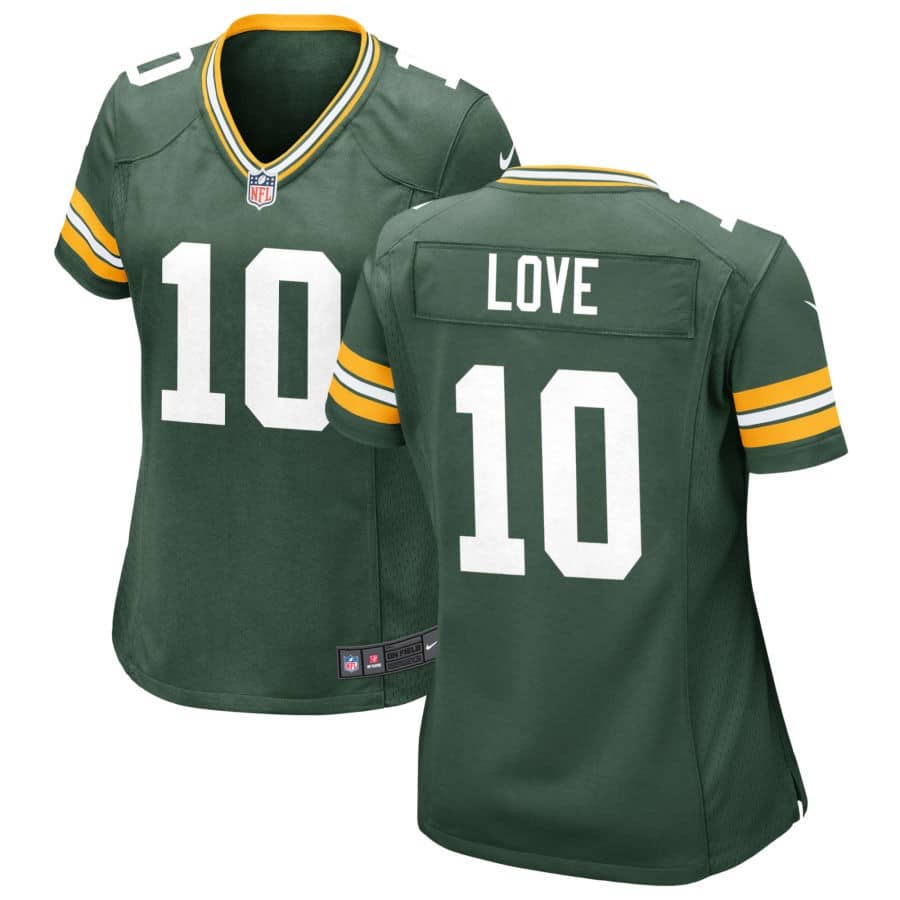 Additional Retailers Who Carry Jordan Love Jerseys
If you need further assistance finding a Packers jersey or apparel item, then we strongly suggest checking out the retailer that we have recommended to you below.  They do carry men's, women's, and children's jerseys including the Nike Jordan Love jersey.  Additionally, they also carry Packer tee shirts, hoodies, jackets, and more.
NFL Shop :
Return policy – 1 Year hassle free returns.
International shipping – Yes.
Men's size availability – S, M, L, XL, XXL (2X), 3XL (3X), 4XL (4X), 5XL (5X), 6XL (6X).  XT (XLT), 2XT (2XLT), 3XT (3XLT), 4XT (4XLT), and 5XT (5XLT).
Women's size availability – S, M, L, XL, 1X, Classic XXL, Plus 2X, Classic 3XL, Plus 3X, and Plus 4X.
Shop All Green Bay Packers Jerseys and Apparel available.