Reggie White Jersey S-3X 4X 5X XLT 2XLT 3XLT 4XLT 5XLT Packer Eagle
Reggie White, the "Minister of Defense" was a man of conviction off the field, and an offensive coordinators worst nightmare on the field!  White starred for the Green Bay Packers and the Philadelphia Eagles during his historic 15 years in the NFL.  Gear up and commemorate the legend with a Reggie White Jersey for either the Green Bay Packers or the Philadelphia Eagles.  Big & tall sizes are available in  2X, 3X (3XL), 4X (4XL), 5X (5XL), 6X (6XL).  XLT (XT), 2XLT (2XT), 3XLT (3XT), 4XLT (4XT), and 5XLT (5XT).
Reggie White Jersey – Green Bay Packers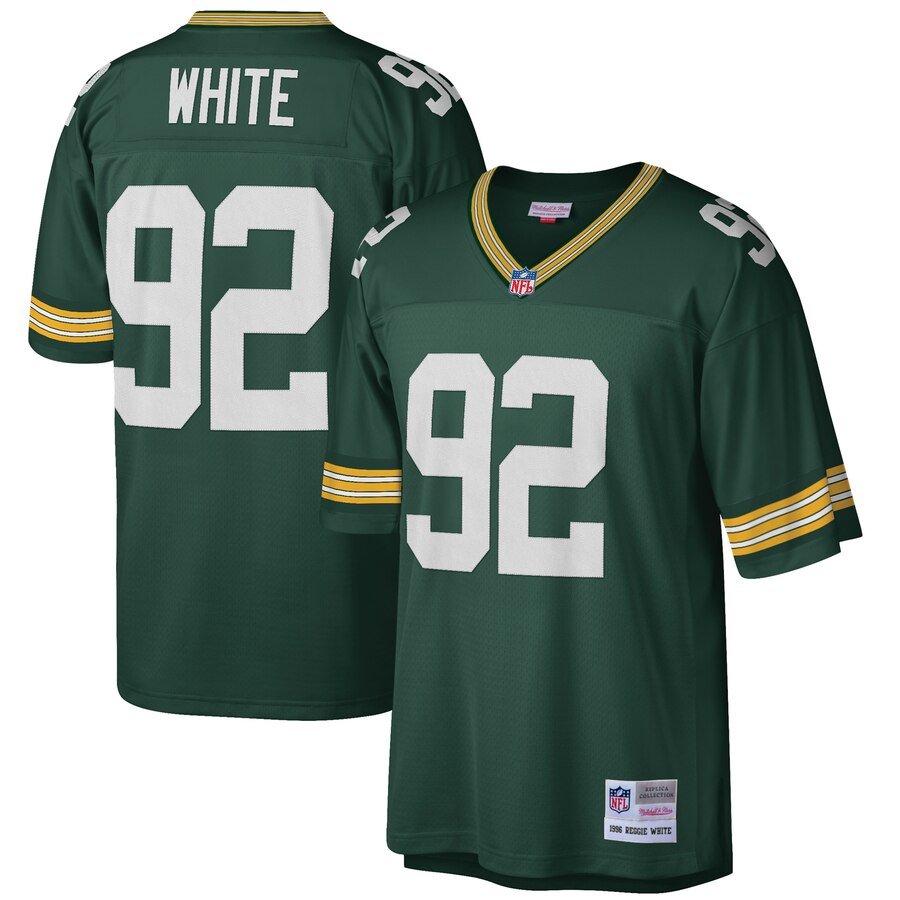 Reggie White was an All-American for the Tennessee Volunteers in college.  He then went on to play two years in the USFL (for the Memphis Showboats) before ultimately starring for the Philadelphia Eagles, Green Bay Packers, and Carolina Panthers.
Reggie White finished his career with 198 sacks, leaving him just two short of Bruce Smith's 200 sacks for the All Time record.  The Green Bay Packers Reggie White Jersey shown above is made by Mitchell & Ness… It is available in regular S-2X, and big & tall sizes for the guys who need sizes 3X, 4X, 5X, 6X, XLT, 2XLT, 3XLT, 4XLT, or 5XLT!
Reggie White Jersey – Philadelphia Eagles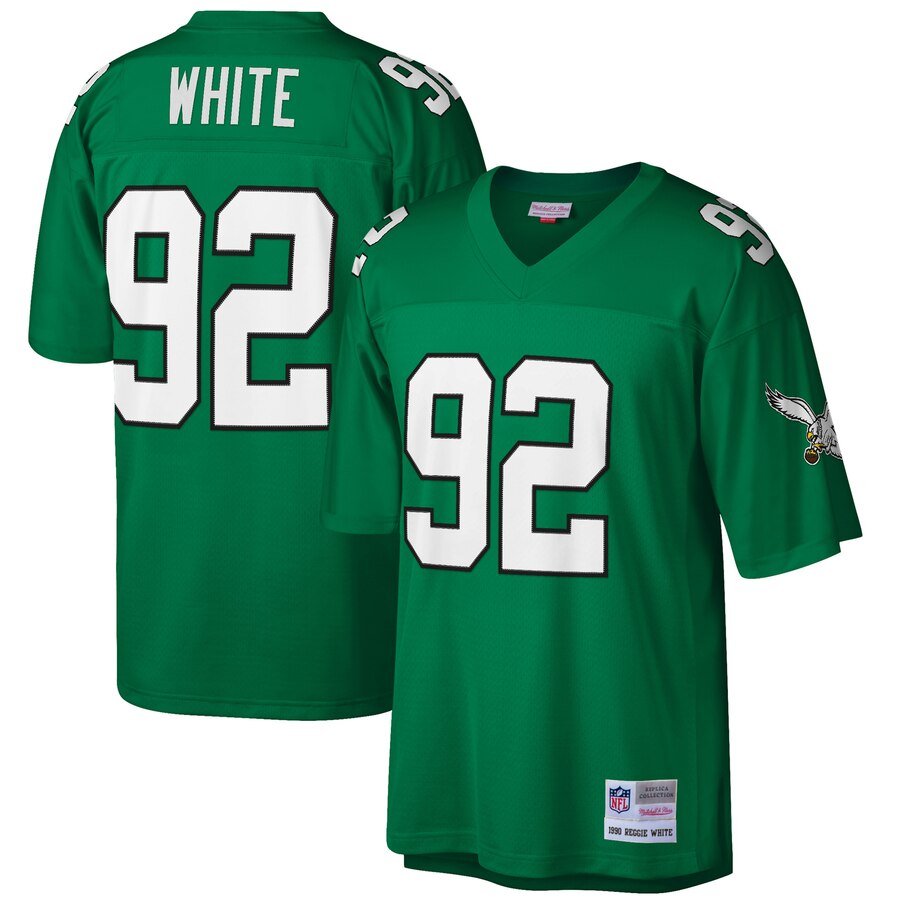 Ok Eagles fans…  Shown above is the Mitchell & Ness throwback Reggie White Eagles jersey.. What a way to pay tribute to one of the best defensive ends ever to play the game of football!
When the USFL fell apart back in 1985, Reggie White took a pay cut to come to play for the Philadelphia Eagles.  He joined the Eagles as a somewhat unproven player, but that sure didn't last long.  In his very first game with the Eagles he amassed 10 tackles and 2 1/2 sacks!  By the end of the season, the Eagles young star tallied 13 sacks in 13 games played.  Oh yeah, he also was named the NFC Rookie of the Year!
In eight seasons with the Eagles, Reggie White racked up 124 sacks to become the Eagles all time sack leader.   Another unbelievable achievement was during the 1987 season when he set the Eagles record for 21 sacks in a season.  Finally, he was the only player ever to get 20 sacks in only 12 games!  His 1.75 sacks per game that year is also an NFL record.
Shop Reggie White Jerseys & Mitchell & Ness Throwback Gear by Size
(Eagles & the Packers!)
You may also enjoy :
Reggie White Packers Jersey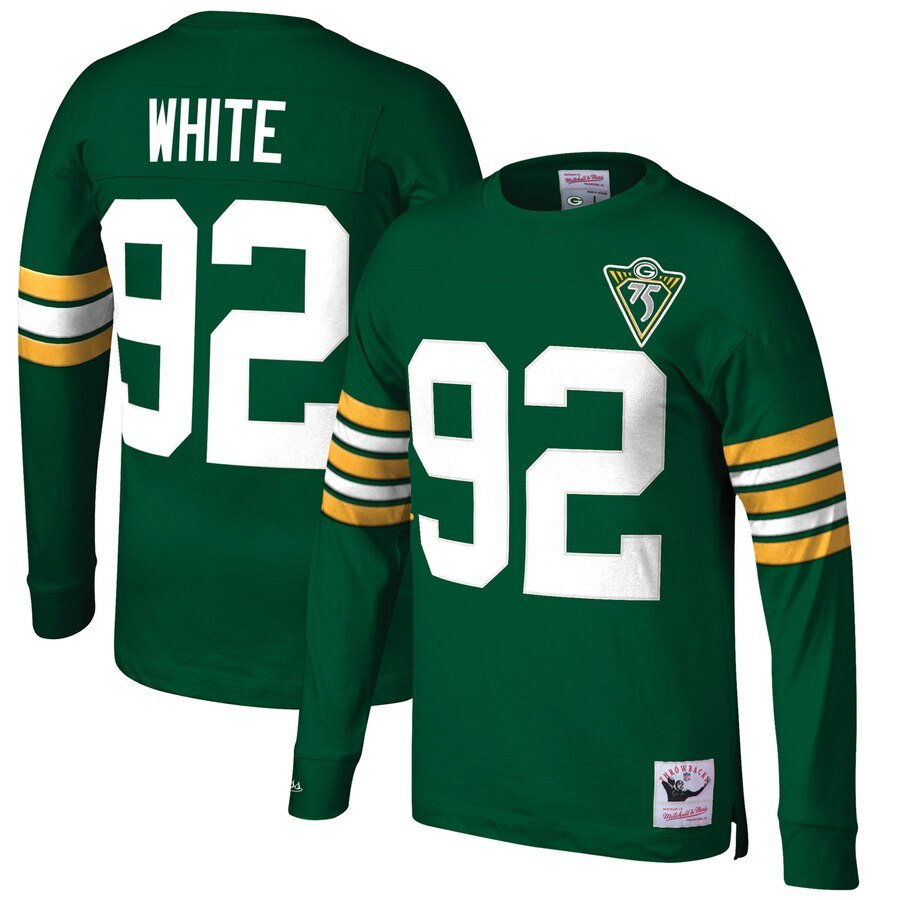 This Mitchell & Ness, Reggie White Packers Jersey / Long Sleeve Shirt shown above is ideal for the cold weather of Lambeau Field!  Stay warm, while cheering your beloved Packers on to victory and "hopefully" the playoffs and ultimately the Super Bowl!
Fabric is made of 100 percent cotton
Side slits
Embroidered fabric applique
Contrast color-blocked sleeves
Tackle twill applique
Tagless collar
Drop tail hem
Rib-knit cuff
Long sleeve
Machine wash, tumble dry low
Officially licensed
Sizes – S, M, L, XL, XXL, 3XL, 4XL, 5XL.
Brand: Mitchell & Ness
Philadelphia Eagles Reggie White Jersey / Shirt (Long Sleeve) by Mitchell & Ness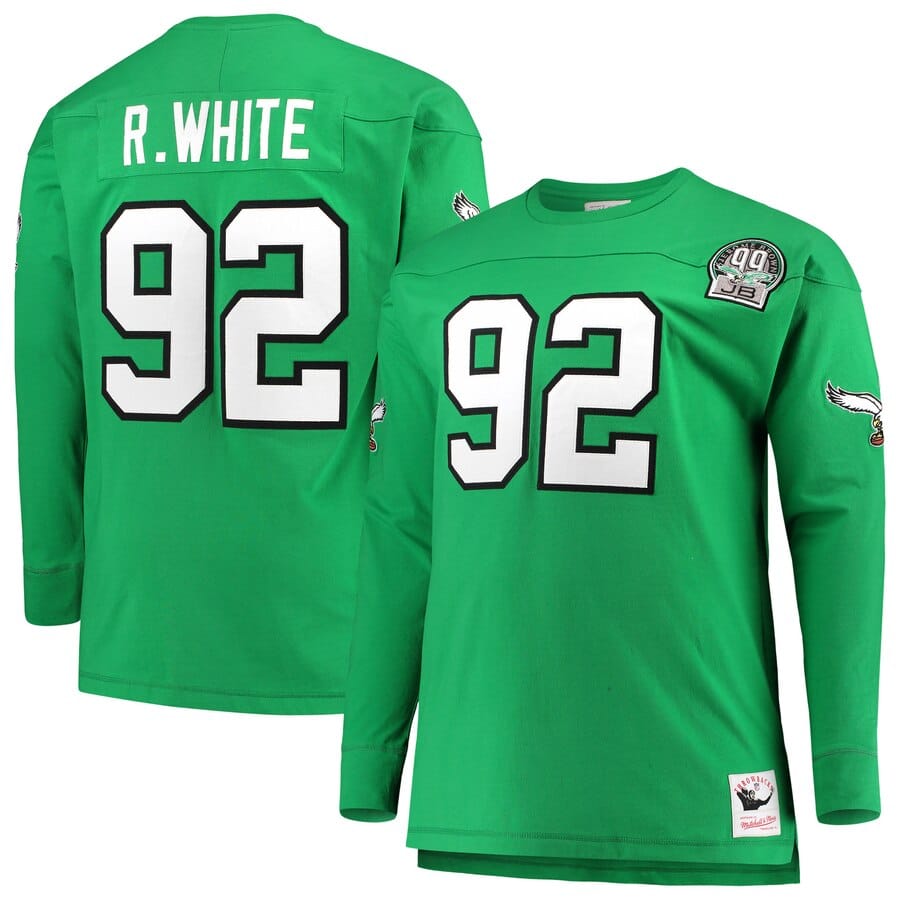 You may also enjoy :
Additional Retailers Who Carry Throwback Reggie White Jerseys (Eagles & Packers)
FTC Disclosure :
We are affiliated with many online companies who sell NFL jerseys, but only a select few carry the Mitchell & Ness throwbacks.  When we recommend one of their companies and a sale is made then we generate a small commission.  This helps us to earn some money for our hard work, and to help pay for the site costs.  The commission we receive is at NO COST to the consumer.  It's simply a bonus from the company for referring them an interested customer.  Thanks, and we hope we have helped you find what you were looking for!
Sports Fanatics :
This company has a great selection of throwback NFL Jerseys by Mitchell and Ness.  Reggie White Jerseys are available for both the Philadelphia Eagles and the Green Bay Packers.
Return policy – 1 year hassle free returns.
Men's sizes available – S, M, L, XL, XXL (2X), 3XL (3X), 4XL (4X), 5XL (5X), 6XL (6X).  XT (XLT), 2XLT (2XT), 3XLT (3XT), 4XLT (4XT), and 5XLT (5XT).
Shop Mitchell & Ness Throwbacks at Sports Fanatics.
Do you love to find NFL apparel for cheap?  Or at least at a nice discount?  We can hook you up with some great deals.  Consider Liking "Rivalry Sports" on Facebook.  When money saving promotions become available, we post the info on our wall so you can save a lot of money on official team gear from well trusted online retailers.